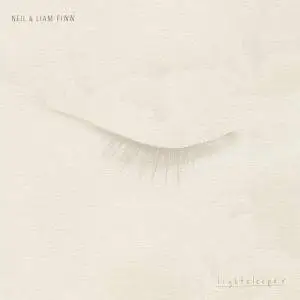 Neil & Liam Finn - Lightsleeper (2018)
WEB FLAC (tracks) - 262 Mb | MP3 CBR 320 kbps - 112 Mb | 00:48:56
Pop, Rock, Singer-Songwriter | Label: Lester Records, Inertia Music, [PIAS]
The notion of family is key to this debut album from Crowded House/Split Enz singer Neil Finn and his son Liam: Neil's wife Sharon plays bass on two tracks and his son Elroy plays drums on seven, and the songs are steeped in intimate memories. (While more of a friend from work than kin, Mick Fleetwood from Neil's new gig in Fleetwood Mac guests as well.). "We Know What It Means" is a remembrance of the times Liam accompanied his father on Crowded House tours as a child while "Hold Her Close" reflects on the birth of Liam's son and presumable future bandmate, Buddy. Together the Finns produce sonically adventurous pop full of left turns and lo-fi nuances bubbling in the background that keep this from being more than a sentimental spin through vacation slideshows.
Tracklist:
01 "Island of Peace"
02 "Meet Me In The Air"
03 "Where's My Room"
04 "Anger Plays A Part"
05 "Listen"
06 "Any Other Way"
07 "Back To Life"
08 "Hiding Place"
09 "Ghosts"
10 "We Know What It Means"
11 "Hold Her Close"
–––––––––––-

DON'T MODIFY THIS FILE

–––––––––––-

PERFORMER: auCDtect Task Manager, ver. 1.6.0 RC1 build 1.6.0.1
Copyright © 2008-2010 y-soft. All rights reserved

ANALYZER: auCDtect: CD records authenticity detector, version 0.8.2
Copyright © 2004 Oleg Berngardt. All rights reserved.
Copyright © 2004 Alexander Djourik. All rights reserved.


FILE: 4 - Neil & Liam Finn - Anger Plays A Part.flac
Size: 17687925 Hash: 34BD0A97FE69C20B0EC1C733F20B99FA Accuracy: -m0
Conclusion: CDDA 100%
Signature: 77378EC9B9DC225FCEA3D8FFEB25214ED53E10AF
FILE: 3 - Neil & Liam Finn - Where's My Room.flac
Size: 42126571 Hash: 2618F1367A922553C8A4FB78A9FEDB68 Accuracy: -m0
Conclusion: CDDA 100%
Signature: CEFB4DFF226888005C2FA28620917F7C3AEED537
FILE: 2 - Neil & Liam Finn - Meet Me In The Air.flac
Size: 26688090 Hash: 7BF4F4D2004FFF90B6E844AFB58A6620 Accuracy: -m0
Conclusion: CDDA 100%
Signature: 3A266CE3FB83DFE7299813FBE1B79367DFACE751
FILE: 1 - Neil & Liam Finn - Prelude - Island Of Peace.flac
Size: 14524499 Hash: D33F68BCFBB13A0F21F46598AB40A90D Accuracy: -m0
Conclusion: CDDA 100%
Signature: B0C40DDE6E83278D5B3887BCF7692C35A79C014B
FILE: 11 - Neil & Liam Finn - Hold Her Close.flac
Size: 23262755 Hash: 9078CD11DDEFB50642E57AA134EE3FB8 Accuracy: -m0
Conclusion: CDDA 100%
Signature: 647FA55A4D15CE0A909A1E68BC1F925598D4157A
FILE: 10 - Neil & Liam Finn - We Know What It Means.flac
Size: 33973032 Hash: DB203BC9D2240BEE51018DD98D55E797 Accuracy: -m0
Conclusion: CDDA 100%
Signature: 1DC40D09F60F5558AACA28B103FC5959D69C81FB
FILE: 9 - Neil & Liam Finn - Ghosts.flac
Size: 22439681 Hash: 24C71D4406BC12B134DAF0D4664F26F4 Accuracy: -m0
Conclusion: CDDA 100%
Signature: B947A0FC8E10B752695BB1714C73E70D574B1B97
FILE: 8 - Neil & Liam Finn - Hiding Place.flac
Size: 30835752 Hash: 61A7A85C27399D7C56F4027C5B7EBCED Accuracy: -m0
Conclusion: CDDA 100%
Signature: 6EEAD599F5BB628C3965CC19DE992FAC7EAB7D8A
FILE: 7 - Neil & Liam Finn - Back To Life.flac
Size: 25412414 Hash: EA0412357BD1C0D811FB447F69D2D549 Accuracy: -m0
Conclusion: CDDA 100%
Signature: 51DE9459A46902CEA3F0BEBE1B572E36F6DB3173
FILE: 6 - Neil & Liam Finn - Any Other Way.flac
Size: 20235137 Hash: 5502A6145232058A720CDCCA3D377B33 Accuracy: -m0
Conclusion: CDDA 100%
Signature: 81A36D29CF3E91774445218A2B9717753A1F6128
FILE: 5 - Neil & Liam Finn - Listen.flac
Size: 17941760 Hash: D277E6AFD4ACF2763BBE7F0868643AB7 Accuracy: -m0
Conclusion: CDDA 99%
Signature: 58C4E1CB6986206BCBB63F9BA60E7F6DEC35EB20