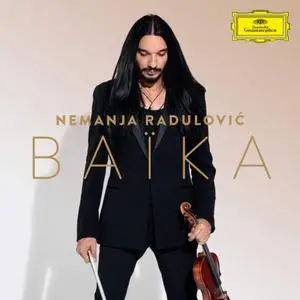 Nemanja Radulovic - Baïka (2018)
WEB FLAC (tracks) - 373 Mb | MP3 CBR 320 kbps - 183 Mb | 01:19:59
Classical | Label: Deutsche Grammophon
After his exciting journey into the musical tradition of Eastern Europe (Journey East), the Baroque Sound-scapes of J.S. Bach (Bach), the Russian melodies of P.I. Tchaikovsky (Tchaikovsky), Nemanja Radulovic now embarks on a musical journey through the Orient – from Armenian reality to Persic daydream.

This Oriental album includes a newly arranged "Scheherezade" as well as Khachaturian's highly virtuosic violin concerto.

Nemanja's a personal approach when creating an album is essential. The Serbian word "Baïka" translates to "tale" or "fairytale" and was chosen by him personally, because everything on this album feels like "Baïka" to him.

Commissioned for Nemanja's ensemble Double Sens, Serbian composer and arranger Aleksandar Sedlar re-visited the fate of Scheherazade, queen and storyteller of One Thousand and One Nights. His composition is based on the Scheherazade Suite Op. 35 by Nikolai Rimsky-Korsakov and intriguingly recounts tales and treasures from the centuries-old epos. There will be a music video of the 1st movement.

To record Aram Khachaturian's violin concerto Nemanja chose Borusan Istanbul Philharmonic Orchestra conducted by Sascha Goetzel, a pairing that already follows a successful collaboration on stage. The beautiful concerto is performed and recorded very rarely, which may be blamed on its virtuosity. Nemanja is considered as the current specialist of this work, adding a very personal and individual interpretation.

The Borusan and its conductor brilliantly complement his approach with their own dynamics and give the work that particular oriental flavor Nemanja wanted to reach with his recording.

The album includes another masterpiece by Khachaturian, which is the Trio for clarinet, violin and piano. The link between the violin concerto and the trio is obvious, as the clarinet also holds a prominent place in the concerto. As with the above recordings, Nemanja chose to record the trio with accomplices with whom he likes to perform on stage – the clarinetist Andreas Ottensamer and the pianist Laure Favre-Kahn.

To complete this recording, Nemanja chose to also work with Aleksandar Sedlar not as an arranger only, but as a composer: Savcho III is the transcription of a movement of the concerto for saxophone and orchestra for Nemanja and Double Sens, with traditional and festive melodies.
Tracklist:
Aram Khachaturian
Concerto for Violin and Orchestra in D Minor
1. 1. Allegro con fermezza
Concerto for Violin and Orchestra in D Minor
2. 2. Andante sostenuto
Concerto for Violin and Orchestra in D Minor
3. 3. Allegro vivace
Nikolai Rimsky-Korsakov, Aleksandar Sedlar
Symphonic Suite based on Rimsky-Korsakov's Scheherazade, Op. 35
Shéhérazade Symphonic Suite for Solo Violin, String Ensemble and Piano by Alexander Sedlar, based on Rimsky-Korsakov's Scheherazade, Op. 35
4. 1. The Sea and Sinbad's Ship
5. 2. The Legend of the Kalendar Prince
6. 3. The Young Prince and the Young Princess
7. 4. Festival at Baghdad. The Sea. Ship Breaks upon a Cliff Surmounted by a Bronze Horseman
Aram Khachaturian
Trio for Clarinet, Violin and Piano
8. 1. Andante con dolore, molto espressivo
9. 2. Allegro
10. 3. Moderato
Aleksandar Sedlar
11. Savcho 3
12. Turkey
–––––––––––-

DON'T MODIFY THIS FILE

–––––––––––-

PERFORMER: auCDtect Task Manager, ver. 1.6.0 RC1 build 1.6.0.1
Copyright © 2008-2010 y-soft. All rights reserved

ANALYZER: auCDtect: CD records authenticity detector, version 0.8.2
Copyright © 2004 Oleg Berngardt. All rights reserved.
Copyright © 2004 Alexander Djourik. All rights reserved.


FILE: 9 Khachaturian- Trio for Clarinet, Violin and Piano - 2. Allegro.flac
Size: 18271560 Hash: 069609E4B7874FBD368F577E54EB1D65 Accuracy: -m0
Conclusion: CDDA 100%
Signature: 685E36B96B207F5CC2C992F6BE10A7F30FBDEAB5
FILE: 8 Khachaturian- Trio for Clarinet, Violin and Piano - 1. Andante con dolore, molto espressivo.flac
Size: 19940286 Hash: 77BCDC219641F5662E0FB2EBA91B7581 Accuracy: -m0
Conclusion: CDDA 100%
Signature: 7A7BC2FA384F97388F529C4527F4BCCB6B72B8B7
FILE: 7 Rimsky-Korsakov, Sedlar- Symphonic Suite based on Rimsky-Korsakov's Scheherazade, Op. 35 - 4. Festival at Baghdad. The Sea. Ship Breaks upon a Cliff Surmounted by a Bronze Horseman.flac
Size: 31129959 Hash: A6E05653BFC4349937D004C0424DBCDA Accuracy: -m0
Conclusion: CDDA 99%
Signature: DA17B4917077E2EBFA567EB345099861199B6833
FILE: 6 Rimsky-Korsakov, Sedlar- Symphonic Suite based on Rimsky-Korsakov's Scheherazade, Op. 35 - 3. The Young Prince and the Young Princess.flac
Size: 34421972 Hash: DA40A9E6477A593C6E054C8993200F8E Accuracy: -m0
Conclusion: CDDA 100%
Signature: 79E66305990EDFDA8390BB18E56A13DE8184E64E
FILE: 5 Rimsky-Korsakov, Sedlar- Symphonic Suite based on Rimsky-Korsakov's Scheherazade, Op. 35 - 2. The Legend of the Kalendar Prince.flac
Size: 28723703 Hash: 566BFA96C710A20DCF7865381F3C666D Accuracy: -m0
Conclusion: CDDA 100%
Signature: 9FE90B85B69CF6FC506E48C4EE228F2EB3CCD48A
FILE: 4 Rimsky-Korsakov, Sedlar- Symphonic Suite based on Rimsky-Korsakov's Scheherazade, Op. 35 - 1. The Sea and Sinbad's Ship.flac
Size: 15223618 Hash: 870F38FFA18BD939768BB912D58DD705 Accuracy: -m0
Conclusion: CDDA 100%
Signature: A3B4536675B1D1D35FBA3DCAD1F75FF9F39487CE
FILE: 3 Khachaturian- Concerto for Violin and Orchestra in D Minor - 3. Allegro vivace.flac
Size: 49381257 Hash: 1650D7D9EEE97FFB54AEB6FE2D1B49EB Accuracy: -m0
Conclusion: CDDA 100%
Signature: 4E75DEFADC94EDAD55EC8119F2E0BD2DA52655A1
FILE: 2 Khachaturian- Concerto for Violin and Orchestra in D Minor - 2. Andante sostenuto.flac
Size: 57000118 Hash: B67E6D310EA63A4C95E1413676B8C7D9 Accuracy: -m0
Conclusion: CDDA 100%
Signature: A8F18A82E5F98B743B874BC38EB170AFE27B7779
FILE: 12 Sedlar- Turkey.flac
Size: 13864233 Hash: 7C9652C2D126C9E0AC644C03DAC3A404 Accuracy: -m0
Conclusion: CDDA 76%
Signature: 82BA363A00AC3536EAD9377E894732C41928B24D
FILE: 11 Sedlar- Savcho 3.flac
Size: 17606628 Hash: 13AD2372B04119733505FB2359ABC53F Accuracy: -m0
Conclusion: CDDA 100%
Signature: E11FE7F33E82A5251B760AE9200403389ECE5E83
FILE: 10 Khachaturian- Trio for Clarinet, Violin and Piano - 3. Moderato.flac
Size: 29358308 Hash: 62214DBCE4B5317FF75D832730F5CC05 Accuracy: -m0
Conclusion: CDDA 100%
Signature: 60B1B07AAF3C89CD7B724C71B1B63ACBCA85744E
FILE: 1 Khachaturian- Concerto for Violin and Orchestra in D Minor - 1. Allegro con fermezza.flac
Size: 76553648 Hash: 4BBA485D52FF32E79C6225622491200D Accuracy: -m0
Conclusion: CDDA 100%
Signature: CC3D3105A99427DB7BD8864F4A9DFDC488378C11