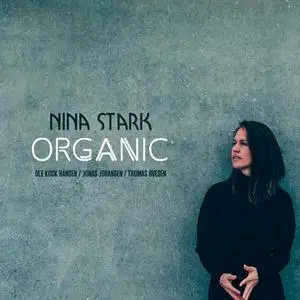 Nina Stark - Organic (2021)
WEB FLAC (tracks) ~ 226.56 Mb | 38:07 | Cover
Vocal Jazz | Label: Nina Stark Music
Den 17. november 2021 udkom Nina Starks debutalbum Organic. Albummet indeholder egne og nyproducerede numre, samt enkelte nyfortolkninger af jazz-klassikere. Nina er akkompagneret af Ole Kock Hansen (piano), Thomas Ovesen (bass), Jonas Johansen (drums), og med Susanne Ørum som producer. Desuden møder vi også Mathias Heise (mundharmonika), Jesper Bodilsen (kontrabas) og Arvid Nielsen (vokal) på albummet.
Track List:
01. What I Adore
02. I'm Changing
03. Song of a Bird
04. Love Walked In
05. Comes Love
06. End of June
07. When I Fall in Love
08. The One That Got Away
09. Snow
10. Can't Help Lovin' Dat Man
–––––––––––-
DON'T MODIFY THIS FILE
–––––––––––-
PERFORMER: auCDtect Task Manager, ver. 1.6.0 RC1 build 1.6.0.1
Copyright © 2008-2010 y-soft. All rights reserved
http://y-soft.org
ANALYZER: auCDtect: CD records authenticity detector, version 0.8.2
Copyright © 2004 Oleg Berngardt. All rights reserved.
Copyright © 2004 Alexander Djourik. All rights reserved.
FILE: 10 - Nina Stark - Can't Help Lovin' Dat Man.flac
Size: 14516045 Hash: 148636DA8C3908CC24790B3A236B2688 Accuracy: -m0
Conclusion: CDDA 99%
Signature: 63673B36EE3834B26F9F5AF1FA912F411F1B3DD6
FILE: 09 - Nina Stark - Snow.flac
Size: 24202660 Hash: 16D2ED2C7C75C876235AF5D9F45377C9 Accuracy: -m0
Conclusion: CDDA 99%
Signature: FCDC5BC543EF38B048C87FBD1A7ABF907AF4EEA7
FILE: 08 - Nina Stark - The One That Got Away.flac
Size: 28026754 Hash: 3BACB4D44F1677E5985EC875F4949434 Accuracy: -m0
Conclusion: CDDA 100%
Signature: 92F10AE7FED52513038703FE01F916D928393BCC
FILE: 07 - Nina Stark - When I Fall in Love.flac
Size: 27866930 Hash: AB5124F871A7FB72826D7487CA96C121 Accuracy: -m0
Conclusion: CDDA 100%
Signature: 046CD9E392FB6F0BF33D61BEBBD320F7900A95A1
FILE: 06 - Nina Stark - End of June.flac
Size: 12687605 Hash: F667F8B4125FFEB135C778AC7F1E770D Accuracy: -m0
Conclusion: CDDA 100%
Signature: 99D4841CA03E758B2AAAAA94BE49269431E0FA4D
FILE: 05 - Nina Stark - Comes Love.flac
Size: 23228179 Hash: DE5827483254ED1A536846B7537ECA03 Accuracy: -m0
Conclusion: CDDA 100%
Signature: 3427A7F234E3C7B0630DEBD215A52B572FC0812D
FILE: 04 - Nina Stark - Love Walked In.flac
Size: 26487283 Hash: 0BD22880AB08C849F8BCDF4E38252CD8 Accuracy: -m0
Conclusion: CDDA 100%
Signature: 2090A3BD9AC119C54325607CFFA311840197D857
FILE: 03 - Nina Stark - Song of a Bird.flac
Size: 28518038 Hash: 0681E1F15273E77F9D257914AEE19E02 Accuracy: -m0
Conclusion: CDDA 100%
Signature: 65DD50E971C059515B8281E97F410F5B336888DD
FILE: 02 - Nina Stark - I'm Changing.flac
Size: 29812365 Hash: F187F66DC33CA382F40242103BD2F02B Accuracy: -m0
Conclusion: CDDA 100%
Signature: 4F1808AAE723FF24B758984F865752FC9F8D3EB3
FILE: 01 - Nina Stark - What I Adore.flac
Size: 22170295 Hash: 001188BDF7322DC62E3DFCBE4F25F2BF Accuracy: -m0
Conclusion: CDDA 100%
Signature: FCD183ADBF5208DB2C909020810C27C9BD777C48