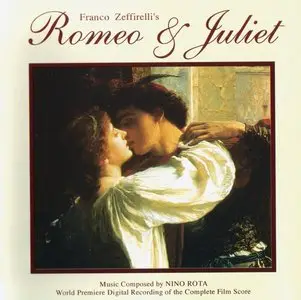 Nino Rota - Romeo & Juliet - Soundtrack 1968 (2002)
Classic, Instrumental | MP3 HQ 320Kbps | tags, playlist | 122 MB
A theme to end all themes "Romeo & Juliet", composed by Nino Rota is without a doubt one of the most romantic and poetic scores ever conceived. Even when the music stops, the theme remains in your mind with tragic-love and medieval forbidden passions. A play from William Shakespeare, under the brilliant direction of Franco Zeffirelli with a young cast of players – seventeen year old Leonard Whitting (as Romeo), fifteen year old Olivia Hussey (as Juliet) and outstanding supporting cast of Milo O'Shea (as Friar Laurence), Michael York (as Tybalt) and John McEnery (as Mercutio) takes this film adaptation to the ultimate of classic Shakespeare. The film was sexual, passionate and lavish, but it was our composer Nino Rota who connected all the musical notes and gave our characters life on the silver screen. Composed by Nino Rota, performed by City of Prague Philharmonic, conducted by Nic Raine.
Tracklist:
01 - Prologue And Fanfare For The Prince
02 - Romeo
03 - Juliet
04 - The Feast At The House Of Capulet
05 - Did My Heart Love 'Til Now
06 - The Moresca
07 - What Is A Youth
08 - Their First Meeting
09 - What Light Through Yonder Window Breaks
10 - Parting Is Such Sweet Sorrow
11 - But This I Pray….Consent To Marry Us Today
12 - Romeo And Juliet Are Wed
13 - The Death Of Mercutio And Tybalt
14 - Night's Cabdles Are Burnt Out
15 - Adieu
16 - The Likeness Of Death
17 - The Ride From Mantua
18 - Death…Hath Sucked The Honey Of Thy Breath
19 - Love Theme From Romeo And Juliet
20 - O Happy Dagger
21 - Epilogue
Preview on Amazon