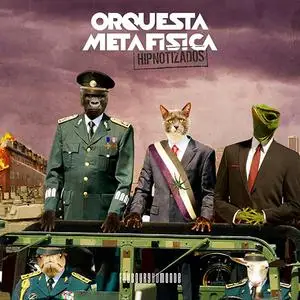 Orquesta Metafisica - Hipnotizados (2018)
WEB FLAC (tracks) ~ 277.77 Mb | 46:21 | Cover
Chamber Rock, Progressive Rock | Country: Argentina | Label: Faubourg du Monde
Argentinian Sebastian Volco is an avant-garde composer, pianist, guitarist, and electronics player with wildly eclectic tastes that course through the dance culture of his country to alternative rock, jazz, and beyond. He has recorded as a solo artist, in a duo formation and up through a variety of ensembles. He has led or co-led on more than a dozen releases and Hipnotizados is the second from his ensemble Orquesta Metafisicia. Like the small orchestra's previous release 7 Movimientos (Omrecords, 2011), this is a concept project, but dark in nature.
To set the stage, Hipnotizados is a socio-political album that leaves no doubt about intent. The title ("Hypnotized" in English) refers to the impact—good and bad—of communications in the hands of those with disproportionate power, those who would manipulate with their words. Interlaced with the music are readings and audio samples from defense contractor Lockheed Martin and political demagogues such as Mussolini. The messaging from modern political figures includes Tunisian "President for Life" Habib Bourguiba, who reigned when food riots took more than a hundred lives, a self-congratulatory Kim Jong Un, and Donald Trump's call for a Muslim ban. The diaspora doesn't completely eradicate optimism; it gives us a pope preaching love, Francois Hollande speaking of unity in the face of terrorism in France, and George W. Bush doing the same in the wake of 9/11.
Beyond the politically-charged concept of this album, there's high drama in the music itself. It is genre-free composing but its elements are many. Think of the exotic psychedelic dub jazz of Club d'Elf meeting the art rock of early Genesis. Add in touches of modern tango, groove, and rock, mixed with classical embellishments. Footsteps reverberate in an otherwise empty hallway as "Anesthesia" opens the album. The violins add to the sense of isolation and, once in place, the layers of piano and bandoneon that join in, do not break the spell. Imperceptibly, the pace quickens and morphs into the danceable "Amnesia," a brief transition piece that turns melancholy as a lead-in to "Bastardos Coesmicos" (Cosmic Bastards), a partially narrated brush with terrorism. In a different vein "Hiromy" (for Japanese jazz pianist Hiromi Uehara) has a bubbly pop feel and serves as a misdirection from the serious-minded—but strangely funky—"Estrujamientos," where despots preach the virtues of state control above self-determination. The initially tranquil "Los Ojos" has a cautionary undertone as it builds in intensity, opening to the disturbing "divide-and-conquer" theme from ancient Greece to 2018 America. Hipnotizados ends in a swirl of psychosis with "Elevación Primaria," the reproachful words of the Soviet ruler Vladimir Lenin setting up the churning cacophony.
Orquesta Metafisicia often performs live with singers on stilts and visual artists painting around them, à la Darcy James Argue's Brooklyn Babylon (New Amsterdam, 2013). In a pared-down presentation, the studio recording of Hipnotizados supplies a twenty-six-page collection of passages and artwork that help bring the project to life. The peripheral material, however, is not a necessity. The musical content is a remarkable work of explosive curiosity, danceable at times, but it's not a party; it's a Ghost Dance. Sebastian Volco has produced imaginative music with a great sense of purpose and it shouldn't be missed. ~
By KARL ACKERMANN
Track List:
1. Anestesia. 4:43
2. Amnesia. 2:06
3. Bastardos Cósmicos. 6:35
4. Hiromy. 3:10
5. Estrujamientos. 6:10
6. Los ojos. 6:22
7. La Salamanca. 6:38
8. Abre. 3:17
9. Manada Hipnotizada. 1:21
10. La Catedral. 3:50
11. Elevación Primaria. 2:05
- Sebastian Volco / piano, electric piano, mini moog, keyboards
- Sebastian Rosenfeldt / bass, cello, chapman stick, programming
- Miguel Yanover / baritone saxophone, tenor saxophone, soprano saxophone
- Robby Marshall / tenor saxophone, clarinette
- Veronica Votti / cello
- Robby Marshall / viola
- Anna le Pape / violin
- Clement Janinet / violin
- Andrea Pujado / violin (5)
- Silvio Ottolini / drums
- Salvador Toscano / drums (4)
- Pablo Gignoli / bondoneon
- Lysandre Donoso / bondoneon (1,4)
- Pablo Nemirovsky / bondoneon (1,2)
- Yaping Wang / yangqin
Composed & Arrangedby Sebastian Volco
Produced by Sebastian Rosenfeldt
–––––––––––-
DON'T MODIFY THIS FILE
–––––––––––-
PERFORMER: auCDtect Task Manager, ver. 1.6.0 RC1 build 1.6.0.1
Copyright © 2008-2010 y-soft. All rights reserved
http://y-soft.org
ANALYZER: auCDtect: CD records authenticity detector, version 0.8.2
Copyright © 2004 Oleg Berngardt. All rights reserved.
Copyright © 2004 Alexander Djourik. All rights reserved.
FILE: 01. Anestesia.flac
Size: 30451586 Hash: BEF9675A0C6E68E335A7E36112207443 Accuracy: -m0
Conclusion: CDDA 100%
Signature: 9A75A26FC3DBFD184DDA5D899B5C5B81A6A693FC
FILE: 02. Amnesia.flac
Size: 13478379 Hash: 21CC252DAD228FA8A4B5E251AE166858 Accuracy: -m0
Conclusion: CDDA 100%
Signature: B4347480C4B370425CF8507A61C087DA299B0A2E
FILE: 03. Bastardos Cosmicos.flac
Size: 38513574 Hash: B13C86515BDC002201AB538069147370 Accuracy: -m0
Conclusion: CDDA 100%
Signature: 21389AA00AB4D27669BEEDE5CEF455CA4D9B8E09
FILE: 04. Hiromy.flac
Size: 20833654 Hash: 21856C7DB13FC565DEF95B9383816C47 Accuracy: -m0
Conclusion: CDDA 100%
Signature: DBCE65D63CEF766F592A97E05247621B6C3F6DE9
FILE: 05. Estrujamientos.flac
Size: 39737609 Hash: F3C11D394FC280BF02984B52974292D9 Accuracy: -m0
Conclusion: CDDA 100%
Signature: 95AB61288A85B8AB821D94FBEDE158D57C983BA9
FILE: 06. Los Ojos.flac
Size: 35678519 Hash: 667DA0C122B58C4A1A2E97593EE54138 Accuracy: -m0
Conclusion: CDDA 100%
Signature: E80767C4D8B4B42306D616FB246234232474DBB0
FILE: 07. La Salamanca.flac
Size: 44626479 Hash: 143EB89B17F1722391F6C9330A650FD4 Accuracy: -m0
Conclusion: CDDA 99%
Signature: 9792F177E0AC6919FB97A7232326A367B03A0F0D
FILE: 08. Abre.flac
Size: 21545573 Hash: 8C1E26EDC5031F49D2B39B0DD9B41E53 Accuracy: -m0
Conclusion: CDDA 100%
Signature: 3E4F6176AB31407200DF792FA6E4711A69D28207
FILE: 09. Manada Hipnotizada.flac
Size: 8215278 Hash: E2C6ECB7E6FDF7A5CC85FA6ED6619B11 Accuracy: -m0
Conclusion: CDDA 100%
Signature: C195C6E3F3A39A9A40099D25FF8506753FEC43D3
FILE: 10. La Catedral.flac
Size: 27123887 Hash: 2B73165D0D60DB9C0695B3776B01520A Accuracy: -m0
Conclusion: CDDA 100%
Signature: 7CC14780884A546ABFF84A18050CC28FFE7BE7A3
FILE: 11. Elevacion Primaria.flac
Size: 10304255 Hash: E160B217AC32E0B4F1D77303A79D8D11 Accuracy: -m0
Conclusion: CDDA 99%
Signature: E2010893B3557A83E9B5CD1CBC6AF490EB0D61BF
All thanks go to the vp_sunset