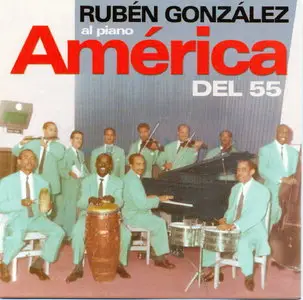 Orquesta America del 55' - Ruben Gonzalez al Piano
Cuba | mp3 320 Kbps | 137MB
EGREM 2001
On the year 2001, EGREM released this unique compilation, never before released in Lp albums or CD. Orquesta America del 55 directed by flutist Juanito Ramos was one of Cuban music's unsung heroes. Some of the America del 55 were members of the Orquesta America de Ninon Mondejar,they traveled on a tour to Mexico with Ninon Mondejar in November of 1954 and shortly afterwards upon being told by Mondejar that he had decided to stay in Mexico City with his Orquesta America for an indefinite period of time, flutist Juanito Ramos, violinist Antonio Sanchez, violinist Ignacio Berroa, conga player,Julio Salas, and bass player and chorus singer Manuel Montejo "Camaguey", decided to return to Havana and form their own charanga band under the direction of flutist Ramos and the musical direction of Antonio Sanchez. There they teamed up with veteran singers Cheo Junco, Tony Raymat and Luis Mariano Calzado,timbalero Pascualito Hernandez and famed Cabaret Sans Souci and Orq.Hermanos Castro pianist "par excellence" Ruben Gonzales (decades later of Buena Vista Social Club Fame).
Because of many of Orquesta America's loyal fans in Cuba, they decided to baptize their new charanga group with famous name "Orquesta America but added "del 55" so people could tell the difference between the new charanga group and the original one, then relocated in Mexico. Orquesta America del 55 started recording immediately for Cuba's legendary Panart label and most of the recorded hits in this great CD were those recorded for that famous label. You will hear previously impossible to get orginal recording hits like "La Basura", "Los Tres Violines","Mi Palacete","Nosotros","Soy Como Soy","Ahora Seremos Felices, "Todo Es Para Ti","Los Marcianos" "El Yayabo","Sube Y Baja El Telon", "Bilongo","Dos Almas Y Un Guaguanco" with Carlos Embale and Roberto Maza"El Vive Bien" and do not miss sonero Cheo Junco's breathtaking bolero cha solo version of the 1955 hit film "Love Is A Many Splendored Thing"-or "El Amor Es Una Cosa Esplendorosa", Junco's version of the Fain-Webster hit was so unique, no one else in Cuba recorded another version of it! Unfortunately the Orquesta America del 55 was disbanded in 1960,due to Antonio Sanchez departure to Fajardo Y Sus Estrellas and as some of the other America del 55 members merged back with the original group led by Ninon Mondejar who had returned to Cuba from Mexico. Orquesta America del 55 was one of Cuba's greatest charangas, do not miss these unique and rare recordings of great historical importance, plus historical photos and liners! Definitely the most important old time cuban charanga release of the 21st century!
01. Bilongo
02. Los Marcianos
03. Nosotros
04. Todos Bailan Mi Chachacha
05. Chachacha De Los Limpiabotas
06. El Amor Es Una Cosa Esplendorosa
07. Poco Pelo
08. Clases De Chachacha
09. Todo Es Para Ti
10. Mi Palacete
11. Nuestras Vidas 0 Mi Corazon Es Para Ti
12. Mi China Me Boto
13. Dos Almas Y Un Guaguanco
14. Ahora Seremos Felices
15. El Vivo
16. Los Tres Violines
17. Soy Como Soy
18. Sube Y Baja El Telon
19. La Basura
20. El Yayabo