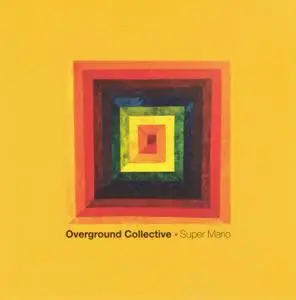 Overground Collective - Super Mario (2019)
WEB FLAC (tracks) ~ 179.35 Mb | 32:32 | Cover
Big Band Jazz, Eclectic Prog | Country: Denmark | Label: Babel Label
The OverGround Collective is an 18-piece band put together by the Portuguese composer Paulo Dias Duarte. The project is a result of Paulo's obsessive research on improvisation and its relation with pre-composed material. After shadowing many improvisers in the London scene, Paulo has put together a group of players, with very distinctive improvisational languages and techniques, in a project where he uses their different approaches to improvisation as compositional tools, creating a very eclectic musical landscape where the improviser itself is a part of the score.
Track List:
01. Intro [00:01:29]
02. Part 1 [00:11:32]
03. Part 2 [00:04:12]
04. Part 3 [00:02:41]
05. Part 4 [00:03:29]
06. Part 5 [00:03:04]
07. Part 6 [00:03:20]
08. Part 7 [00:02:40]
Chris Williams (Alto Sax / Soprano Sax / Flute)
Julie Kjær (Alto sax / Flute)
Rachel Musson (Tenor Sax / Flute)
Mike Lesirge (Tenor Sax)
Cath Roberts (Baritone Sax)
Tom Ward (Clarinet / Bass Clarinet)
Noel Langley (Trumpet / Flugelhorn)
Andre Canniere (Trumpet)
Chris Batchelor (Trumpet)
Yazz Ahmed (Trumpet / Flugelhorn / Electronics)
Paul Taylor (Trombone)
Raphael Clarkson (Trombone)
Olivir Haylet (Bass Trombone)
Ben Kelly (Sousaphone)
Paulo Dias Duarte (Guitar)
Dave O'Brien (Keys)
Jason Simpson (Electric Bass)
Jon Scott (Drums)
All composition and arrangements by: Paulo Dias Duarte (SPA)
Produced by Paulo Dias Duarte and Nuno Fernandes Recorded at Fish Factory Studios, London on the 27, 28 and 29th of May 2018
Recording Engineer: Nuno Fernandes Mixing Engineer: Nuno Fernandes Mastering Engineer: Gwyn Mathias Art Work: Aurelie Freoua Design: Tribambuka
–––––––––––-
DON'T MODIFY THIS FILE
–––––––––––-
PERFORMER: auCDtect Task Manager, ver. 1.6.0 RC1 build 1.6.0.1
Copyright © 2008-2010 y-soft. All rights reserved
http://y-soft.org
ANALYZER: auCDtect: CD records authenticity detector, version 0.8.2
Copyright © 2004 Oleg Berngardt. All rights reserved.
Copyright © 2004 Alexander Djourik. All rights reserved.
FILE: 08 Part 7.flac
Size: 17616109 Hash: 7EBB6D56F447D1DA96C5A43EFAF3B508 Accuracy: -m0
Conclusion: CDDA 100%
Signature: 47E66FC83DC36CE5EA9453E1FBF49C7F7C8DBF6C
FILE: 07 Part 6.flac
Size: 17063072 Hash: DAB8FEAEE01C5B36C7F0DB15264B2085 Accuracy: -m0
Conclusion: CDDA 100%
Signature: AC18AA65CF11C3A621C5A4A4F3A0587875BD4C2C
FILE: 06 Part 5.flac
Size: 13485527 Hash: B4C9AE2339B197EC9E24757DD0DAA903 Accuracy: -m0
Conclusion: CDDA 99%
Signature: 05813E79156F19F5B9D2F996F21F1BC8403A7D0B
FILE: 05 Part 4.flac
Size: 21490948 Hash: E72B5646525D32C93572CFED1E0A9170 Accuracy: -m0
Conclusion: CDDA 100%
Signature: 2B2E9BD12BD53FFC1E7593CADE4F0E196EA34BF0
FILE: 04 Part 3.flac
Size: 13905249 Hash: 04E20B0A806BABF7ECCEEA11265E6F9C Accuracy: -m0
Conclusion: CDDA 100%
Signature: EFBE09A371A5994970398A7D8A369F88AB6189F0
FILE: 03 Part 2.flac
Size: 26869196 Hash: 3C00D0557511AB874D6920646FDD8ABA Accuracy: -m0
Conclusion: CDDA 100%
Signature: 5B1B4CEC7685FF4774C3644A48E16EA44FE46DCA
FILE: 02 Part 1.flac
Size: 68892663 Hash: 19FDD603C1C787B5A3CCA1BB0A05C580 Accuracy: -m0
Conclusion: CDDA 100%
Signature: 2B93899EF442A49224F96454963F418767D78C7A
FILE: 01 Intro.flac
Size: 4319883 Hash: AC254100430934DC265A4702200463D2 Accuracy: -m0
Conclusion: CDDA 100%
Signature: A882C6E9DDC02814A90A57934A9482C3E2F63E66
All thanks go to the verbiya