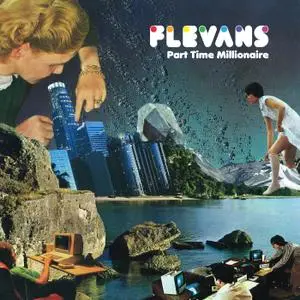 Flevans - Part Time Millionaire (2019)
R&B, Soul & Funk | 00:40:42 | WEB FLAC (tracks) | 254 MB
Label: Jalapeno Records
Flevans is back with his 5th studio LP and the release sees him furthering his trajectory towards song-led compositions.
And as you'd expect if you are familiar with this man's work already - there's more funk and soul crammed into the record than you can shake a stick at. But being a wonderfully social chap - he's also extended a courteous invitation to some of his favourite chums, with the record boasting more collaborations than ever…
The amazing Antipodean - Elliott Cole, the pocket rocket - Laura Vane (MJ Cole, Cee Lo Green), soul songstress - Sarah Scott and gospel powerhouse - Izo FitzRoy all lend their considerable vocal talents to the record whilst Flevans does his thing both in front of and behind the mixing desk.
Highlights include the crunchy drums and bouncing guitar funk on 'Invisible', the soulful and stuttering bass-led strutter - 'It Just Goes' and Elliott Cole's heart pouring vocal performance on the modern 'lighters-in-the-air' piano ballad '15,000 Words'. Coincidentally those are also the singles… What are the odds of that?
Honestly, the calibre of material Flevans showcases here is so high this list could easily contain any of the album tracks. It's a well-crafted LP that displays his prowess in both songwriting and production alongside a real artistic development away from his earlier sample-based works. His playful character and style from those early years still shine through though in this energetic, fun and consistently interesting listen.
He sums the record and his approach up best with his own words: "The title 'Part-Time Millionaire' is a reflection of where I'm at right now - I've juggled writing this album with trying being the best dad I can to my two young kids - both of those things make me incredibly happy, but it's a difficult balance and you don't always feel you are able to devote yourself to either as much as you would like! I guess the title reflects how little time we have to do all the things we want but also how many positive things we can achieve!"
Tracklist
:
01.
Flevans - Right on Top
02.
Flevans - Invisible
03.
Flevans - It Just Goes
04.
Flevans - 15,000 Words
05.
Flevans - Part Time Millionaire
06.
Flevans - Who's Got Me
07.
Flevans - Two Steps
08.
Flevans - Take Your Money
09.
Flevans - Ex-Factor
10.
Flevans - Some Day
11.
Flevans - The Wheel
ANALYZER: auCDtect: CD records authenticity detector, version 0.8.2
Copyright © 2004 Oleg Berngardt. All rights reserved.
Copyright © 2004 Alexander Djourik. All rights reserved.


FILE: 1.11. The Wheel.flac
Size: 28856771 Hash: A4E6872C878CC71099DFFCECB868375E Accuracy: -m8
Conclusion: CDDA 100%
Signature: D4EE78814049D497BFA91A6CDC86D7FC8671C7AE
FILE: 1.10. Some Day.flac
Size: 24454538 Hash: 8A0E7B37C3F56D4F187987FFF8827B9C Accuracy: -m8
Conclusion: CDDA 43%
Signature: 2332E03E18E3275492A192C7B39268733364A646
FILE: 1.09. Ex-Factor.flac
Size: 27447579 Hash: FA47900E03FB2D67B12D0B5F4F66D92A Accuracy: -m8
Conclusion: CDDA 94%
Signature: 05AD1441C020B06B6BC82853B80A7A91249B4680
FILE: 1.08. Take Your Money.flac
Size: 23257436 Hash: 17433963A2D67E4DD1FC4665C9976329 Accuracy: -m8
Conclusion: CDDA 99%
Signature: A0690E064FD78179BABF5EB9A6E6180AF8681939
FILE: 1.07. Two Steps.flac
Size: 22919114 Hash: BFCD080A293CF4C35602104D44E4305D Accuracy: -m8
Conclusion: CDDA 100%
Signature: C17BCE61D8BD4D9CD333ADF54D7F21EEC9DE2725
FILE: 1.06. Who's Got Me.flac
Size: 26876869 Hash: 8E680C282D7C95C5C8288A5470AD50B2 Accuracy: -m8
Conclusion: CDDA 100%
Signature: 9A11F03EE76D1DB0FF80608233CCC9D5D0C24C85
FILE: 1.05. Part Time Millionaire.flac
Size: 15276054 Hash: 1B740C60BEC21FADB2309D28E2203842 Accuracy: -m8
Conclusion: CDDA 99%
Signature: CDFBFF9F71F1C85BACD67F5267717261581197E4
FILE: 1.04. 15,000 Words.flac
Size: 24021131 Hash: 9B6EF87813370D0EB466A018CD08E830 Accuracy: -m8
Conclusion: CDDA 100%
Signature: 4288B0E0EC6CE00201E43FF96E908CE28AE5013F
FILE: 1.03. It Just Goes.flac
Size: 38102046 Hash: 7F38CD0B64A17DA9867D278C6B5539D0 Accuracy: -m8
Conclusion: CDDA 100%
Signature: A5FA544728BE02AEA274CDAC7EB4D07743A359E4
FILE: 1.02. Invisible.flac
Size: 24185185 Hash: B7D18DA574D8998183E795E57CC4DE3A Accuracy: -m8
Conclusion: CDDA 100%
Signature: E92A7354DB1F78BFB79C43BF94A772B4B4222112
FILE: 1.01. Right on Top.flac
Size: 10759980 Hash: 75B538129604027BF4902E14DC904DE8 Accuracy: -m8
Conclusion: CDDA 100%
Signature: A22243C1D84384F41E48FCE0BB150F123DAAF503