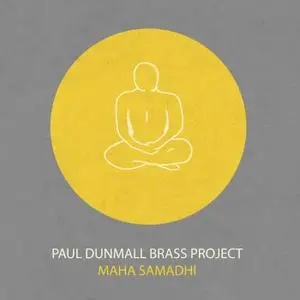 Paul Dunmall Brass Project - Maha Samadhi (2017)
WEB FLAC (tracks) ~ 357.95 Mb | 58:37 | Cover
Free jazz, Avant-garde | Label: Slam Productions - SLAMCD 2105
With his brass project 'Maha Samadhi' saxophonist/composer Paul Dunmall takes a rare step into the world of composition; the suite is based on episodes from the life of Sri Ramakrishna, 19th century Indian mystic and yogi. The group includes trumpeter Percy Pursglove and drummer Tony Bianco. Paul's four previous albums on SLAM have defined his Coltrane interests and influences; the choice of the brass project picks up further on his love of everything Coltrane. Paul writes: "I've been wanting to do a brass project for many years and finally I got the chance. I've enjoyed writing for it and have had some very positive feedback so maybe this will encourage me to do more writing in the future."
Track List:
1 Ecstatic, Unbearable Love 12:24
2 Temple Of The Mother's Presence 14:04
3 In The Cossipore Garden 12:36
4 Maha Samadhi 14:12
5 Infinite Cry 5:24
Paul Dunmall (tenor saxophone)
Olie Brice (bass)
Tony Bianco (drums)
Percy Pursglove, Aaron Diaz, Alex Astbury (trumpet)
Dave Sear, Josh Tagg (trombone)
Josh Palmer, Jo Sweet (tuba)
Ed Bennett (conductor)
–––––––––––-
DON'T MODIFY THIS FILE
–––––––––––-
PERFORMER: auCDtect Task Manager, ver. 1.6.0 RC1 build 1.6.0.1
Copyright © 2008-2010 y-soft. All rights reserved
http://y-soft.org
ANALYZER: auCDtect: CD records authenticity detector, version 0.8.2
Copyright © 2004 Oleg Berngardt. All rights reserved.
Copyright © 2004 Alexander Djourik. All rights reserved.
FILE: 05 - Infinite Cry.flac
Size: 38721633 Hash: 3811E623CB70A9B93D3D3AF2114CB023 Accuracy: -m0
Conclusion: CDDA 100%
Signature: B0ACDB0C51673E7E505FE1D542C90E88526174E7
FILE: 04 - Maha Samadhi.flac
Size: 89362628 Hash: 7E1C897DEA07C711FF34F4D0CBA3ABE8 Accuracy: -m0
Conclusion: CDDA 100%
Signature: A2B816BAC92296AA0EFF486A22CE9BCCB18B0EBC
FILE: 03 - In the Cossipore Garden (feat. Josh Tagg & Alex Astbury).flac
Size: 79810027 Hash: DC9D2424E4F92BC37FF3B2E11875D5DE Accuracy: -m0
Conclusion: CDDA 100%
Signature: E0E13FCD1187C005CE5F14010A9292AE1CC9818E
FILE: 02 - Temple of the Mother's Presence (feat. Aaron Diaz & Dave Sear).flac
Size: 81348176 Hash: 6152FE63FE9C88BABD4DABFDF62B8CCA Accuracy: -m0
Conclusion: CDDA 100%
Signature: CEF312995C511F68F4CEEAA9B2AA4B08299394F5
FILE: 01 - Ecstatic, Unbearable Love (feat. Percy Pursglove).flac
Size: 85865011 Hash: 30A5517E97A78D46B0D43C0A18F961B9 Accuracy: -m0
Conclusion: CDDA 100%
Signature: 473C9A8750F728ED5AF6825352B1A3002C142F5E