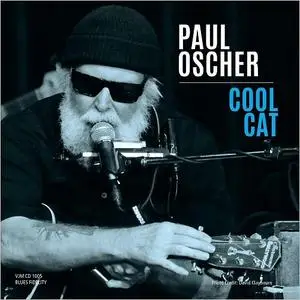 Paul Oscher - Cool Cat (2018)
WEB FLAC (tracks) ~ 248.08 Mb | 52:18 | Cover
Chicago Blues | Country: USA | Label: Blues Fidelity
Paul Oscher is the real deal. He plays only unadulterated, down-in-the–alley, gutbucket blues. He is not a retro player – he just plays the blues the way he learned them and feels them… lowdown and lonesome. He has been doing so for the past fifty years, from the time he joined the Muddy Waters Blues Band in 1967 while still in his teens. He has won two BMA awards for "Down in the Delta" and has had 9 BMA nominations for his other releases. No matter what instrument Paul touches, be it guitar, harp, or piano, he makes it sing the deep blues.
And that's why "Cool Cat" is such a great release. It is pure Paul Oscher, with beautiful old style blues timing and great stories that plant exotic pictures in your mind. On every track the instruments talk to one another, each one giving you a piece of the story. Paul sings a line, answers it with a powerful lick, and the band responds in kind. The playing is direct and forceful – nothing is tentative. And it's all infused with Paul's strong personality and distinctive view of the world. You'll laugh and nod in agreement as Miss Lavelle White tells the story of the "Dirty Dealin' Mama". You'll shake your head in despair at "Poor Man Blues". You'll see whole films in your head while listening to "Mississippi" and "Ain't That A Man". "Money Makin' Woman" will take you to New Orleans and "Hide Out Baby" will bring you to the south side of Chicago. Even "On The Edge", Paul's venture into jazz territory, is steeped in blues feeling. The cunning and seductive charm of "Work That Stuff" evokes memories of Sonny Boy Williamson (Rice Miller). Then there is the unforgettable title track "Cool Cat", with its evocative prologue, where Paul in his own words tells a story about a Wino with a cat named Cool Cat tied to his waist who was walking down the street in front of Muddy Waters house and the wino started playing this beautiful melody on a recorder and all the kids in the area started following him dancing and clapping. This is how the song "Cool Cat" came to be. Paul includes two versions of "Cool Cat" on the CD - a short swinging jazz one and a longer very danceable R&B style one which is used to wrap up the recording. Paul's piano played during "Cool Cat" conjures up the spirit of the Wino's plastic recorder playing, as the chorus sings "He's a Cool Cat" and a line of dancing children follow the piper towards the horizon. This is the stuff that has made the blues so timeless and compelling, and Paul Oscher delivers it with no punches pulled.
Track List:
01. Money Makin Woman (4:02)
02. Blues And Trouble (4:10)
03. Hide Out Baby (3:12)
04. Work That Stuff (4:56)
05. Rollin And Tumblin (4:42)
06. Cool Cat (R&B) Prologue (2:14)
07. Cool Cat (Jazz Quartet) (4:13)
08. Mississippi Poem (Feat. Russel Lee) (0:31)
09. Ain't That A Man (Dedicated To Mr. Cotton) (Feat. Russel Lee) (3:34)
10. Dirty Dealin Mama (Feat. Miss Lavelle White) (4:47)
11. On The Edge (Jazz Quartet) (2:09)
12. Poor Man Blues (Feat. Russel Lee) (3:59)
13. Cool Cat (R&B) Long Version (9:33)
CUE Corrector v. 8.3.4 / b. 880 (Oct. 14, 2018)
————————————————————————————————————————————————————————————————————————
Paul Oscher / Cool Cat

Folder: Paul Oscher - Cool Cat (2018)
Audio files:
01. Paul Oscher - Money Makin Woman.flac [04:03.453; FLAC • 624 kbps • 16 bit \ 44100 Hz • stereo; 18.13 MB (19 012 272 B)]
02. Paul Oscher - Blues and Trouble.flac [04:11.720; FLAC • 598 kbps • 16 bit \ 44100 Hz • stereo; 17.96 MB (18 829 822 B)]
03. Paul Oscher - Hide out Baby.flac [03:11.947; FLAC • 601 kbps • 16 bit \ 44100 Hz • stereo; 13.75 MB (14 422 548 B)]
04. Paul Oscher - Work That Stuff.flac [04:57.853; FLAC • 593 kbps • 16 bit \ 44100 Hz • stereo; 21.07 MB (22 093 626 B)]
05. Paul Oscher - Rollin and Tumblin.flac [04:41.973; FLAC • 691 kbps • 16 bit \ 44100 Hz • stereo; 23.23 MB (24 361 794 B)]
06. Paul Oscher - Cool Cat (R&b) Prologue.flac [02:14.400; FLAC • 579 kbps • 16 bit \ 44100 Hz • stereo; 9.28 MB (9 728 813 B)]
07. Paul Oscher - Cool Cat ( Jazz Quartet).flac [04:15.960; FLAC • 604 kbps • 16 bit \ 44100 Hz • stereo; 18.44 MB (19 331 841 B)]
08. Paul Oscher - Mississippi Poem.flac [00:31.000; FLAC • 842 kbps • 16 bit \ 44100 Hz • stereo; 3.11 MB (3 265 049 B)]
09. Paul Oscher - Ain't That a Man (Dedicated to Mr. Cotton).flac [03:35.693; FLAC • 477 kbps • 16 bit \ 44100 Hz • stereo; 12.28 MB (12 877 337 B)]
10. Paul Oscher - Dirty Dealin Mama.flac [04:48.520; FLAC • 622 kbps • 16 bit \ 44100 Hz • stereo; 21.41 MB (22 453 885 B)]
11. Paul Oscher - On the Edge (Jazz Quartet).flac [02:10.947; FLAC • 664 kbps • 16 bit \ 44100 Hz • stereo; 10.37 MB (10 875 894 B)]
12. Paul Oscher - Poor Man Blues.flac [04:00.960; FLAC • 636 kbps • 16 bit \ 44100 Hz • stereo; 18.28 MB (19 172 931 B)]
13. Paul Oscher - Cool Cat (R&b) Long Version.flac [09:33.787; FLAC • 887 kbps • 16 bit \ 44100 Hz • stereo; 60.70 MB (63 644 069 B)]

Accuracy: -m12

File 01. Paul Oscher - Money Makin Woman - 100% CDDA [04:03:34]
File 02. Paul Oscher - Blues and Trouble - 100% CDDA [04:11:54]
File 03. Paul Oscher - Hide out Baby - 100% CDDA [03:11:71]
File 04. Paul Oscher - Work That Stuff - 100% CDDA [04:57:64]
File 05. Paul Oscher - Rollin and Tumblin - 100% CDDA [04:41:73]
File 06. Paul Oscher - Cool Cat (R&b) Prologue - 99% CDDA [02:14:30]
File 07. Paul Oscher - Cool Cat ( Jazz Quartet) - 99% CDDA [04:15:72]
File 08. Paul Oscher - Mississippi Poem - 87% CDDA [00:31:00]
File 09. Paul Oscher - Ain't That a Man (Dedicated to Mr. Cotton) - 100% CDDA [03:35:52]
File 10. Paul Oscher - Dirty Dealin Mama - 100% CDDA [04:48:39]
File 11. Paul Oscher - On the Edge (Jazz Quartet) - 100% CDDA [02:10:71]
File 12. Paul Oscher - Poor Man Blues - 100% CDDA [04:00:72]
File 13. Paul Oscher - Cool Cat (R&b) Long Version - 100% CDDA [09:33:59]
————— Summary: —————
These tracks looks like CDDA with probability 100%.
————————————————————————————————————————————————————————————————————————

ANALYZER:
auCDtect: CD records authenticity detector, version 0.8.2
Copyright © 2004 Oleg Berngardt. All rights reserved.
Copyright © 2004 Alexander Djourik. All rights reserved.

Time elapsed: 8.7 s
Log created at October 19, 2018 16:41:02

=== 150983B672319F99C643013E712C3A76ECE023831887A30ADB3C27E9D9B7992C ===