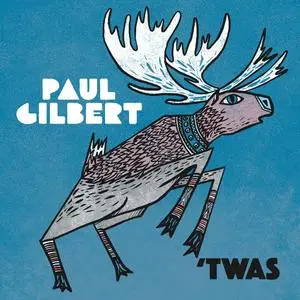 Paul Gilbert - 'TWAS (2021)
WEB FLAC (tracks) - 320 Mb | MP3 CBR 320 kbps - 122 Mb | 00:52:46
Instrumental Rock, Xmas | Label: Mascot Records
'TIS the time of the season to release 'TWAS, a brand new Paul Gilbert album with instrumental versions of all your favorite chestnuts, and 2 new original songs. Christmas has never been shreddier! Gilbert shares, "Many will agree that in recent times, challenging events have been pouring down upon our heads like an Exploding Waterfall of Molasses. At least it sometimes feels like that to me. But while I was jamming Christmas songs with my friends, playing an assortment of red, green, and white Ibanez electric guitars, I felt like life was THE BEST. I hope that this music can put a smile on your face as well. Merry Christmas to all. And to all, a good night."
Tracklist:
1.
Let It Snow! Let It Snow! Let It Snow!
(04:33)
2.
Frosty the Snowman
(04:05)
3.
Hark! The Herald Angels Sing
(04:10)
4.
The Christmas Song
(04:09)
5.
Rudolph the Red-Nosed Reindeer
(05:11)
6.
I Saw Three Ships
(03:32)
7.
Every Christmas Has Love
(04:56)
8.
Three Strings for Christmas
(04:02)
9.
Have Yourself a Merry Little Christmas
(03:46)
10.
We Wish You a Merry Christmas
(04:34)
11.
Silver Bells
(04:53)
12.
Winter Wonderland
(04:50)
–––––––––––-

DON'T MODIFY THIS FILE

–––––––––––-

PERFORMER: auCDtect Task Manager, ver. 1.6.0 RC1 build 1.6.0.1
Copyright © 2008-2010 y-soft. All rights reserved

ANALYZER: auCDtect: CD records authenticity detector, version 0.8.2
Copyright © 2004 Oleg Berngardt. All rights reserved.
Copyright © 2004 Alexander Djourik. All rights reserved.


FILE: 12 - Paul Gilbert - Winter Wonderland.flac
Size: 30041196 Hash: 50DDB81134B67CE29761E6B75FAFF40C Accuracy: -m8
Conclusion: CDDA 100%
Signature: E06BC7F64ACE799B49B6700A47920AEB292251A2
FILE: 11 - Paul Gilbert - Silver Bells.flac
Size: 31362352 Hash: 7F28BF335DD27542E0B851F7DA913AE1 Accuracy: -m8
Conclusion: CDDA 99%
Signature: 54EB8A3EBA020D5D9C323CFA267D425EE39F7832
FILE: 10 - Paul Gilbert - We Wish You a Merry Christmas.flac
Size: 29860393 Hash: 3844068381DBE17C72AC5D0AF8A93A88 Accuracy: -m8
Conclusion: CDDA 100%
Signature: E8A255D25500AD86E12F36A70C8DCD8A5091A403
FILE: 09 - Paul Gilbert - Have Yourself a Merry Little Christmas.flac
Size: 19896656 Hash: 77899CD66A84A18E9B0A9276C3533A25 Accuracy: -m8
Conclusion: CDDA 100%
Signature: B9BA1B3EA7FE94AC73F6E5BF069AE2148E3F686B
FILE: 08 - Paul Gilbert - Three Strings for Christmas.flac
Size: 27722129 Hash: 683127CC0546041F51C588282A6D6563 Accuracy: -m8
Conclusion: CDDA 100%
Signature: 20EEB6735C222C11D82FDB09922BCC81619238C6
FILE: 07 - Paul Gilbert - Every Christmas Has Love.flac
Size: 31888531 Hash: 1BD24B12DC24D64774DBF470DACC7BB1 Accuracy: -m8
Conclusion: CDDA 100%
Signature: 2E81BE858CD4164F570DF46AFE10094484EF29B8
FILE: 06 - Paul Gilbert - I Saw Three Ships.flac
Size: 22500832 Hash: 9C203959E9BC150CC2BD32730DB702DA Accuracy: -m8
Conclusion: CDDA 100%
Signature: 91A4979A5E4A2F63E3904AE756BA4716991D4D6F
FILE: 05 - Paul Gilbert - Rudolph the Red-Nosed Reindeer.flac
Size: 36010215 Hash: 4E31D7C370D97D44DEB74974B6F4D10C Accuracy: -m8
Conclusion: CDDA 100%
Signature: 8E596CCF163D587A8F39CAA272F0A35056F95F29
FILE: 04 - Paul Gilbert - The Christmas Song.flac
Size: 23060898 Hash: 55E14E346A0EFF1B48F850ADD045256D Accuracy: -m8
Conclusion: CDDA 100%
Signature: DA8379BDB79FD9F6719427E092C33E39778A2AED
FILE: 03 - Paul Gilbert - Hark! The Herald Angels Sing.flac
Size: 27200678 Hash: 7E25AB81D5A54E062B1A18426DC9D89F Accuracy: -m8
Conclusion: CDDA 100%
Signature: 673F5287583B08A9A286304DB6EAFEA787BA654D
FILE: 02 - Paul Gilbert - Frosty the Snowman.flac
Size: 26172590 Hash: F85C1CC93FB81370C54536E08B4C02B4 Accuracy: -m8
Conclusion: CDDA 100%
Signature: AC770BCA991C8713F41904158077346F1F9A23F1
FILE: 01 - Paul Gilbert - Let It Snow! Let It Snow! Let It Snow!.flac
Size: 29494213 Hash: 832E81B70790C3DDCF29376EFA662AB9 Accuracy: -m8
Conclusion: CDDA 100%
Signature: AD16CFB9B6F392A4DCCC4B6B119A5A6ADE2C9474