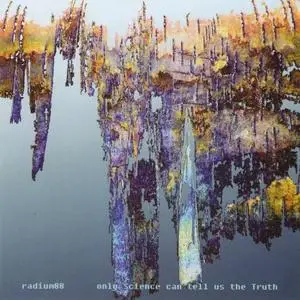 Radium88 - Only Science Can Tell Us The Truth (2007)
MP3 VBR 196 kbps avg. | Time: 71'14'' | 95 MB RAR
Electronic, Breaks, Trip-Hop, Ambient
Gentle melodic electronica with downtempo beats and some female vocals. Radium88 deliver here a series of themes that combine programmed sound with organic instrumentation - restful synthetic layers that employ ambient techniques and more traditional arrangement are broadened by the addition of guitar, piano and orchestral elements. Digital percussion is built into bright beats that give the music a strong momentum, bringing a liveliness and drive to the accompanying drifting soundscaping. Female vocals appear on a number of pieces, not dominating in the manner of a song over instrumental accompaniment, rather the singing acts more like an additional instrument itself weaving into the mix, spreading a warmth and hinting at an almost classical heritage.
Only Science Can Tell Us The Truth has something of a retro feel to it, something futuristic too - a little like looking into the future from a couple of decades back. For the most part the music is a relaxing blend of sci-fi induced electronica and loose rock structure resulting in a sound that is accessible yet stimulating to the imagination.
Only Science Can Tell Us The Truth will likely be appreciated by lovers of electronic music that carries a clear beat and distinctive melody. Not a million miles away from the territory worked by Single Cell Orchestra or Zer0 0ne.
Radium88 got started in mid 1996, the band consisting of Matt Clare (guitars / general sonic manipulations and treatments), Tim Thwaits (vocals / slide guitar / programming / keyboards / melodica / harmonica / melodeon) and Jemma Davies (vocals / guitar / overall visual co-ordinator). The team have played live all over the UK and toured various European countries appearing on a variety of CD compilations and remixing such other artists as the renowned Banco de Gaia. This is an interesting album from a band that has many diverse influences molding their approach resulting in an album that is surprisingly easy to listen to.
(Morpheus Music, london.tribe.net)
Tracklist:
01. Let There Be Lite
02. Nocturne
03. Sleepwalk
04.
Only Science Can Tell Us the Truth
05.
The Man Who Invented Himself
06. And the Deep Blue Sea
07. Nostalgia for A Time that Never Was
08. Sometimes They Get into the Machines
09. The Sound of Light
10. Voyage to the Bottom of the Deep End
11.
Lullaby
12. Two Four Sorrow
13. Your Message Has Been Erased
14. Rising Tide
15. Infinity is Everywhere
16. Enter Hyperspace
Click above track 4, 5, 11 for album sampler.