Shivkumar Sharma - Raga Rageshri (1994)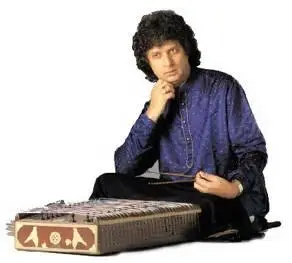 Title:
Raga Rageshri
Artist:
Shivkumar Sharma
Gender:
Hindi
Release date:
1994
Label:
Moment Records
ASIN:
ND
Source:
CDDA (CD Rip)
Audio:
MP3 192Kbps CBR JS
File Size:
65Mb + 44,5 Mb
RAR Recovery Information:
Yes
Tracklist
01-Alap-Jor-Jhala
02-Slow_Gat
03-Madhya Gat
04-Drut Gat
Recorded live at the Ramkrishna Mission Auditorium, Calcutta, India in January 1992. Includes liner notes by George Ruckert & Antonia Minnecola.
Pandit Shivkumar Sharma (born January 13, 1938) is an Indian classical musician, working in the Hindustani classical music tradition. He is a master of the santoor, a folk instrument from the valley of Kashmir. It is a type of hammered dulcimer whose strings are struck with a pair of light carved wooden mallets.
In the early decades of the twentieth century, the
Santoor
or shata-tantri veena as it was called in earlier times, was used as an accompaniment to a specific type of singing called sufiana mausiqi. When Pandit Uma Dutt Sharma, a renowned vocalist from Jammu and a disciple of Pandit Bade Ramdasji of Benares gharana discovered the instrument, he became interested by its possibilities. After extensive research on the instrument he passed on to his only son Shivkumar the responsibility of establishing it on the concert platform.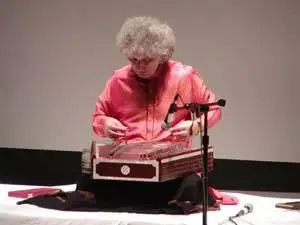 Shivkumar Sharma is the master instrumentalist of the santoor, after some years as a student of the tabla and as a vocalist. He is credited with single-handedly making the santoor a popular classical instrument, to the extent that the santoor and Pandit Shivkumar Sharma are synonymous. Sharma modified the Kashmiri folk instrument to make it more suitable for his classical technique, increasing the range of the instrument to three full octaves and making it capable of a smoother meend (the glissando or gliding between notes required in Hindustani classical music to emulate the human voice). Besides, he also created a new technique of playing with which he could sustain notes and maintain sound continuity.
More
Info
Links:
-
Part 1 (65 Mb)
-
Part 2 (44.5 Mb)