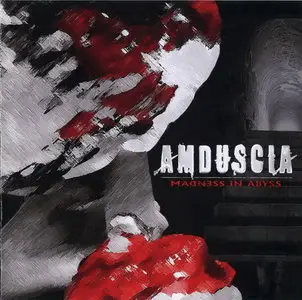 Amduscia - Madness In Abyss (2008)
MP3 320 Kbps | 149 Mb | APE + CUE | 545 Mb | 63:08
Genre: Dark Electro/Ebm

Одни из лидеров агротехнического комплекса Мексики…
Aggrotech
Aggrotech is an evolution of electro-industrial and dark electro with a strong influence of techno music that first surfaced in the mid-1990s, but has been revitalized in recent years. Also referred to as "Hellektro," "Terror EBM" and "Harsh EBM", its sound is typified by somewhat harsh song structures, aggressive beats and lyrics of a militant, pessimistic or explicit nature. Typically, the vocals are distorted to sound hoarse, harsh and without tone. Artists also frequently use atonal melodic structures.
Artists: Aghast View, Aesthetic Perfection, Amduscia, Agonoize, Psyclon Nine, Die Sektor, Combichrist, Hocico, Virtual Embrace, Tactical Sekt, Funker Vogt, Grendel, Aslan Faction, Tamtrum, Feindflug, Cenobita, Dawn Of Ashes, Suicide Commando, Vigilante, X-Fusion, Wumpscut, Cruciform Injection
Labels: NoiTekk (Germany) Out of Line Music (Germany)
Release Date: 24.10.2008
Label (Release Label/Original Release Label): Gravitator / Out of Line Music
Catalog No: GRR 094

Official Website
Wikipedia
MySpace Music
Band:
Polo - Vocals, Lyrics, Arrangements
Edgar - Composition, Programming, Mastering
Raul - Lyrics, Live Keys
Tracklist:
01. Kill, Inc., Motherfuckers
02. Decision Inminente
03. Madness In Abyss
04. Perverse Party
05. Animal Instinct (Part 1)
06. Perversion, Perdicion, Demencia
07. Animal Instinct (Part 2) (Nightmares Of Conscience)
08. Ashes Of Betrayal (Album Version)
09. War On Me
10. Schizo Dance
11. La Muerte
12. What
MP3
Part 1
Part 2
APE
Part 1
Part 2
Part 3
Part 4
Part 5
Part 6
В каждом архиве инфа для восстановления!
Обложки в комплекте.
Отчёт EAC об извлечении, выполненном 31. января 2009, 7:07 для диска:
Amduscia / Madness In Abyss
Дисковод: ASUS DRW-1814BLT Adapter: 1 ID: 0
Режим чтения: Достоверный (C2: нет, Точный поток: да, Отключение кэша: да)
Коррекция смещения при чтении: 6
Способность читать области Lead-in и Lead-out : Нет
Выходной формат: C:\Program Files\Monkey's Audio\MAC.exe (Monkey's Audio (без потерь))
High Lossless Compression
Другие параметры:
Заполнение пропущенных сэмплов тишиной : Да
Удаление блоков с тишиной в начале и конце : Нет
Установленный внешний ASPI-интерфейс
Характеристики диапазона извлечения и сообщения об ошибках
Выбранный диапазон
Имя файла D:\MUSIC\Amduscia - Madness In Abyss.wav
Пиковый уровень 100.0 %
Качество диапазона 100.0 %
CRC 64F73158
Копирование… OK
Ошибок не произошло
Конец отчёта
Прошу обратить внимание на то, что весь материал, представленный выше, предназначен исключительно для ознакомления! Приобретайте, пожалуйста, легальные диски, которые вне всякого сомнения станут достойным украшением вашей коллекции!