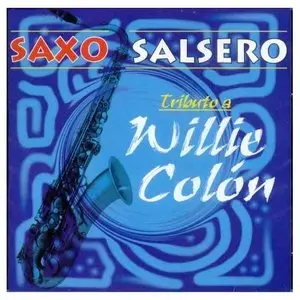 Hugo Castellanos - "Saxo Salsero - Tributo a Willie Colón" (2004)
MP3: 320 Kbps (CBR) | 127 Mb | Cover | Rapidshare
Released in 2004 | Label: FANIA
Salsa, Instrumental
Willie Colón, Bronx-born of Puerto Rican grandparents, has fused his musical talent, his passion for humanity, and his community and political activism into an extraordinary, multifaceted career.
His achievements in all his activities are widely recognized. As musician, composer, arranger, singer, and trombonist, as well as producer and director, Colón still holds the all time record for sales, he has created 40 productions that have sold more than thirty million records worldwide.
Willie Colón, nacido en el Sur del Bronx de abuelos Puertorriqueños, ha fundado su talento musical, su pasión para la humanidad, y su activismo político y comunitario en una extraordinaria carrera multifacética.
Sus logros en todas sus actividades son ampliamente reconocidas. Como músico, compositor, arreglista, cantante y trombonista, tanto como productor y director, Colón ha creado 40 producciones que han vendido más de 30 millones de discos en todo el mundo.
Tracks List:
01 Gitana
02 Idilio
03 Sin Poderte Hablar
04 La Murga
05 Cueste Lo Que Cueste
06 Celo
07 Che Che Cole
08 Talento De T.V.
09 Oh! Que Sera
10 Demasiado Corazon
11Usted Abuso
12 Todo Tiene Su Final