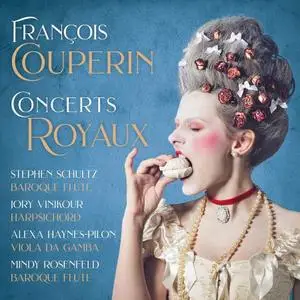 Stephen Schultz, Jory Vinikour, Alexa Haynes-Pilon, Mindy Rosenfeld - Couperin: Concerts royaux (2021)
WEB FLAC (tracks) - 352 Mb | MP3 CBR 320 kbps - 143 Mb | Digital booklet | 01:00:37
Classical | Label: Music & Arts
"Following on the success of their widely acclaimed Music & Arts release J.S. Bach: Sonatas for Flute and Harpsichord, Stephen Schultz (Baroque flute) and Jory Vinikour (harpsichord) are joined by Alexa Haynes-Pilon (viola da gamba), and Mindy Rosenfeld (Baroque flute) in superlative performances of François Couperin's four Concerts Royaux; works which stand among the pinnacles of the Golden Age that was French music during the reign of Louis XIV. This state-ofthe- art recording was produced and engineered at Skywalker Sound by two-time Grammy Award winner Jack Vad (2012, 2021).
Tracklist:
01. Couperin: Concerts royaux, Deuxième concert in D Major: I. Prélude
02. Couperin: Concerts royaux, Deuxième concert in D Major: II. Allemande fuguée
03. Couperin: Concerts royaux, Deuxième concert in D Major: III. Air tendre
04. Couperin: Concerts royaux, Deuxième concert in D Major: IV. Air contrefugué
05. Couperin: Concerts royaux, Deuxième concert in D Major: V. Échos
06. Couperin: Concerts royaux, Troisième concert in A Major: I. Prélude
07. Couperin: Concerts royaux, Troisième concert in A Major: II. Allemande
08. Couperin: Concerts royaux, Troisième concert in A Major: III. Courante
09. Couperin: Concerts royaux, Troisième concert in A Major: IV. Sarabande grave
10. Couperin: Concerts royaux, Troisième concert in A Major: V. Gavotte
11. Couperin: Concerts royaux, Troisième concert in A Major: VI. Musette
12. Couperin: Concerts royaux, Troisième concert in A Major: VII. Chaconne légère
13. Couperin: Concerts royaux, Premier concert in G Major: I. Prélude
14. Couperin: Concerts royaux, Premier concert in G Major: II. Allemande
15. Couperin: Concerts royaux, Premier concert in G Major: III. Sarabande
16. Couperin: Concerts royaux, Premier concert in G Major: IV. Gavotte
17. Couperin: Concerts royaux, Premier concert in G Major: V. Gigue
18. Couperin: Concerts royaux, Premier concert in G Major: VI. Menuet en trio
19. Couperin: Concerts royaux, Quatrième concert in E Minor: I. Prélude
20. Couperin: Concerts royaux, Quatrième concert in E Minor: II. Allemande
21. Couperin: Concerts royaux, Quatrième concert in E Minor: III. Courante française
22. Couperin: Concerts royaux, Quatrième concert in E Minor: IV. Courante à l'italienne
23. Couperin: Concerts royaux, Quatrième concert in E Minor: V. Sarabande
24. Couperin: Concerts royaux, Quatrième concert in E Minor: VI. Rigaudon
25. Couperin: Concerts royaux, Quatrième concert in E Minor: VII. Forlane
–––––––––––-

DON'T MODIFY THIS FILE

–––––––––––-

PERFORMER: auCDtect Task Manager, ver. 1.6.0 RC1 build 1.6.0.1
Copyright © 2008-2010 y-soft. All rights reserved

ANALYZER: auCDtect: CD records authenticity detector, version 0.8.2
Copyright © 2004 Oleg Berngardt. All rights reserved.
Copyright © 2004 Alexander Djourik. All rights reserved.


FILE: 25 - Stephen Schultz, Jory Vinikour, Alexa Haynes-Pilon, Mindy Rosenfeld - Couperin- Concerts royaux, Quatrième concert in E Minor- VII. Forlane.flac
Size: 17942106 Hash: AAFED246C08E84F9BE242EA0A5D32A8D Accuracy: -m8
Conclusion: CDDA 100%
Signature: DC2A758278894BE78BCF66D0BE9BE549D42EAA0B
FILE: 24 - Stephen Schultz, Jory Vinikour, Alexa Haynes-Pilon, Mindy Rosenfeld - Couperin- Concerts royaux, Quatrième concert in E Minor- VI. Rigaudon.flac
Size: 8944736 Hash: 4E036385DBB879471C19F0E9D6BB2410 Accuracy: -m8
Conclusion: CDDA 85%
Signature: 98E775D148848BC5F80F9C22C791556B5EE6F3EF
FILE: 23 - Stephen Schultz, Jory Vinikour, Alexa Haynes-Pilon, Mindy Rosenfeld - Couperin- Concerts royaux, Quatrième concert in E Minor- V. Sarabande.flac
Size: 16441637 Hash: B887CB8154ACB08989B565BAB3BFF323 Accuracy: -m8
Conclusion: CDDA 100%
Signature: 577C3A64D37A8B3E3B4EDF8804D36E4F855D2177
FILE: 22 - Stephen Schultz, Jory Vinikour, Alexa Haynes-Pilon, Mindy Rosenfeld - Couperin- Concerts royaux, Quatrième concert in E Minor- IV. Courante à l'italienne.flac
Size: 18536413 Hash: 55317082EAF09F2D3013D1164A53C19C Accuracy: -m8
Conclusion: CDDA 85%
Signature: 33FB32DDF46C09732B9F9570D6371643D9FD2629
FILE: 21 - Stephen Schultz, Jory Vinikour, Alexa Haynes-Pilon, Mindy Rosenfeld - Couperin- Concerts royaux, Quatrième concert in E Minor- III. Courante française.flac
Size: 12700846 Hash: 1D638EEBFA1FCC9DC40D5407D410750B Accuracy: -m8
Conclusion: CDDA 43%
Signature: 156CA6D3791D6289E5F07BEE51B75EE441F9AFD3
FILE: 20 - Stephen Schultz, Jory Vinikour, Alexa Haynes-Pilon, Mindy Rosenfeld - Couperin- Concerts royaux, Quatrième concert in E Minor- II. Allemande.flac
Size: 9782011 Hash: 3113F58D59E812107C0ACC00B35A8E8A Accuracy: -m8
Conclusion: CDDA 100%
Signature: 0E1BF35E099D692CFFAD1BFDEE15645385DF2379
FILE: 19 - Stephen Schultz, Jory Vinikour, Alexa Haynes-Pilon, Mindy Rosenfeld - Couperin- Concerts royaux, Quatrième concert in E Minor- I. Prélude.flac
Size: 9543371 Hash: 4F9EBC5416BD37176695EB7DE1890300 Accuracy: -m8
Conclusion: CDDA 100%
Signature: 3F464FFA38AF6094D86B2D00549FA5DA035FBA02
FILE: 18 - Stephen Schultz, Jory Vinikour, Alexa Haynes-Pilon, Mindy Rosenfeld - Couperin- Concerts royaux, Premier concert in G Major- VI. Menuet en trio.flac
Size: 7438349 Hash: 2274BB413B8E55CE66D117B5C766127F Accuracy: -m8
Conclusion: CDDA 100%
Signature: AC648A4B496992BFA1AA2CEEBE1E47BEF8D34D4A
FILE: 17 - Stephen Schultz, Jory Vinikour, Alexa Haynes-Pilon, Mindy Rosenfeld - Couperin- Concerts royaux, Premier concert in G Major- V. Gigue.flac
Size: 13914007 Hash: 006569B0E9D4FD8CB726C6D45A6517B2 Accuracy: -m8
Conclusion: MPEG 91%
Signature: 9CFB3DDE45F10280A33DCB97804993AAB1DF7CE7
FILE: 16 - Stephen Schultz, Jory Vinikour, Alexa Haynes-Pilon, Mindy Rosenfeld - Couperin- Concerts royaux, Premier concert in G Major- IV. Gavotte.flac
Size: 5899241 Hash: 891F10F4B6E3F625D4CB010983176A94 Accuracy: -m8
Conclusion: CDDA 94%
Signature: 033F2C66639D74D0183A00D84FBB0DEB65947208
FILE: 15 - Stephen Schultz, Jory Vinikour, Alexa Haynes-Pilon, Mindy Rosenfeld - Couperin- Concerts royaux, Premier concert in G Major- III. Sarabande.flac
Size: 18590723 Hash: 7EBE6B4E1895BA73A1760E94A86970CE Accuracy: -m8
Conclusion: CDDA 54%
Signature: 2EA9B2F4E75B33D41836521DE28C143FC26580C1
FILE: 14 - Stephen Schultz, Jory Vinikour, Alexa Haynes-Pilon, Mindy Rosenfeld - Couperin- Concerts royaux, Premier concert in G Major- II. Allemande.flac
Size: 12183646 Hash: 179D5C4F7C1B44219935CB206EB4E55B Accuracy: -m8
Conclusion: CDDA 94%
Signature: 8F87322DD09FA23070EA7F39A3FF87186343EB75
FILE: 13 - Stephen Schultz, Jory Vinikour, Alexa Haynes-Pilon, Mindy Rosenfeld - Couperin- Concerts royaux, Premier concert in G Major- I. Prélude.flac
Size: 14052518 Hash: C8D6671E0A7BC50B1EF6BC35676BE097 Accuracy: -m8
Conclusion: CDDA 100%
Signature: 3C4FC60178727DB6B7376499912A3BDABC9E457C
FILE: 12 - Stephen Schultz, Jory Vinikour, Alexa Haynes-Pilon, Mindy Rosenfeld - Couperin- Concerts royaux, Troisième concert in A Major- VII. Chaconne légère.flac
Size: 21021156 Hash: D2DB17D263592CE517D4D17EA2E0CD68 Accuracy: -m8
Conclusion: CDDA 100%
Signature: A4A6236DFFE9D48D315EEAA92958D379605C9A81
FILE: 11 - Stephen Schultz, Jory Vinikour, Alexa Haynes-Pilon, Mindy Rosenfeld - Couperin- Concerts royaux, Troisième concert in A Major- VI. Musette.flac
Size: 16694349 Hash: 9AE7FA524B8DFFB6AA1A7180068891D6 Accuracy: -m8
Conclusion: CDDA 100%
Signature: AF4FCEF2E8B0E82BB29D8A52F99FFB9CC2BCF74B
FILE: 10 - Stephen Schultz, Jory Vinikour, Alexa Haynes-Pilon, Mindy Rosenfeld - Couperin- Concerts royaux, Troisième concert in A Major- V. Gavotte.flac
Size: 10756705 Hash: DF2CD41EF736CACA3AB1F882B5F99D69 Accuracy: -m8
Conclusion: CDDA 100%
Signature: 801198102E7E7F1E1F9289DDC45C9D6C92B0D581
FILE: 09 - Stephen Schultz, Jory Vinikour, Alexa Haynes-Pilon, Mindy Rosenfeld - Couperin- Concerts royaux, Troisième concert in A Major- IV. Sarabande grave.flac
Size: 19495495 Hash: 40E541FB65A963A83707499D41AC11EB Accuracy: -m8
Conclusion: CDDA 100%
Signature: 05ABCE7474EC47C2407CE74BBC8A757E09632452
FILE: 08 - Stephen Schultz, Jory Vinikour, Alexa Haynes-Pilon, Mindy Rosenfeld - Couperin- Concerts royaux, Troisième concert in A Major- III. Courante.flac
Size: 14460871 Hash: 3F9364ED814E10B3780F290371A42B96 Accuracy: -m8
Conclusion: CDDA 87%
Signature: 10D89280666A90A461653CCB42C1AD28A4E816FD
FILE: 07 - Stephen Schultz, Jory Vinikour, Alexa Haynes-Pilon, Mindy Rosenfeld - Couperin- Concerts royaux, Troisième concert in A Major- II. Allemande.flac
Size: 13245466 Hash: 852F3C4EF53D4610EDD38BB0BB32BB60 Accuracy: -m8
Conclusion: CDDA 87%
Signature: 77C97F08D5B32192A01D284D65234C0D2D63D6D5
FILE: 06 - Stephen Schultz, Jory Vinikour, Alexa Haynes-Pilon, Mindy Rosenfeld - Couperin- Concerts royaux, Troisième concert in A Major- I. Prélude.flac
Size: 21634036 Hash: 7A32944543F4ED6A8671A26B0A882B97 Accuracy: -m8
Conclusion: CDDA 100%
Signature: 95D345DEA6B22B0A21B6606D3A49663976390F31
FILE: 05 - Stephen Schultz, Jory Vinikour, Alexa Haynes-Pilon, Mindy Rosenfeld - Couperin- Concerts royaux, Deuxième concert in D Major- V. Échos.flac
Size: 19296187 Hash: DAF9DD0DB38DADAB7591448EF2777415 Accuracy: -m8
Conclusion: CDDA 100%
Signature: 15A11AECB467EBBEC737E9498855081434AE27B4
FILE: 04 - Stephen Schultz, Jory Vinikour, Alexa Haynes-Pilon, Mindy Rosenfeld - Couperin- Concerts royaux, Deuxième concert in D Major- IV. Air contrefugué.flac
Size: 18185864 Hash: 16CC05E5F64B44385431E9C73BB0EAC7 Accuracy: -m8
Conclusion: CDDA 92%
Signature: C367D8365804A2ABC246AEA7A68FD33D65434282
FILE: 03 - Stephen Schultz, Jory Vinikour, Alexa Haynes-Pilon, Mindy Rosenfeld - Couperin- Concerts royaux, Deuxième concert in D Major- III. Air tendre.flac
Size: 17168338 Hash: 499F77DD212C7B3639980EC5710E0CD9 Accuracy: -m8
Conclusion: CDDA 100%
Signature: 752ED5CBC8271E075F5AA38A516AC092B544563F
FILE: 02 - Stephen Schultz, Jory Vinikour, Alexa Haynes-Pilon, Mindy Rosenfeld - Couperin- Concerts royaux, Deuxième concert in D Major- II. Allemande fuguée.flac
Size: 13543789 Hash: FFD9764E3C77A6B85727737975A52D40 Accuracy: -m8
Conclusion: CDDA 94%
Signature: 6B9F6D205EB9DDEE2CFEE8EB31675C75EC2A4C71
FILE: 01 - Stephen Schultz, Jory Vinikour, Alexa Haynes-Pilon, Mindy Rosenfeld - Couperin- Concerts royaux, Deuxième concert in D Major- I. Prélude.flac
Size: 13003842 Hash: 6B3E72CF033A71726BECD61E9AE6635E Accuracy: -m8
Conclusion: CDDA 100%
Signature: 3753045CED16272F41553E7745C28691A798A936