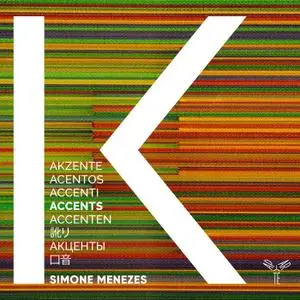 Simone Menezes & Ensemble K - Accents (2021)
WEB FLAC (tracks) - 252 Mb | MP3 CBR 320 kbps - 142 Mb | 01:01:41
Classical | Label: Aparté
K, a multicultural orchestra under the direction of the Italian-Brazilian conductor Simone Menezes, is bringing out its first album. Born out of the awareness that classical music was exported throughout the world and took on multiple influences in the last century, K's project seeks to find the original accents of the works it performs. Their goal: to tell each story in its original language.
Tracklist:
01. Polovtsian Dances
02. Prélude à l'Après-midi d'un faune, L. 86
03. Appalachian Spring
04. Chôros No. 5, W207
05. Histoire sans paroles
–––––––––––-

DON'T MODIFY THIS FILE

–––––––––––-

PERFORMER: auCDtect Task Manager, ver. 1.6.0 RC1 build 1.6.0.1
Copyright © 2008-2010 y-soft. All rights reserved

ANALYZER: auCDtect: CD records authenticity detector, version 0.8.2
Copyright © 2004 Oleg Berngardt. All rights reserved.
Copyright © 2004 Alexander Djourik. All rights reserved.


FILE: 05 Histoire sans paroles.flac
Size: 33200508 Hash: 3699B03C25D7857475AD2B9A9FECB50B Accuracy: -m8
Conclusion: CDDA 100%
Signature: AEE97AC12C52ACBEA530698379C83C8BF25C5D6F
FILE: 04 Chôros No. 5 W207.flac
Size: 19013305 Hash: 3D14C6F2FFAD3615704D680D1D8A2769 Accuracy: -m8
Conclusion: CDDA 100%
Signature: 52F8C4740C68B74455AD70176891B12292E4F73A
FILE: 03 Appalachian Spring.flac
Size: 108028557 Hash: 1210B56F45703240E95816E1E12AD1AD Accuracy: -m8
Conclusion: CDDA 100%
Signature: A3B6144239E021E6974BF4EBA1EC9B872258FFC0
FILE: 02 Prélude à l'Après-midi d'un faune L. 86.flac
Size: 39548472 Hash: 95D14681FA279AE928E785A9062D3012 Accuracy: -m8
Conclusion: CDDA 100%
Signature: E4DB16B7A9DEA59F86526B83B723A0E9549FA857
FILE: 01 Polovtsian Dances.flac
Size: 63177734 Hash: D0A99965CBE823088B49D195A45C6D1B Accuracy: -m8
Conclusion: CDDA 100%
Signature: 5BBB7B289AE070E6ACAB7D683BCD83F5A0F835CD