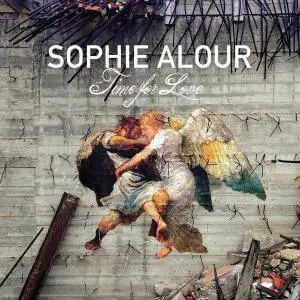 Sophie Alour - Time For Love (2018)
WEB FLAC (tracks) ~ 273.91 Mb | MP3 CBR 320kbps ~ 112.02 Mb | 47:49 | Cover
Jazz, Post-Bop | Label: Music From Source
Sophie Alour (24 décembre 1974) est une saxophoniste française de jazz. Formée initialement à la clarinette, elle s'exprime principalement au saxophone ténor. Débute en 2000 avec des musiciens comme Stéphane Belmondo, Christophe Dal Sasso puis Rhoda Scott, enregistrant depuis 2005 ses propres albums dans des formats différents, proposant compositions personnelles et improvisation libre.
Sophie Alour s'initie à la clarinette à partir de 13 ans, dans une école de musique à Quimper. L'apprentissage du saxophone débute plus tard, vers 19 ans, principalement en autodidacte et lors des cours suivis dans les écoles parisiennes de jazz et de musiques, le CIM et l'IACP.
La jeune saxophoniste débute véritablement sur la scène jazz en 2000 en participant au nouveau groupe nommé le Vintage Orchestra. Cette année-là, elle s'associe également au trompettiste Stéphane Belmondo pour former un sextet et se produit dans différents clubs parisiens. Elle participe aussi à l'orchestre de Christophe Dal Sasso.
Sophie Alour intègre en 2004 un quartet de musiciennes, dirigé par l'organiste Rhoda Scott, en compagnie d'Airelle Besson et de Julie Saury, ce qui lui permet de développer davantage son jeu au saxophone. Au cours de l'année, elle attire aussi l'attention du trompettiste Wynton Marsalis qui choisit de la faire participer à son orchestre. Elle est également sollicitée pour participer à un projet du batteur Aldo Romano et se fait remarquer par son interprétation sur la grande scène de Jazz à Vienne en 2004.
Sophie Alour au saxophone ténor.
L'année suivante elle fait paraître Insulaire, un premier album en leader qui est bien apprécié par la critique. Elle collabore à nouveau avec le groupe Vintage Orchestra sur l'enregistrement de l'album Thad.
En 2006, elle participe à l'enregistrement de l'album Ouverture de Christophe Dal Sasso et des frères Belmondo. En 2007, la saxophoniste accompagne le quintet du pianiste Alexandre Saada lors des enregistrements de son album Be Where You Are. Cette année-là, elle publie son deuxième album Uncaged qui reçoit de bonnes évaluations par la critique. Pendant 2 ans elle se produit dans différentes villes en France ainsi qu'à l'étranger. En 2010, Sophie Alour présente son troisième album intitulé Opus 3, un trio en compagnie du contrebassiste Yoni Zelnik et du batteur Karl Jannuska, deux musiciens présents sur son album précédent. L'année suivante elle participe à l'enregistrement de l'album Prétextes de Christophe Dal Sasso.
En 2012 la saxophoniste fait paraître un nouvel album intitulé La géographie des rêves. Sophie Alour forme un nouveau quintet avec deux musiciens qu'elle connait bien, Yoann Loustalot et Nicolas Moreaux, et deux nouveaux Frédéric Pasqua à la batterie et Stéphan Carraci au vibraphone.
Formée à la clarinette dans son adolescence, Sophie Alour choisit sur ses trois premiers albums de s'exprimer au saxophone ténor. Sur l'album La géographie des rêves, elle interprète pour la première fois certains morceaux à la clarinette basse, une autre approche qui complète son mode d'expression. Enregistrant en trio, quartet ou quintet, les morceaux qu'elle interprète peuvent être entièrement ou partiellement composés, offrant aussi la place à l'improvisation pour le groupe, sans chercher à reproduire des codes ou les formats habituels du jazz. Son jeu au saxophone se caractérise par une posture souvent posée, une gestuelle simple sans déhanché ou coups de menton. L'auteur Philippe Carles mentionne qu'elle est «à l'aise dans les graves élégants» et qualifie le son de son instrument de «serein mais jamais dénué de grain».
Track List:
01. Nos cendres
02. I Loves You, Porgy
03. The Second Time Around
04. Left Alone
05. Skylark
06. Ev'ry Time We Say Goodbye
07. Stars Fell on Alabama
08. Answer Me
09. I'm Old Fashioned
10. A Time for Love
11. Comptine
–––––––––––-
DON'T MODIFY THIS FILE
–––––––––––-
PERFORMER: auCDtect Task Manager, ver. 1.5.1RC4 build 1.5.1.5
Copyright © 2008-2010 y-soft. All rights reserved
http://y-soft.org
ANALYZER: auCDtect: CD records authenticity detector, version 0.8.2
Copyright © 2004 Oleg Berngardt. All rights reserved.
Copyright © 2004 Alexander Djourik. All rights reserved.
FILE: 11. Comptine.flac
Size: 17713118 Hash: 04E4DAB80323837BD9A7847AEF2203A6 Accuracy: -m0
Conclusion: CDDA 99%
Signature: CBF3974E12BE2832FC1810A47A1F476FEAABFEBA
FILE: 10. A Time for Love.flac
Size: 23511297 Hash: 609672145950234BE9AA4EDAB4537091 Accuracy: -m0
Conclusion: CDDA 100%
Signature: B80F7AA8B779011062C1DD29A22B204541B65E4D
FILE: 09. I'm Old Fashioned.flac
Size: 25346734 Hash: B422DB114D8A0F76FD790CA8AFAFCEDF Accuracy: -m0
Conclusion: CDDA 100%
Signature: 1FFFFB3E69071AB1B08BBE979B663D9CFFE52C8F
FILE: 08. Answer Me.flac
Size: 25221189 Hash: EE4D5BF124004A1C032501301B0FDCF1 Accuracy: -m0
Conclusion: CDDA 100%
Signature: C4F6DFABB5976005BBC7BD41A2775DD553CC6DD1
FILE: 07. Stars Fell on Alabama.flac
Size: 20711725 Hash: 608CB2F948E167243150CB0D9E199F3C Accuracy: -m0
Conclusion: CDDA 100%
Signature: 2E4409F5902034B4687A42EADAEE7D7601C18253
FILE: 06. Ev'ry Time We Say Goodbye.flac
Size: 32372933 Hash: 689B8F81D2F58E6B80EDC6D87F5BE839 Accuracy: -m0
Conclusion: CDDA 99%
Signature: 55ECBF6CD3641CF5B11D556E19A222FDE8840F90
FILE: 05. Skylark.flac
Size: 28333016 Hash: 4AB655C8AFF1C25902741E0249357914 Accuracy: -m0
Conclusion: CDDA 100%
Signature: 07B1D805BE0400DFFBDAE9100B8B54CF1C83D727
FILE: 04. Left Alone.flac
Size: 31508731 Hash: DF7E4E13149C722FC25D54F6E3561D11 Accuracy: -m0
Conclusion: CDDA 100%
Signature: 205585CCAF21D59BD659238FA6920FE89150F466
FILE: 03. The Second Time Around.flac
Size: 28967531 Hash: 7F91CF94FB914F6260F6278D58C8B79F Accuracy: -m0
Conclusion: CDDA 100%
Signature: 34FD79268812C3804A9E342288D2B4C7567166AB
FILE: 02. I Loves You, Porgy.flac
Size: 33839532 Hash: 2DFA6960372C58CE76D120ED850A5807 Accuracy: -m0
Conclusion: CDDA 100%
Signature: FC95BCDD53A99E634260B0D8B44ADC14E3D02778
FILE: 01. Nos cendres.flac
Size: 19203415 Hash: FE64495D31C9561805EB61E18BF67646 Accuracy: -m0
Conclusion: CDDA 100%
Signature: 93A58C3E26D3BC0C906921B9F935E91A4024473E