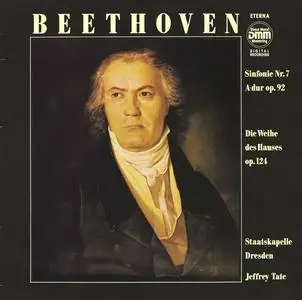 Staatskapelle Dresden & Jeffrey Tate - Beethoven: Sinfonie No. 7 - Die Weihe des Hauses (Remastered) (2021)
WEB FLAC (tracks) - 260 Mb | MP3 CBR 320 kbps - 135 Mb | 00:58:43
Classical | Label: Eterna
The Symphony No. 7 in A major, Op. 92, is a symphony in four movements composed by Ludwig van Beethoven between 1811 and 1812, while improving his health in the Bohemian spa town of Teplice. The work is dedicated to Count Moritz von Fries.

The Consecration of the House (or Die Weihe des Hauses), Op. 124, is a work by Ludwig van Beethoven composed in September 1822. It was commissioned by Carl Friedrich Hensler, the Director of Vienna's new Theater in der Josefstadt, and was first performed at the theatre's opening on October 3, 1822. It was the first work Beethoven wrote after his revival of studying the works of J. S. Bach and Handel, and bears their influence.
Tracklist:
01. Beethoven: Sinfonie No. 7, Op. 92: I. Poco sostenuto - Vivace (Remastered)
02. Beethoven: Sinfonie No. 7, Op. 92: II. Allegretto (Remastered)
03. Beethoven: Sinfonie No. 7, Op. 92: III. Presto (Remastered)
04. Beethoven: Sinfonie No. 7, Op. 92: IV. Allegretto con brio (Remastered)
05. Beethoven: Die Weihe des Hauses, Op. 124 (Remastered)
–––––––––––-

DON'T MODIFY THIS FILE

–––––––––––-

PERFORMER: auCDtect Task Manager, ver. 1.6.0 RC1 build 1.6.0.1
Copyright © 2008-2010 y-soft. All rights reserved

ANALYZER: auCDtect: CD records authenticity detector, version 0.8.2
Copyright © 2004 Oleg Berngardt. All rights reserved.
Copyright © 2004 Alexander Djourik. All rights reserved.


FILE: 05 - Staatskapelle Dresden & Jeffrey Tate - Beethoven- Die Weihe des Hauses, Op. 124 (Remastered).flac
Size: 61177028 Hash: 713F657CBF82C19B77664F62CC3D8832 Accuracy: -m8
Conclusion: CDDA 100%
Signature: FE8BB1468252A52433552D33FA28E4B624C57F58
FILE: 04 - Staatskapelle Dresden & Jeffrey Tate - Beethoven- Sinfonie No. 7, Op. 92- IV. Allegretto con brio (Remastered).flac
Size: 53114499 Hash: 16059A4E603AC412D62615A730AC6EEC Accuracy: -m8
Conclusion: CDDA 100%
Signature: BE8C73D2AA6DAA1A8BEB58D27949B584EA63A251
FILE: 03 - Staatskapelle Dresden & Jeffrey Tate - Beethoven- Sinfonie No. 7, Op. 92- III. Presto (Remastered).flac
Size: 41477119 Hash: 36B63951D05E3D9B02B48349F2977B10 Accuracy: -m8
Conclusion: CDDA 100%
Signature: 744335672B0C2406E7E7ACB8C03B389DD72DD82B
FILE: 02 - Staatskapelle Dresden & Jeffrey Tate - Beethoven- Sinfonie No. 7, Op. 92- II. Allegretto (Remastered).flac
Size: 41188831 Hash: 0031421C76CC35E9DF131070D53E3A7F Accuracy: -m8
Conclusion: CDDA 100%
Signature: A7FDE6C3DA900CEDDA06B710F6C5A17B850AE18B
FILE: 01 - Staatskapelle Dresden & Jeffrey Tate - Beethoven- Sinfonie No. 7, Op. 92- I. Poco sostenuto - Vivace (Remastered).flac
Size: 75976531 Hash: 2D8D147746DD2707925D3F9C600CE38F Accuracy: -m8
Conclusion: CDDA 100%
Signature: B0E45DE9624B1490890D96C1CB621FF835121431