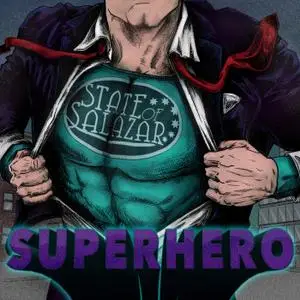 State Of Salazar - Superhero (2018)
WEB FLAC (tracks) ~ 344.84 Mb | 48:42 | Cover
Melodic Rock | Country: Sweden | Label: Frontiers Records s.r.l.
STATE OF SALAZAR was started in 2010 by five students from the Malmö Academy of Music who wanted to play rock music made for the big arenas. The singer and songwriter, Marcus Nygren, came up with the concept for State of Salazar in 2009 when a couple of songs that he'd written did not fit his metal-based band 8-Point Rose. State of Salazar released their debut EP "Lost my Way" in the summer of 2012, it spread fast in magazines and blogs and created a tidal wave of praise. The Swedish quintet received a lot of positive reactions from all over the world during a very short period of time.
"This is something that can grow really big." "…State Of Salazar will undoubtedly become one of the highlights of the genre." "…this EP is an extremely polished piece of art…" "The performances and the production are superb…" And so on.
Following the EP release, the band entered the rehearsal room straight away to work on new songs for a planned debut album called "All The Way". In early 2013 State of Salazar signed with the Frontiers label and in 2014 the album "All The Way" was released. It received a great amount of fantastic reviews and thanks to Frontiers the band reached out to a greater audience. They were also the first band to grace the stage of Frontiers Rock Festival in Milan.
Soon after the release of "All The Way" keyboard player Stefan Mårtenson chose to leave the band to pursue other things in life. Instead their long-time friend Kevin Hosford took his place as the band's new keyboard player. At this time the band had started working on their follow-up album "Superhero". Kevin contributed not only as keyboard player but also as lead vocalist and songwriter.
Considering that bands such as Toto, Queen, Journey, Survivor and especially Bill Conti and Vince DiCola have influenced them, State of Salazar have a lot to prove. But they handle all this pressure with their honor intact and their heads held high. There is no mistaking that the band delivers "feel good" music, and it is no wonder, since one of the biggest influences is "training montage" music. This is just one of many reasons why State of Salazar actually stands out from many of the other bands in the same genre.
Their songwriting, arranging and instrumental performance show that this is a band that wants to develop and contribute to the melodic rock genre. State of Salazar is back with another total and absolute AOR masterpiece!
Track List:
01. If You Wait for Me (4:39)
02. My Heart is at War (4:07)
03. Hold on Tonight (3:47)
04. Masquerade (4:28)
05. She's a Loaded Gun (4:42)
06. Lie to Me (4:46)
07. Joanne (4:27)
08. Someone I Know (3:47)
09. To the Wire (4:55)
10. Love Will Find a Way (3:56)
11. Superhero (5:14)
Marcus Nygren – Lead vocals & backing vocals
Kevin Hosford – Keyboards & lead vocals
Johan Thuresson – Guitars
Johannes Hansson – Bass
Kristian Brun – Drums
–––––––––––-
DON'T MODIFY THIS FILE
–––––––––––-
PERFORMER: auCDtect Task Manager, ver. 1.6.0 RC1 build 1.6.0.1
Copyright © 2008-2010 y-soft. All rights reserved
http://y-soft.org
ANALYZER: auCDtect: CD records authenticity detector, version 0.8.2
Copyright © 2004 Oleg Berngardt. All rights reserved.
Copyright © 2004 Alexander Djourik. All rights reserved.
FILE: 11 Superhero.flac
Size: 40141168 Hash: D2B1A1F9CF45C95330D40B879A370A99 Accuracy: -m0
Conclusion: CDDA 100%
Signature: D4BAEEC5118FF6227EAEDF559608913BF0177854
FILE: 10 Love Will Find a Way.flac
Size: 26277426 Hash: 40312FC1F586EC5345963F1D483B1862 Accuracy: -m0
Conclusion: CDDA 100%
Signature: 32227AE9D39E0E1AC0B6823CD280F090F65A9930
FILE: 09 To the Wire.flac
Size: 37748806 Hash: 32F8A0914156DCE9F46604806DFBF0BE Accuracy: -m0
Conclusion: CDDA 100%
Signature: 800796C53AD74119A5CFCA8EAC1CE0D83BA48873
FILE: 08 Someone I Know.flac
Size: 27602688 Hash: 6042AD76A877D07B91206BFB3C0A0BCC Accuracy: -m0
Conclusion: CDDA 100%
Signature: 381FA1428CCE5DA294B2FD52760DB179461B956C
FILE: 07 Joanne.flac
Size: 33183037 Hash: E5B9594B74677AA76009B0E0B0406389 Accuracy: -m0
Conclusion: CDDA 100%
Signature: DCEB0112C55C6065B0BA789F742CC3ED73307A14
FILE: 06 Lie to Me.flac
Size: 29541451 Hash: 445BF70B2A984EEB5780F2E696339318 Accuracy: -m0
Conclusion: CDDA 100%
Signature: 22ECB50E0F74D45E628903E3A33AA0F622E99FA5
FILE: 05 She's a Loaded Gun.flac
Size: 35636822 Hash: 51A9BA5164FD07BF824DE5AA25015CE9 Accuracy: -m0
Conclusion: CDDA 100%
Signature: F40DF1FA0F45C14D265F66726B2E0720583096B9
FILE: 04 Masquerade.flac
Size: 34936088 Hash: FBE829B539AFAB4B03E981BC274563FB Accuracy: -m0
Conclusion: CDDA 100%
Signature: B4BEB655A999D3F4100321FE6CF5FBE1383DE852
FILE: 03 Hold on Tonight.flac
Size: 28647683 Hash: 2190FA6B14ECF612A2D515916F4C6327 Accuracy: -m0
Conclusion: CDDA 99%
Signature: 9AFDBE72ABD494F9D315D13BD0B8C657F9E0895E
FILE: 02 My Heart is at War.flac
Size: 32145994 Hash: D86D6F41AE758B1D683AC417D0506285 Accuracy: -m0
Conclusion: CDDA 100%
Signature: 40EA07AE35F254C6991D5836658E95F479BB331C
FILE: 01 If You Wait for Me.flac
Size: 34694668 Hash: 0127E28A694D3680EAA8633E8EE9AD2C Accuracy: -m0
Conclusion: CDDA 100%
Signature: 0E88A04DE06FE4458262E71FA03A020C468F990D