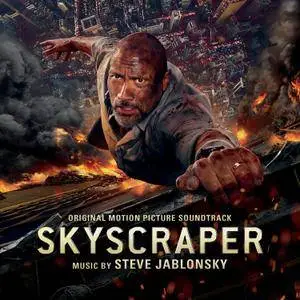 Steve Jablonsky - Skyscraper (Original Motion Picture Soundtrack) (2018)
WEB FLAC (tracks) ~ 358.79 Mb | MP3 CBR 320kbps ~ 172.68 Mb | 01:14:47 | Cover
Score | Label: Milan Records
Steve Jablonsky (Transformers, The Island, Ender's Game, Deepwater Horizon) is currently recording his score for the upcoming action thriller Skyscraper. The film is written and directed by Rawson Marshall Thurber (We're the Millers, Dodgeball) and stars Dwayne Johnson, Neve Campbell, Chin Han, Roland Møller, Pablo Schreiber, Byron Mann, Hannah Quinlivan and Noah Taylor. The movie follows a former FBI Hostage Rescue Team leader and war veteran who now assesses security for skyscrapers when he finds the tallest, safest building in the world in China suddenly ablaze. Johnson and Thurber are also producing the Legendary Pictures production with Beau Flynn (San Andreas, Hercules). Jablonsky is recording his music at Abbey Road Studios in London. Skyscraper is set to be released on July 13, 2018 by Universal Pictures.
Track List:
01. Hostage, Pt. 1 (7:29)
02. Will & Sarah (3:56)
03. Welcome to Heaven (2:40)
04. Botha (3:23)
05. The Crane (7:07)
06. Chopper Ambush (3:54)
07. Duct Tape (2:39)
08. Bridge Collapse (3:11)
09. Proper Motivation (3:44)
10. Out on a Ledge (4:27)
11. Georgia & Henry (2:52)
12. Reflections (5:26)
13. Hostage, Pt. 2 (1:57)
14. Reboot (2:19)
15. Lucky Man (5:08)
16. Skyscraper (5:00)
17. The Pearl (5:38)
18. Walls (3:56)
AUDIOCHECKER v2.0 beta (build 457) - by Dester - opdester@freemail.hu
~~~~~~~~~~~~~~~~~~~~~~~~~~~~~~~~~~

Начато: пятница, 06. 07. 2018. - 9:00.14
Найдено файлов: 18

01 -===- E:\Загрузки\µTorrent\Steve Jablonsky - Skyscraper (2018) FLAC\01. Hostage, Pt. 1.flac
Извлечение успешно выполнено
Заключение: этот трек - CDDA с вероятностью 100%
Временный файл удалён.

02 -===- E:\Загрузки\µTorrent\Steve Jablonsky - Skyscraper (2018) FLAC\02. Will & Sarah.flac
Извлечение успешно выполнено
Заключение: этот трек - CDDA с вероятностью 100%
Временный файл удалён.

03 -===- E:\Загрузки\µTorrent\Steve Jablonsky - Skyscraper (2018) FLAC\03. Welcome To Heaven.flac
Извлечение успешно выполнено
Заключение: этот трек - CDDA с вероятностью 100%
Временный файл удалён.

04 -===- E:\Загрузки\µTorrent\Steve Jablonsky - Skyscraper (2018) FLAC\04. Botha.flac
Извлечение успешно выполнено
Заключение: этот трек - CDDA с вероятностью 100%
Временный файл удалён.

05 -===- E:\Загрузки\µTorrent\Steve Jablonsky - Skyscraper (2018) FLAC\05. The Crane.flac
Извлечение успешно выполнено
Заключение: этот трек - CDDA с вероятностью 100%
Временный файл удалён.

06 -===- E:\Загрузки\µTorrent\Steve Jablonsky - Skyscraper (2018) FLAC\06. Chopper Ambush.flac
Извлечение успешно выполнено
Заключение: этот трек - CDDA с вероятностью 100%
Временный файл удалён.

07 -===- E:\Загрузки\µTorrent\Steve Jablonsky - Skyscraper (2018) FLAC\07. Duct Tape.flac
Извлечение успешно выполнено
Заключение: этот трек - CDDA с вероятностью 100%
Временный файл удалён.

08 -===- E:\Загрузки\µTorrent\Steve Jablonsky - Skyscraper (2018) FLAC\08. Bridge Collapse.flac
Извлечение успешно выполнено
Заключение: этот трек - CDDA с вероятностью 100%
Временный файл удалён.

09 -===- E:\Загрузки\µTorrent\Steve Jablonsky - Skyscraper (2018) FLAC\09. Proper Motivation.flac
Извлечение успешно выполнено
Заключение: этот трек - CDDA с вероятностью 100%
Временный файл удалён.

10 -===- E:\Загрузки\µTorrent\Steve Jablonsky - Skyscraper (2018) FLAC\10. Out On A Ledge.flac
Извлечение успешно выполнено
Заключение: этот трек - CDDA с вероятностью 99%
Временный файл удалён.

11 -===- E:\Загрузки\µTorrent\Steve Jablonsky - Skyscraper (2018) FLAC\11. Georgia & Henry.flac
Извлечение успешно выполнено
Заключение: этот трек - CDDA с вероятностью 99%
Временный файл удалён.

12 -===- E:\Загрузки\µTorrent\Steve Jablonsky - Skyscraper (2018) FLAC\12. Reflections.flac
Извлечение успешно выполнено
Заключение: этот трек - CDDA с вероятностью 100%
Временный файл удалён.

13 -===- E:\Загрузки\µTorrent\Steve Jablonsky - Skyscraper (2018) FLAC\13. Hostage, Pt. 2.flac
Извлечение успешно выполнено
Заключение: этот трек - CDDA с вероятностью 99%
Временный файл удалён.

14 -===- E:\Загрузки\µTorrent\Steve Jablonsky - Skyscraper (2018) FLAC\14. Reboot.flac
Извлечение успешно выполнено
Заключение: этот трек - CDDA с вероятностью 99%
Временный файл удалён.

15 -===- E:\Загрузки\µTorrent\Steve Jablonsky - Skyscraper (2018) FLAC\15. Lucky Man.flac
Извлечение успешно выполнено
Заключение: этот трек - MPEG с вероятностью 80%
Временный файл удалён.

16 -===- E:\Загрузки\µTorrent\Steve Jablonsky - Skyscraper (2018) FLAC\16. Skyscraper.flac
Извлечение успешно выполнено
Заключение: этот трек - CDDA с вероятностью 100%
Временный файл удалён.

17 -===- E:\Загрузки\µTorrent\Steve Jablonsky - Skyscraper (2018) FLAC\17. The Pearl.flac
Извлечение успешно выполнено
Заключение: этот трек - CDDA с вероятностью 100%
Временный файл удалён.

18 -===- E:\Загрузки\µTorrent\Steve Jablonsky - Skyscraper (2018) FLAC\18. Walls.flac
Извлечение успешно выполнено
Заключение: этот трек - CDDA с вероятностью 100%
Временный файл удалён.

Завершено: пятница, 06. 07. 2018. - 9:11.13 (Время операции: 0:10.59)