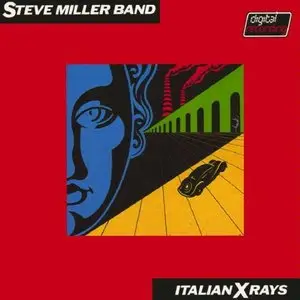 Steve Miller Band - Italian Xrays (1984)
Classic Rock | MP3 320 CBR | 37:03 Mins | 86.1MB
After a string of infrequent and not particularly lustrous albums, Steve Miller has bounced back with what is surely his best effort since Fly Like an Eagle in 1976. Like that record, Italian X Rays surges forward with an intrepid spirit that's equal parts high tech and down-home.
Miller has a knack for turning simple emotions into catchy songs that miraculously avoid cliché, and he does it without working up a sweat. Indeed, his easy-rolling love songs and infectious dance-floor call-outs, framed by dreamy keyboard atmospheres and state-of-the-art digital sound, are soothingly hypnotic. Miller, though maddeningly inconsistent and indifferent about his career at times, does deserve his due as a craftsman of deft, archetypal American pop. His internal rhymes throughout this album, for instance, reveal a clever way with a lyric that belies their apparent artlessness: "Puttin' her rouge on/Slippin' her shoes on/My baby's gettin' ready to dance." On Italian X Rays, Miller matches his verbal playfulness with a wacky barrage of sounds – technology with a case of the giggles (check out the witty musical chatter on "Bongo Bongo").
In Miller's cartoon world, love is a state of unconscious bliss, and he embellishes and surrounds his songs with exultant moodscapes. On the title track, a workingman finds his dream lover within the reveries of sleep. In "Shangri-La," the LP's standout track, love becomes a storybook paradise that's tantalizingly exotic yet close to home, as close as the simple command to "communicate with the one you really love." To complete the seduction, there is not a song here that won't get your feet tapping or your body swaying. Before you know what's happened, Steve Miller has sunk his hooks in you – again. See what I mean by clever?
1 Radio 1 :36
2 Italian X Rays 4:37
3 Daybreak 2:41
4 Shangri-La 5:03
5 Who Do You Love? 2:55
6 Harmony of the Spheres 1 1:46
7 Radio 2 :36
8 Bongo Bongo 3:11
9 Out of the Night 3:45
10 Golden Opportunity 3:31
11 The Hollywood Dream 3:50
12 One in a Million 3:41
13 Harmony of the Spheres 2 :55