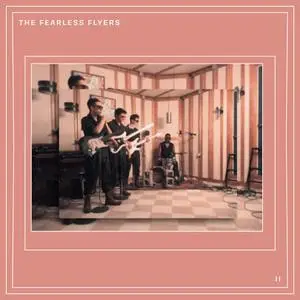 The Fearless Flyers - The Fearless Flyers II (EP) (2019)
MP3 CBR 320kbps ~ 44.74 Mb | 19:23 | Cover
Soul, Jazz | Country: USA | Label: Vulf Records
More than one nosher has felt an ecclesiastical feeling upon crossing the threshold into Russ & Daughters Cafe. The smoke of Orchard street yields instantly to the smoke of salmon, and the decade is instantly unclear, or at least unimportant. Exactly how one might describe the music of Vulfpeck.
So in October of 2014, when I sat with all four for an R&D schmear, the lens of the universe turned into focus for a moment. Jazz played at a very low volume, almost all clarinet and congas. One band member remarked that they knew a guy in New York who could tame the licorice stick better than anyone else - Mark Dover was his name. A superior conguero too - Brooklyn's own Richie Rodriguez.
Soon conversation turned to Michigan, where the band originated (could one get sable like this in MI?). The band was headed there soon, to pinball around highways of the state's eastern half, in search of the finest, which they find every time: the vocal acrobatics of Flint's Antwaun Stanley; the Celtic phrasing of Ann Arbor's Tyler Duncan; the haunting sung textures of Detroit's Christine Hucal.
One would have to agree that Vulfpeck's music, post-temporal, also summons a post-geographic state of mind. Something haimish for the peripatetic.
Recently, two of Vulfpeck have found themselves species in the latest stratum of Ohioans & Michiganders to layer Los Angeles. Truth be told, Theo Katzman and Jack Stratton seem right at home amid the drought-resistant shrubbery of Southern California - a place where many a Vulf collaborator hang their hat: the inimitable Charles Jones, the legendary David T. Walker, the "Game Winner" himself, Joey Dosik.
The pan-fried schwas of coastal Angelenos are everywhere in the Southland, and in Malibu particularly - that's Blake Mills' home surf for those who don't know, and it's where I met with Vulfpeck at the Reel Inn, a fried fish joint on the PCH, for our second seafood interview. We sat down, and every one of the 'Peck ordered the sea bass.
After ordering the shrimp, I asked about their latest record (this one in your hands right now) Thrill of the Arts. Joe Dart made a quick claim: "I think we've got a big fish on the line this time," he said. A waiter leaned over the table to fill Woody Goss' water glass. "Catch and release," the waiter said.
To that, all of the Vulfpeck smiled.
-
Rob Stenson
Track List:
01. Flyers Direct (02:44)
02. The Baal Shem Tov (feat. Joey Dosik) (03:26)
03. Simon F15 (03:13)
04. Daddy, He Got a Cessna (feat. Chris Thile) (03:04)
05. Swampers (feat. Chris Thile) (03:27)
06. Hero Town (03:29)
Nate Smith — drums, composer
Joe Dart — big guitar, composer
Cory Wong — medium guitar, guitar, producer, composer, co-producer
Mark Lettieri — medium guitar, guitar, composer
Joey Dosik — alto sax, composer
Chris Thile — small guitar, composer