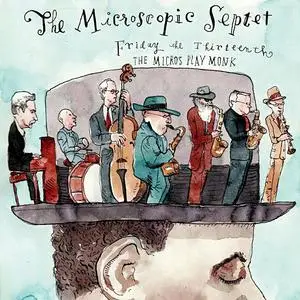 The Microscopic Septet - Friday the Thirteenth: The Micros Play Monk (2010)
Mp3 CBR320 kbps | 59:21 min | 140 Mb (5% Rec.)
Jazz, Post-Bop, Modern Creative | Label: Cuneiform Records
Very few jazz composers have experienced the extremes of acceptance and rejection that were Thelonious Monk's lot. Ignored and rejected early in his career – in part for the oblique weirdness of his piano style, in part for the difficulty and angularity of his compositions, and in part because he was quite clearly mentally ill – he did at least live to see his music given the appreciation it deserved, and his work has only grown in esteem since his death in 1982. Today, his pieces are among the most frequently performed and recorded of any jazz composer; as popularity among musicians goes, his music is on the same level as that of Duke Ellington and Miles Davis. The Microscopic Septet (whom you may have heard playing the theme music to NPR's Fresh Air) have now dedicated an entire album to arrangements of Monk compositions, most of them familiar ones ("Misterioso," "Off Minor," "Epistrophy," etc.). Their arrangements are innovative but respectful: they take "Brilliant Corners" and shuffle its component parts around a little bit; they write some lovely counterpoint around the head on "Friday the 13th"; they give "Gallop's Gallop" a joyfully loose, communitarian treatment that sounds a bit like the second half of a New Orleans funeral. Part of what makes the Micros' take on these familiar tunes so enjoyable is their willingness to engage with Monk's sense of humor; the "difficulty" of his music is frequently puckish rather than forbidding, and too few musicians recognize that fact or capitalize on it. The group's unusual configuration (four saxophones and a piano trio) makes possible some very interesting timbral juxtapositions, and they make the most of that potential as well. Newcomers to Monk's music should let these arrangements lead them back to the original recordings on Riverside and Blue Note; longtime fans who think they've heard every possible interesting arrangement of these tunes should think again.
–Rick Anderson, AllMusic
Tracklist:
01. Brilliant Corners 5:09
02. Friday The 13th 5:45
03. Gallop's Gallop 5:22
04. Teo 4:29
05. Pannonica 5:15
06. Evidence 5:42
07. We See 5:50
08. Off Minor 4:34
09. Bye-Ya 3:37
10. Worry Later 5:04
11. Misterioso 5:39
12. Epistrophy 2:54
Personnel:
Richard Dworkin - Drums
Joel Forrester - Piano
Mike Hashim - Sax (Tenor)
David Hofstra - Bass
Phillip Johnston - Sax (Soprano)
Dave Sewelson - Sax (Baritone)
Don Davis - Sax (Alto)