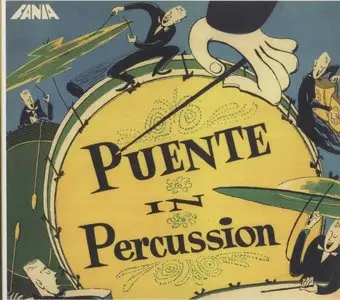 Tito Puente, Mongo Santamaria, Patato, Willie Bobo, - Puente in Percussion
Latin | MP3 320 Kbps | 78 MB
Emusica Inc. 2009
Essential grooves from Tito Puente – a really unique record for the time, and a set that's only grown in power over the years! The album's an all-percussion jam from Puente – one that strips away most other instrumentation, to focus just on heavy drum work from Puente and a core group of players that includes Mongo Santamaria, Willie Bobo, and Patato Valdes! There's only just a bit of bass – played by Robert Rodriguez – to focus the energy of the percussion, and the timbales, congas, and bongos offer up both melodic lines and rhythmic grooves – a groundbreaking sound, recorded brilliantly back in the 50s! The album's got a killer stripped-down feel that you rarely get on other Tito Puente records – and tracks include "Tito on Timbales", "Swinging Mambo", "Congo Beat", "Stick On Bongo", "Tito & Mongo On Timbales", "Four Beat Mambo", and "The Big Four".
01. Four Beat Mambo
02. Stick On Bongo
03. Congo Beat
04. Timbales Solo
05. Tito On Timbales
06. The Big Four
07. Swinging Mambo
08. Tito And Mongo On Timbales