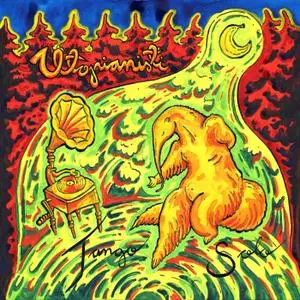 Utopianisti - Tango Solo (2021)
WEB FLAC (tracks) ~ 201.51 Mb | MP3 CBR 320kbps ~ 85.47 Mb | 36:16 | Cover
Jazz Rock, Fusion, Progressive Tango | Country: Finland | Label: Utopianisti
The adventurous Finnish musical explorer Markus Pajakkala is back with another exciting chapter of the life of his project UTOPIANISTI four years after the curve ball avant-garde metal meets noise experiment "Brutopianisti" sent shock waves into the fans who had fallen in love with his twisted sense of jazz-fusion sensibilities on his first three albums. Unlike the first three albums, this is once again a solo effort with Pajakkala playing all the instruments on this near 37-minute collection of ten recordings.
As the title TANGO SOLO suggests this album jumps in world of the tango but of course this is UTOPIANISTI so this album is an interestingly unique mix of his classic jazz-fusion sounds which includes some Canterbury Scene flavors as well as classical piano rolls that take the world of tango into (as far as i know) hitherto unexplored terrain. With the tango as the main ethnic theme that pretty much dominates TANGO SOLO, the album is also chock full of quirky avant-prog rock time signatures with percussion rich heavy sections along with the smoothness of saxophone slides and other jazzy elements.
It wouldn't be a tango without an accordion and that one is here too but it's the unexpected moments of xylophones and other sounds that really bring this one to life. Like all of Pajakkala's oeuvres, this one is an adventurous roller coaster ride of myriad ideas laid out in the most unexpected ways but despite the eclectic nature of this wild man behind an army of instrumentation, this is indeed tango music only teased out into the avant-garde. Astor Piazzolla would be proud! Like much of the UTOPIANISTI canon, the music is quirky and playful like a long lost Zappa reel that has been sitting in the vaults for decades.
TANGO SOLO is very cartoony in its vibe as if a serious tango nuevo entourage had suddenly hooked up with Carl Stalling to produce a soundtrack to a Andalusian version of the classic Looney Tunes cartoons. The beauty of this album is that it takes the sounds of tango out of its standard one-dimensional platitude and gives it a serious makeover the UTOPIANISTI without causing harm or disrespect to the traditional sounds and mood setting nature of the Argentinian musical genre. This one is entirely instrumental and devoid of guitar sounds as far as i can decipher. This is a jazz-fusion album through and through that just happens to add the tango as the primary musical element.
One thing is clear and that is the fact that the UTOPIANISTI project is utterly unpredictable as to where it will direct itself next as i was expecting a return to the style of the first three albums. Although Pajakkala made it clear that the metal and noise experiments on "Brutopianisti" was a one time event, who would've considered a Finnish musician immersing himself into the world of the Argentinean musical art form that is the pride of an entire nation. Now we know to expect the unexpected as curve balls are the rule not the exception. Overall this is another intricately designed excellent slice of experimental music from Pajakkala that may even win the hearts of those who have never been keen on the unique musical style known as the tango. ~
Review by siLLy puPPy
Track List:
01. El Progenitor 6:10
02. La Hazaña Postnatal del Jabato 3:44
03. Anoche Intro 1:12
04. Anoche Soñé Con Algún Pedro 3:09
05. Uvas Verdes Sin Semillas 1:55
06. El Nuevo Comienzo 3:04
07. Wakaresaseya 4:53
08. La Desobediencia 3:16
09. La Caída de los Martillos 6:05
10. Abandonado 2:49
- Markus Pajakkala / all instruments
–––––––––––-
DON'T MODIFY THIS FILE
–––––––––––-
PERFORMER: auCDtect Task Manager, ver. 1.6.0 RC1 build 1.6.0.1
Copyright © 2008-2010 y-soft. All rights reserved
http://y-soft.org
ANALYZER: auCDtect: CD records authenticity detector, version 0.8.2
Copyright © 2004 Oleg Berngardt. All rights reserved.
Copyright © 2004 Alexander Djourik. All rights reserved.
FILE: 10. Abandonado.flac
Size: 15065680 Hash: 34359AC457546A371320D6DAA9530EBA Accuracy: -m0
Conclusion: CDDA 100%
Signature: 119767DD2D5A924CCF5C7199913D21D0F45C74A8
FILE: 09. La Caída de los Martillos.flac
Size: 35904527 Hash: B073D99FB9342B7DAAC2C08609DA784E Accuracy: -m0
Conclusion: CDDA 100%
Signature: 9DDBF0C50EF10680250AFE6D0377C5469A865635
FILE: 08. La Desobediencia.flac
Size: 20202614 Hash: 8A3732131C71C1F7EE42E41CCB05B254 Accuracy: -m0
Conclusion: CDDA 99%
Signature: E1E5530E95F5380191B2B80A7ECD762881E94FCF
FILE: 07. Wakaresaseya.flac
Size: 31278922 Hash: 6BB7DB76FD34B747979AA2F7D6A2CBDD Accuracy: -m0
Conclusion: CDDA 100%
Signature: C64E75DF39D813C04DDF572AAAAF69B6B3F81FC2
FILE: 06. El Nuevo Comienzo.flac
Size: 17061532 Hash: DC484D06CBCC40566C19A60810ECC24B Accuracy: -m0
Conclusion: CDDA 100%
Signature: 540266016FE5237C4F580586F60EB2DC31446A88
FILE: 05. Uvas Verdes Sin Semillas.flac
Size: 8062521 Hash: 53A48B97E8FF600A89716DF990BCF020 Accuracy: -m0
Conclusion: CDDA 43%
Signature: 8336EB43CB655DC4A35854C4B9CB450C59C20944
FILE: 04. Anoche Soñé Con Algún Pedro.flac
Size: 18398041 Hash: D9FB7FEE7BA47A2260BB3B0560DA24C6 Accuracy: -m0
Conclusion: CDDA 100%
Signature: B5AE2C3DD32BF1F39A87A7F1A982B33E66D7BE7B
FILE: 03. Anoche Intro.flac
Size: 5549482 Hash: FFE1FE2C31BD67F5963DF03B6D7858F5 Accuracy: -m0
Conclusion: CDDA 100%
Signature: A2FBAA8D2781DBDED5B8EE79D0B5EF20F42C167F
FILE: 02. La Hazaña Postnatal del Jabato.flac
Size: 22762498 Hash: 39AEAE2769D53425D5A77D491DF76853 Accuracy: -m0
Conclusion: CDDA 99%
Signature: 4415E3A99B2834F6B0085C8B542FA39C75ED6417
FILE: 01. El Progenitor.flac
Size: 36637382 Hash: E72555614226034D8474723B218D80C0 Accuracy: -m0
Conclusion: CDDA 100%
Signature: ABA076F288A43C39958CA16111044E717920B1E8