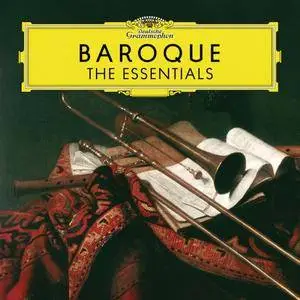 VA - Baroque: The Essentials (2018)
MP3 CBR 320 kbps | 01:42:19 | 236 Mb
Classical, Baroque | Label: Deutsche Grammophon
Baroque music is a style of Western art music composed from approximately 1600 to 1750. This era followed the Renaissance music era, and was followed in turn by the Classical era. Baroque music forms a major portion of the "classical music" canon, and is now widely studied, performed, and listened to. Key composers of the Baroque era include Johann Sebastian Bach, Antonio Vivaldi, George Frideric Handel, Claudio Monteverdi, Domenico Scarlatti, Alessandro Scarlatti, Henry Purcell, Georg Philipp Telemann, Jean-Baptiste Lully, Jean-Philippe Rameau, Marc-Antoine Charpentier, Arcangelo Corelli, Tomaso Albinoni, François Couperin, Giuseppe Tartini, Heinrich Schütz, Giovanni Battista Pergolesi, Dieterich Buxtehude, and Johann Pachelbel.

Artists
Simon Standage (violin), Trevor Pinnock (harpsichord), Edward Brewer (harpsichord), Trevor Pinnock (director), Bryn Terfel (bass-baritone), Michael Chance (counter-tenor), Timothy Wilson (counter-tenor), Eriko Sato (violin), Edward Brewer (organ), Margaret Marshall (soprano), Leslie Pearson (organ), Lucia Valentini-Terrani (contralto), Eric Bartlett (cello), Eric Wyrick (violin), Naoko Tanaka (violin)

Musica Antiqua Köln, Gabrieli Players, Gabrieli Consort, The English Concert Choir, Geraint Jones Singers, The Choir Of Westminster Abbey, Reinhard Goebel, Sir Charles Mackerras, Paul McCreesh, Marc Minkowski, Claudio Abbado, Geraint Jones, John Eliot Gardiner, Simon Preston
Tracklist:
01. Handel: Solomon, HWV 67-Arrival Of The Queen Of Sheba
02. Vivaldi: Concerto For Violin And Strings In E Major, Op.8, No.1, RV 269 "La Primavera"-1. Allegro
03. J.S. Bach: Brandenburg Concerto No.3 In G Major, BWV 1048-1. (Allegro)
04. Pachelbel: Canon in D, P.37
05. J.S. Bach: Suite No.2 in B minor, BWV 1067-7. Badinerie
06. Handel: Serse / Act 1 HWV40-"Ombra mai fu"
07. Monteverdi: Vespro della Beata Vergine, SV 206-1. Domine ad adiuvandum a 6
08. Daquin: Premier livre de pieces de clavecin / Troisième Suite-16. Le coucou
09. Purcell: Come, Ye Sons Of Art Away, Z. 323-3. Sound The Trumpet, Sound
10. Vivaldi: Gloria In D Major, RV 589-1. Gloria in excelsis Deo
11. Albinoni: Adagio For Strings And Organ In G minor
12. Handel: Messiah, HWV 56 / Pt. 2-"Hallelujah"
13. J.S. Bach: Suite No.3 in D, BWV 1068-2. Air
14. Vivaldi: Concerto For Violin And Strings In F Minor, Op.8, No.4, RV 297 "L'inverno"-1. Allegro non molto
15. Handel: Music For The Royal Fireworks: Suite HWV 351-4. La Réjouissance
16. Telemann: Tafelmusik-Banquet Music In 3 Parts / Production 1-1. Ouverture-Suite In E Minor-6. Air. Un peu vivement
17. J.S. Bach: Herz und Mund und Tat und Leben, Cantata BWV 147-Arr. Guillermo Figueroa-10. Jesu, Joy Of Man's Desiring
18. Rameau: 6 Concerts transcrits en sextuor / 6e concert-1. La poule (Live)
19. Pergolesi: Stabat Mater, P. 77-1. Stabat Mater
20. Rameau: Hippolyte et Aricie-Overture
21. Scarlatti: Sonata In E, K.380
22. Handel: Zadok The Priest, HWV 258
23. J.S. Bach: Christmas Oratorio, BWV 248 / Part Two-For The Second Day Of Christmas-No.10 Sinfonia
24. Corelli: Concerto grosso In G Minor, Op.6, No.8, MC 6.8 "Fatto per la Notte di Natale"-3. Adagio-Allegro-Adagio
25. Allegri: Miserere