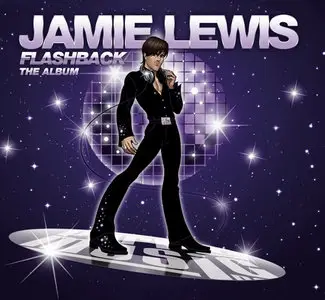 VA - Jamie Lewis Flashback The Album (3CD) (2010)
MP3 AVG 182 kbps | 30 Tracks | 293,10 MB | Catalogue Number: JL01 | No Scans
Genre : Disco, House & Dance | Label: Purple Music | Total Length: 225:22 min
Finally Jamie Lewis presents his debut artist album "Flashback", a three CD retrospective featuring thirty productions and remixes from his illustrious career which started two decades ago. All his essential classic productions are here such as "The light" and "Be thankful" featuring Michelle Weeks, "For you" featuring Michael Watford or "Unity". You also get a selection of his precious remixes including Tom & Joyce "Queixume", HiFi Mike "Stereo flavas", Cerrone "Hooked on you" and "You are the one" or DJ Meme Orchestra "Any love" to name just a few. But this album wouldn't be complete with some of his upcoming works such as "Believe" which features vocals from Lisa Millett & Tanja Dankner.
Celebrating two remarkable decades of out-standing productions & music carreer, FLASHBACK features 30 unmixed, full length tracks, ALL produced & remixed by JAMIE LEWIS himself, for Purple Music as well as for other famous record labels like Defected rec, Universal, MN2S, Milk and Sugar, Ministry of Sound & more.. This album is the result of the tireless devotion of one man's true passion and love of music and is a rare gift for music lovers everywhere.!!! A sublime Music selection of HOUSE , DISCO, CLUB, POP productions, including Jamie's CLASSICS (BOB SINCLAIR, CERRONE, JOCELYN BROWN,MICHELLE WEEKS, MICHAEL WATFORD, SHAWN CHRISTOPHER) UNRELEASED & BRAND NEW ("THE LIGHT"2010 Remix","IT'S ON YOUR FACE","GIVE"*,"EL BIMBO", BELIEVE", "WEDDING CRASHER") NOTES: -*"GIVE" is the forthcoming new single by Jamie Lewis, one of the main songs of the album! The vocals are by the Los Angeles based Cynthia Manley ("ain't no mountain higher in the TV Movie "The diary of Bridget Jones"): whatch out for the Videoclip coming soon!!! -*"THE LIGHT REMIX 2010": Jamie's 2002 production with Diva Michelle Weeks that rocked worldwide for years is back with a massive floor killer remix! *"WEDDING CRASHER"- Jamie's remix by BEST MAN DJS FEAT. SEVEN & Nefew : (SEVEN winner & pluri nominated in the past 3 editions of the SWISS AWARDS ) -The cover to this tremendous collection has been exclusively illustrated by the L.A. based Glen Hanson (Mckenzie, JP Gautier& illustrator of the original cartoon THE FLINSTONES,…)
Tracklist:
cd1:
1. jamie lewis & cynthia manley - give (jamie lewis goes disco mix)
2. jamie lewis feat. michelle weeks - the light (i remixed my own record mix)
3. best men djs feat. seven & nefew - wedding crashers (jamie lewis my wife is out of town remix)
4. jamie lewis & michael watford – it's on your face (album mix)
5. anthony romeno - el bimbo (passion) (jamie lewis remix)
6. jamie lewis feat. lisa millett & tanja dankner - believe (album mix)
7. demitrios project feat. ana – feel alive (jamie lewis vibe mix)
8. tom & joyce - queixume (jamie lewis reworked remix)
9. hanna haïs - gospel (jamie lewis dub cut)
10. jamie lewis - stay (jamie lewis outer space mix)

cd2:
1. hifi mike - stereo flavas (jamie lewis main vocal mix)
2. jamie lewis feat. michael watford - for you (jamie lewis new jersey club mix)
3. jamie lewis feat. kim cooper – mo' butter (jamie lewis darkroom mix)
4. jamie lewis feat. michelle weeks - be thankful (main mix)
5. dj meme orchestra feat. rachel claudio – any love (jamie lewis masterjam mix)
6. djaimin feat. crystal reclear - give you (jamie lewis house cut)
7. cerrone feat. jocely brown - you are the one (jamie lewis nu flava remix)
8. kings of tomorrow - so alive (jamie lewis darkroom mix)
9. jamie lewis feat. chance - streetlife (classic vocal mix)
10. cerrone feat. jocelyn brown - hooked on you (jamie lewis main mix)

cd: 3
1. cerrone - not too shabby (vocal mix)
2. jamie lewis feat. michael watford - it's over (main mix)
3. bob sinclar - champs elysées theme (jamie lewis steppin' out at the disco inferno mix)
4. jamie lewis & dj pippi feat. kim cooper - so sexy (darkroom mix)
5. milk & sugar - has your man got soul? (jamie lewis darkroom remix)
6. jamie lewis feat. michelle weeks - the light (jamie lewis main mix)
7. shawn christopher - you can make it (jamie lewis darkroom mix)
8. jamie lewis & michael watford - it's on your face (jamie lewis club mix)
9. jamie lewis - unity (darkroom mix)
10. jamie lewis & nick morris - sunshine hotel (2003 main mix)