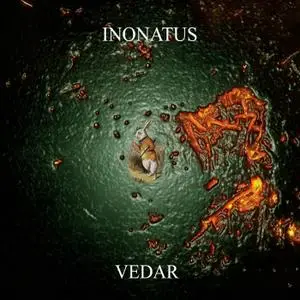 Vedar - Inonatus (2019)
WEB FLAC (tracks) ~ 343.99 Mb | MP3 CBR 320kbps ~ 127.55 Mb | 55:24 | Cover
Progressive Rock | Country: UK | Label: Vedar
"Inonatus" What does it mean? Is it an as yet undiscovered planet in a far-off galaxy? Or some sort of mythical monster from a distant past? A Harry Potter magical spell, perhaps? Or what? Use your imagination. We're not saying. But what we can say is that if you are into early 1970s British prog rock bands such as King Crimson/Camel/ Genesis/Yes/Pink Floyd/Caravan et al, you'll definitely find a lot here to quench your musical thirst. And you can play "Spot The Influence"!
This is our second album of instrumental prog rock - although this time we have included two bonus tracks with vocals, the latter of which, "21st Century Lullaby", is gentle end to a fairly busy album. The music generally has a harder, rock edge than our first album ("Freudian Saturday"), and there is more improvisation too, though there are still strong structural frameworks throughout which sometimes take very unexpected twists and turns. What you can expect is unusual time signatures and syncopation on some tracks (inevitably), as well as catchy melodic sequences and muscular riffs and motifs. Authentic!
Track List:
01 - White Rabbit in New York (00:04:05)
02 - No Messing! (00:04:14)
03 - M104 (00:04:12)
04 - Ying Yang Ying (00:05:13)
05 - For Fripp's Sake (00:05:10)
06 - Nameless Fear (00:05:14)
07 - Leviathan (00:05:10)
08 - Bassically (00:02:03)
09 - Part and Parcel (00:04:24)
10 - Storm Chaser (00:04:54)
11 - Inonatus (00:04:02)
12 - Heavy Goods (00:04:43)
13 - 21st Century Lullaby (00:01:54)
–––––––––––-
DON'T MODIFY THIS FILE
–––––––––––-
PERFORMER: auCDtect Task Manager, ver. 1.5.1RC3 build 1.5.1.4
Copyright © 2008-2010 y-soft. All rights reserved
http://y-soft.org
ANALYZER: auCDtect: CD records authenticity detector, version 0.8.2
Copyright © 2004 Oleg Berngardt. All rights reserved.
Copyright © 2004 Alexander Djourik. All rights reserved.
FILE: 13.flac
Size: 9219918 Hash: 7EC0A2807675991E0A505FBDB0197EF5 Accuracy: -m8
Conclusion: CDDA 100%
Signature: 08268318E578EE366CEAE622162481CE92E5201D
FILE: 12.flac
Size: 30970778 Hash: 32D7B06B3762BA71F361967F660A22ED Accuracy: -m8
Conclusion: CDDA 100%
Signature: 50A18FB0BEA510D993477DD99D14F71905A2AD1D
FILE: 11.flac
Size: 28759397 Hash: 91A420A9E7CAC5973E88C2F4855395A7 Accuracy: -m8
Conclusion: CDDA 100%
Signature: 642045A089B750D91FC075490F9409BDB1E98849
FILE: 10.flac
Size: 32731784 Hash: 951420352F3F221ABD819DCF1D518B24 Accuracy: -m8
Conclusion: CDDA 100%
Signature: D415839220421CF7DA6139E5E1E2AB87E9C77780
FILE: 09.flac
Size: 28634997 Hash: BA23BC7517CF3A8014E4942AB7414746 Accuracy: -m8
Conclusion: CDDA 100%
Signature: 74912B8E76CA61DE192FD61BFD6877E235E95E8B
FILE: 08.flac
Size: 14794344 Hash: A1245F1D79F256E4C205E989A71DAE9D Accuracy: -m8
Conclusion: CDDA 100%
Signature: FBAE73910FE8929CC0265A87DE09B3558419950B
FILE: 07.flac
Size: 36729755 Hash: 2155EB3A36B78C70536EDA5630BA0C61 Accuracy: -m8
Conclusion: CDDA 100%
Signature: 515534E4B8278F1D9B39EA9EA73F748BBA1220AE
FILE: 06.flac
Size: 29541392 Hash: 69AB70CFB319B057DA04908C17C9AEBD Accuracy: -m8
Conclusion: CDDA 100%
Signature: 7025B66C2DE4E678B57A6F9D648526CE32751489
FILE: 05.flac
Size: 34903544 Hash: A9F084836B6E52FA9E771A44708679A4 Accuracy: -m8
Conclusion: CDDA 100%
Signature: 9797BA002BF03DB6B4871A490E52DB0DECE748CA
FILE: 04.flac
Size: 31749484 Hash: B1152604212C49B2C57AA78E82A518CD Accuracy: -m8
Conclusion: CDDA 100%
Signature: F39A7701B02869BBE868B334EC4712C25B922609
FILE: 03.flac
Size: 27574643 Hash: 9DDCA1A3510754D0E9785C1DB25E7788 Accuracy: -m8
Conclusion: CDDA 100%
Signature: 82F70CABF3590945722949562B60EE3085B83E05
FILE: 02.flac
Size: 26719075 Hash: 4949292420A8BD69B95ABED7F70FD6FF Accuracy: -m8
Conclusion: CDDA 100%
Signature: 1DCA7FB1AC9E05310AB6DB6177F0583ABBA38847
FILE: 01.flac
Size: 28024899 Hash: 13FDDD7B21F4CEF6B8DC608794432980 Accuracy: -m8
Conclusion: CDDA 85%
Signature: 38F01EE758274474C1509857741BEA1A6A59AD69