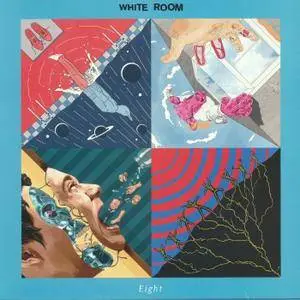 White Room - Eight (2017)
Psych, Garage Rock | 27:39 min | WEB FLAC (tracks) | 189 MB
Label: Deltasonic
'Eight' is not a bunch of singles thrown together. It is a collection of songs that interlock conceptually (not as a narrative story, but more in a general theme throughout the lyrics).
The concept of 'Eight' actually came to us more by coincidence than an idea at the start,as when we discussed our release strategy for 2017 we decided to run with the idea of eight songs released digitally in pairs and compiled into a vinyl at the end. After discussing this strategy, we went away with this number branded in our minds. 8. The symbol '8', the figure of 8, it just screams out to you.
As we looked more into the number 8, the correlation between the lyrics and the themes signified by the number really started to jump out at us and it all started coming together. 8 is the number of infinity, despite all that is thrown at it there is much that is intrinsically beautiful in the world. It's signifies positivity in the universe, joy, strength, balance and power in unity, which are touched upon within the lyrics of 'Eight'. At this point we decided to run with this as our concept and that remaining 3 undecided tracks would all fit into this overall concept.
In 'Eight' we are offering a way to lose yourself from it all and find an escape for a moment from all the horror and pain that is happening all around us. To embrace the ability music has to take you away from the harsh realities of daily life.
With this in mind we made a conscious decision to include elements that would tie in the tracks sonically. For example, we have used synth and guitar sounds that appear throughout 'Eight' to gel the tracks together, solidifying that these are not just a compilation of songs we have.
The artwork is also crucially interlinked with the whole 'Eight' project. Each song is represented on the individual release in their AAs where the artwork is a standalone piece. When all the songs are compiled into the EP the artwork for all 4 AAs comes together as one overall piece and each is represented as an eighth, there are also many references to Eight within each piece.
Tracklist:
01. White Room - The Blue
02. White Room - Tomorrow Always Knew
03. White Room - Stole The I.V.
04. White Room - Take Me Away
05. White Room - Cannibal Song
06. White Room - Cable-Built Dreamland
07. White Room - Twisted Celebration
08. White Room - Circles
ANALYZER: auCDtect: CD records authenticity detector, version 0.8.2
Copyright © 2004 Oleg Berngardt. All rights reserved.
Copyright © 2004 Alexander Djourik. All rights reserved.


FILE: 08. Circles.flac
Size: 24557313 Hash: 3124ECDDBDD3953A182DB12D490D4E47 Accuracy: -m0
Conclusion: CDDA 100%
Signature: 64DB9265DDDEF70ECFC297645D049AD7E9FB985E
FILE: 07. Twisted Celebration.flac
Size: 19030629 Hash: 605C96C1D6B20100D1843405EC852DB4 Accuracy: -m0
Conclusion: CDDA 100%
Signature: F000F93B3400CA6A52C78DCBFF5894246C8C99BD
FILE: 06. Cable-Built Dreamland.flac
Size: 31343238 Hash: C65543E2F47962BBA96E9DF32CA44BB6 Accuracy: -m0
Conclusion: CDDA 100%
Signature: D93B4F98E698916748CBD433BD6B724E0540194C
FILE: 05. Cannibal Song.flac
Size: 24332792 Hash: 2223838B3A52B6A1FA8103FD237774C7 Accuracy: -m0
Conclusion: CDDA 100%
Signature: 738EEF07EF5A4398590DEB29685D1C5209C9B5CC
FILE: 04. Take Me Away.flac
Size: 26800917 Hash: 690E8E58159824AFA534EB2539F3F530 Accuracy: -m0
Conclusion: CDDA 100%
Signature: 9F9EBF10C05F6A9F5FDB375916D13A3663FDA241
FILE: 03. Stole The I.V..flac
Size: 25986983 Hash: FB97185A1442833B3F5269373BC050CA Accuracy: -m0
Conclusion: CDDA 100%
Signature: 484DA3DF5221C0178BF05786C690BFB8CF857AEB
FILE: 02. Tomorrow Always Knew.flac
Size: 22296698 Hash: D3034B540FFB872C9E6009B47B4C93EA Accuracy: -m0
Conclusion: CDDA 100%
Signature: 828CF7C202D4A8D0E1877A20F3BC4509B1B59B6A
FILE: 01. The Blue.flac
Size: 23892293 Hash: 020BD1696AEFF2EDACC53C709117B5C5 Accuracy: -m0
Conclusion: CDDA 100%
Signature: C4486E80BFF699B5189F1386A88C1E4B33CEE848