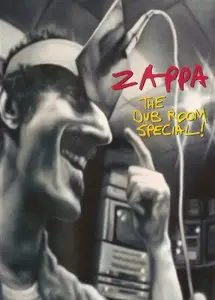 Frank Zappa - The Dub Room Special (1982) [DVD9 NTSC] {2005 Eagle Rock EV30138-9}
DVD9 -> 5,41 Gb | All Regions | NTSC 4:3 | LPCM Stereo | ~ 100m | ISO Image
Full Artwork @ 300 dpi (png) -> 72 Mb | 5% repair rar
© 1974-81, 2005 Frank Zappa / Eagle Rock | EV30138-9
Rock / Experimental Rock
Previously released on VHS and Beta and only available through mail order, Frank Zappa's Dub Room Special is an extremely rare TV special comprising two live performances from one of Rock's great individuals. Zappa's unparalleled abilities as a composer, guitarist, and absurdist/social commentator run rampant on The Dub Room Special – and it is a unique window on his willingness to push the envelope of what is possible no matter how improbable. Selections from two separate concerts, one, called A Token of His Extreme, shot in 1974 at Los Angeles public television station KCET and one in 1981 filmed at his annual New York Halloween show, are interspersed with then-cutting edge claymation/stop motion animation from Bruce Bickford and assorted comedy bits.

Since 1966, Zappa had established himself as perhaps the most fearless musician known to popular music. He incorporated modern classical music, blazing rock and blues and doo wop, guitar solos he called "air sculpture" and an extremely cynical point of view to forge a legacy that remains completely unique 12 years after his death.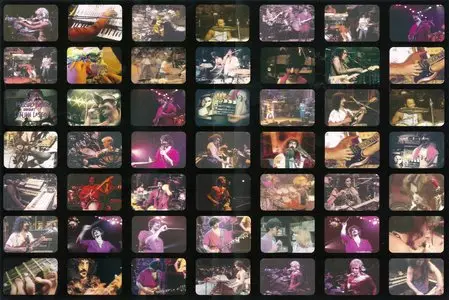 This television special from the early 1980s by Frank Zappa is an amazing amalgamation of concert footage from 1974 and 1982. Astute viewers will note that the 1974 footage is from the KCET-TV special the Mothers did in that year - from which most of the "Inca Roads" track on One Size Fits All is taken. The performances by all musicians involved are intense, notably those of percussionist Ruth Underwood and singer/saxophone player Napoleon Murphy Brock. It's really great to be able to see these Mothers perform: these are two of the best performing ensembles that Frank ever put together. Also of interest: writer Massimo Bassoli sings "Tengo na minchia tanta", which you may recognize from the CD release of the Uncle Meat soundtrack. If you can track this show down, I highly recommend it.
Musicians:
1974:
-
FZ
/ guitar, percussion, vocals
-
Napoleon Murphy Brock
/ sax, vocals
-
George Duke
/ keyboards, finger cymbals, tambourine, vocals
-
Ruth Underwood
/ percussion
-
Tom Fowler
/ bass
-
Chester Thompson
/ drums
1981-82:
-
FZ
/ lead guitar, vocals
-
Ray White
/ guitar, vocals
-
Steve Vai
/ stunt guitar, vocals
-
Tommy Mars
/ keyboards, vocals
-
Robert Martin
/ keyboards, vocals
-
Ed Mann
/ percussion, vocals
-
Scott Thunes
/ bass, vocals
-
Chad Wackerman
/ drums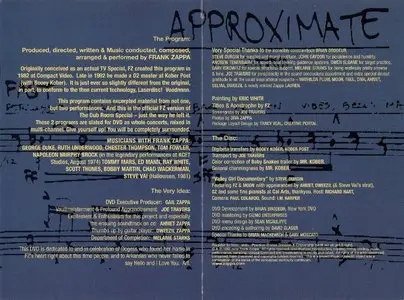 The music:
- Dog Breath (August 27, 1974)
- Uncle Meat (August 27, 1974)
- Room Service (August 27, 1974)
- Nig Biz (October 31, 1981; late show)
- Approximate (August 27, 1974)
- Cosmik Debris (August 27, 1974)
- Cocaine Decisions (October 31, 1981; late show)
- Montana (August 27, 1974)
- Tengo Na Minchia Tanta (July 14, 1982)
- Florentine Pogen (August 27, 1974)
- Stevie's Spanking (October 31, 1981; late show)
- Stink-Foot (August 27, 1974)
- Flakes (October 31, 1981; early show)
- Inca Roads (August 27, 1974)
- Easy Meat (October 31, 1981; late show)
Includes footage from:
- KCET, LA, CA, August 27, 1974 (from A Token Of His Extreme)
- Bruce Bickford's Clay Animation (c. 1974)
- The Palladium, NYC, NY, October 31, 1981
- Stadio Communale La Favorita, Palermo, Italy, July 14, 1982
- Interview with Richard Hart, August, 1982
- Compact Video, LA, CA, August, 1982
- Valley Girl Documentary (only DVD)
I 19:28:14 DVD Decrypter Version 3.5.4.0 started!
I 19:28:15 Microsoft Windows XP Professional (5.1, Build 2600 : Service Pack 2)
W 19:28:15 Drive H:\ (FAT32) does not support single files > 4 GB
I 19:28:15 Initialising SPTI…
I 19:28:15 Searching for SCSI / ATAPI devices…
I 19:28:19 Found 1 DVD-ROM and 1 DVD-RAM/±RW!
I 19:30:12 Operation Started!
I 19:30:12 Source Device: [1:0:0] SONY DVD RW DRU-840A SS01 (D:) (ATA)
I 19:30:12 Source Media Type: DVD-ROM
I 19:30:12 Source Media Region Code: 1, 4
I 19:30:12 Source Media Copyright Protection System Type: CSS/CPPM
I 19:30:12 Source Media Implementation Identifier: Daikin U.S. Comtec Lab
I 19:30:12 Destination File: C:\!DVDs\Frank Zappa - The Dub Room Special (1982) [DVD9 NTSC]\FZ_DUBROOMSPECIAL.ISO
I 19:30:12 File Splitting: None
I 19:30:12 Hardware Read Error Retries: 20
I 19:30:12 Detect Mastering Errors: No
I 19:30:12 Remove Macrovision Protection: Yes
I 19:30:13 Extracting Sectors… (LBA: 0 - 2879610)
I 19:30:13 Found IFO File: VIDEO_TS.IFO - (LBA: 305 - 313)
I 19:30:15 Found VOB File: VIDEO_TS.VOB - (LBA: 314 - 116825) - KEY: N/A
I 19:31:18 Found BUP File: VIDEO_TS.BUP - (LBA: 116842 - 116850)
I 19:31:18 Found IFO File: VTS_01_0.IFO - (LBA: 116851 - 116886)
I 19:31:18 Found VOB File: VTS_01_0.VOB - (LBA: 116887 - 117034) - KEY: C0 00 00 04 B0
I 19:31:18 Found VOB File: VTS_01_1.VOB - (LBA: 117035 - 641181) - KEY: C0 00 00 04 B0
I 19:35:02 Found VOB File: VTS_01_2.VOB - (LBA: 641182 - 1165453) - KEY: C0 00 00 04 B0
I 19:37:53 Found VOB File: VTS_01_3.VOB - (LBA: 1165454 - 1689601) - KEY: C0 00 00 04 B0
I 19:40:17 Found VOB File: VTS_01_4.VOB - (LBA: 1689602 - 2213811) - KEY: C0 00 00 04 B0
I 19:42:41 Found VOB File: VTS_01_5.VOB - (LBA: 2213812 - 2668238) - KEY: C0 00 00 04 B0
I 19:45:06 Found BUP File: VTS_01_0.BUP - (LBA: 2668239 - 2668274)
I 19:45:06 Found IFO File: VTS_02_0.IFO - (LBA: 2668275 - 2668284)
I 19:45:06 Found VOB File: VTS_02_0.VOB - (LBA: 2668285 - 2668336) - KEY: C0 00 00 04 B1
I 19:45:06 Found VOB File: VTS_02_1.VOB - (LBA: 2668337 - 2831676) - KEY: C0 00 00 04 B1
I 19:46:05 Found BUP File: VTS_02_0.BUP - (LBA: 2831677 - 2831686)
I 19:46:05 Found IFO File: VTS_03_0.IFO - (LBA: 2831687 - 2831695)
I 19:46:05 Found VOB File: VTS_03_0.VOB - (LBA: 2831696 - 2831799) - KEY: C0 00 00 04 B2
I 19:46:05 Found VOB File: VTS_03_1.VOB - (LBA: 2831800 - 2878892) - KEY: C0 00 00 04 B2
I 19:46:23 Found BUP File: VTS_03_0.BUP - (LBA: 2878893 - 2878901)
I 19:46:23 Found IFO File: VTS_04_0.IFO - (LBA: 2878902 - 2878910)
I 19:46:23 Found VOB File: VTS_04_0.VOB - (LBA: 2878911 - 2878914) - KEY: C0 00 00 04 B3
I 19:46:23 Found VOB File: VTS_04_1.VOB - (LBA: 2878915 - 2879257) - KEY: C0 00 00 04 B3
I 19:46:23 Found BUP File: VTS_04_0.BUP - (LBA: 2879258 - 2879266)
I 19:46:23 Found IFO File: VTS_05_0.IFO - (LBA: 2879267 - 2879275)
I 19:46:24 Found VOB File: VTS_05_0.VOB - (LBA: 2879276 - 2879279) - KEY: C0 00 00 04 B4
I 19:46:24 Found VOB File: VTS_05_1.VOB - (LBA: 2879280 - 2879600) - KEY: C0 00 00 04 B4
I 19:46:24 Found BUP File: VTS_05_0.BUP - (LBA: 2879601 - 2879609)
I 19:46:24 Operation Successfully Completed! - Duration: 00:16:11
I 19:46:24 Average Read Rate: 5,931 KB/s (4.3x) - Maximum Read Rate: 7,986 KB/s (5.8x)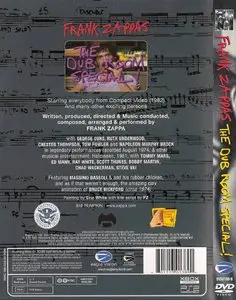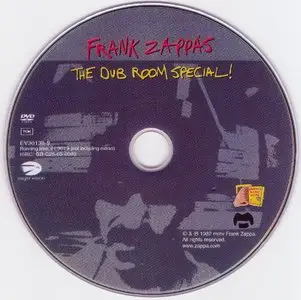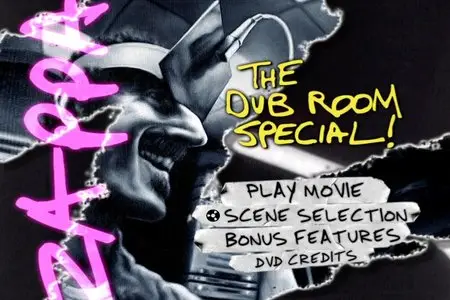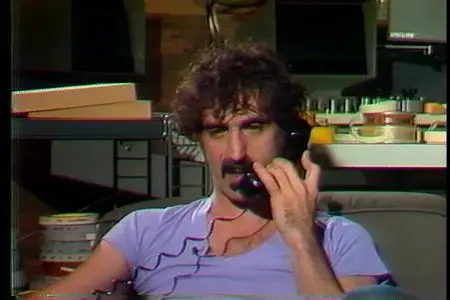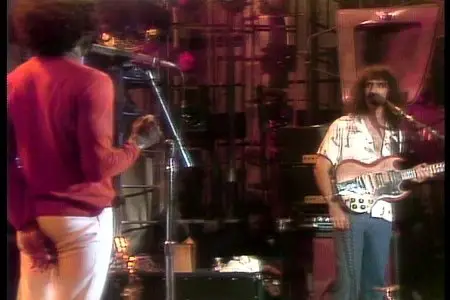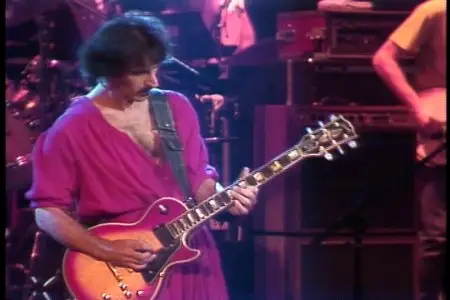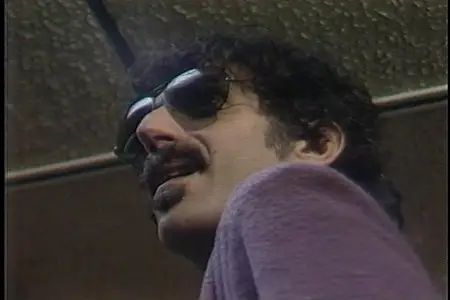 ===