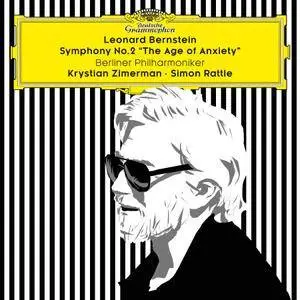 Krystian Zimerman, Berlin Philharmonic & Sir Simon Rattle - Bernstein: Symphony No. 2 "The Age of Anxiety" (2018)
WEB FLAC (tracks) - 168 Mb | MP3 CBR 320 kbps - 91 Mb | 00:39:48
Classical | Label: Deutsche Grammophon
Few pianists have lived as long with Leonard Bernstein's imposing and virtuoso Second Symphony as Krystian Zimerman. In the 1980s he often performed it with the composer as conductor, and he brings a wealth of experience to his playing. Less impetuous than some, Zimerman's playing is wonderfully deep—he's thought hard about the seething emotional life of the work, inspired by W.H. Auden's long, angst-ridden poem. Rattle and the great Berlin Philharmonic add further depth plus a beautiful patina to the sound, and the recording is spectacularly well-handled with a real sense of perspective.
Tracklist:
1 Leonard Bernstein on "The Age of Anxiety" - Interview by Humphrey Burton
Symphony No. 2 "The Age of Anxiety" Part 1: 1. The Prologue
2 Symphony No. 2 "The Age of Anxiety" Part 1: 1. The Prologue. Lento moderato
3 Symphony No. 2 "The Age of Anxiety" Part 1: 2. The Seven Ages. Variation 1. L'istesso tempo
Symphony No. 2 "The Age of Anxiety" Part 1: 2. The Seven Ages
4 Symphony No. 2 "The Age of Anxiety" Part 1: 2. The Seven Ages. Variation 2. Poco più mosso
5 Symphony No. 2 "The Age of Anxiety" Part 1: 2. The Seven Ages. Variation 3. Largamente, ma mosso
6 Symphony No. 2 "The Age of Anxiety" Part 1: 2. The Seven Ages. Variation 4. Più mosso
7 Symphony No. 2 "The Age of Anxiety" Part 1: 2. The Seven Ages. Variation 5. Agitato
8 Symphony No. 2 "The Age of Anxiety" Part 1: 2. The Seven Ages. Variation 6. Poco meno mosso
9 Symphony No. 2 "The Age of Anxiety" Part 1: 2. The Seven Ages. Variation 7. L'istesso tempo
Symphony No. 2 "The Age of Anxiety" Part 1: 3. The Seven Stages
10 Symphony No. 2 "The Age of Anxiety" Part 1: 3. The Seven Stages. Variation 8. Molto moderato, ma movendo
11 Symphony No. 2 "The Age of Anxiety" Part 1: 3. The Seven Stages. Variation 9. Più mosso. Tempo di Valse
12 Symphony No. 2 "The Age of Anxiety" Part 1: 3. The Seven Stages. Variation 10. Più mosso
13 Symphony No. 2 "The Age of Anxiety" Part 1: 3. The Seven Stages. Variation 11. L'istesso tempo
14 Symphony No. 2 "The Age of Anxiety" Part 1: 3. The Seven Stages. Variation 12. Poco più vivace
15 Symphony No. 2 "The Age of Anxiety" Part 1: 3. The Seven Stages. Variation 13: L'istesso tempo
16 Symphony No. 2 "The Age of Anxiety" Part 1: 3. The Seven Stages. Variation 14: Poco più vivace
Symphony No. 2 "The Age of Anxiety" Part 2
17 1. The Dirge. Largo
18 2. The Masque. Extremely fast
19 3. The Epilogue. L'istesso tempo - Adagio - Andante - quasi cadenza - Lento molto
–––––––––––-

DON'T MODIFY THIS FILE

–––––––––––-

PERFORMER: auCDtect Task Manager, ver. 1.6.0 RC1 build 1.6.0.1
Copyright © 2008-2010 y-soft. All rights reserved

ANALYZER: auCDtect: CD records authenticity detector, version 0.8.2
Copyright © 2004 Oleg Berngardt. All rights reserved.
Copyright © 2004 Alexander Djourik. All rights reserved.


FILE: 9 Bernstein- Symphony No. 2 -The Age of Anxiety- - Part 1 - 2. The Seven Ages - Variation 7. L'istesso tempo.flac
Size: 7063792 Hash: 10E22BB1AEAC2642F0887403B6D2061C Accuracy: -m0
Conclusion: CDDA 100%
Signature: F54EB5BF1941E8E0FF991226D457DC6C53BE77B7
FILE: 8 Bernstein- Symphony No. 2 -The Age of Anxiety- - Part 1 - 2. The Seven Ages - Variation 6. Poco meno mosso.flac
Size: 4564713 Hash: C8AA584436BAD438CF7F8C14D1BB266F Accuracy: -m0
Conclusion: CDDA 100%
Signature: 01FA79536AB4501CEB75761A712544C679A7378B
FILE: 7 Bernstein- Symphony No. 2 -The Age of Anxiety- - Part 1 - 2. The Seven Ages - Variation 5. Agitato.flac
Size: 4688941 Hash: 2ADB07CE780D472AC3F5FD232E442522 Accuracy: -m0
Conclusion: CDDA 100%
Signature: 2D10D5C6061A9D176C38DD294733265EAAFA7A99
FILE: 6 Bernstein- Symphony No. 2 -The Age of Anxiety- - Part 1 - 2. The Seven Ages - Variation 4. Più mosso.flac
Size: 4482215 Hash: 872D0EF2EE6488C4E2F7A65BC5610D51 Accuracy: -m0
Conclusion: CDDA 100%
Signature: 58E71735C6B2618905225590DE0D8FECC2AD862B
FILE: 5 Bernstein- Symphony No. 2 -The Age of Anxiety- - Part 1 - 2. The Seven Ages - Variation 3. Largamente, ma mosso.flac
Size: 6749307 Hash: 2F368B2526884D9467CAAF1C1D81F7A6 Accuracy: -m0
Conclusion: CDDA 100%
Signature: 4AA4CCA74D6C8C62BCFA919AB6855C4FDD9FC0E4
FILE: 4 Bernstein- Symphony No. 2 -The Age of Anxiety- - Part 1 - 2. The Seven Ages - Variation 2. Poco più mosso.flac
Size: 6537586 Hash: B0E11B07270D9353636100F4325CF6B1 Accuracy: -m0
Conclusion: CDDA 100%
Signature: CD852097DCA8403C8148E847E8CDF0F8FE9DF8ED
FILE: 3 Bernstein- Symphony No. 2 -The Age of Anxiety- - Part 1 - 2. The Seven Ages - Variation 1. L'istesso tempo.flac
Size: 3377841 Hash: BE0602008047E8AF8F74A4A878CFFE58 Accuracy: -m0
Conclusion: CDDA 100%
Signature: DFE7DBB838C10900576E2682C1A1F3EEEEDB4A1A
FILE: 2 Bernstein- Symphony No. 2 -The Age of Anxiety- - Part 1 - 1. The Prologue - Lento moderato.flac
Size: 7817542 Hash: 115FEE783D43A9B69EF2619108F862CE Accuracy: -m0
Conclusion: CDDA 100%
Signature: 9163000A1E7FEFC9E354D4CDB3349A47438CB08F
FILE: 19 Bernstein- Symphony No. 2 -The Age of Anxiety- - Part 2 - 3. The Epilogue - L'istesso tempo - Adagio - Andante - quasi cadenza - Lento molto.flac
Size: 38438442 Hash: 21E3A87A2FCBC12668445FB9B4ECFE88 Accuracy: -m0
Conclusion: CDDA 100%
Signature: A52B2D9123F9173CEDCB0ACF061E6EF793AE4119
FILE: 18 Bernstein- Symphony No. 2 -The Age of Anxiety- - Part 2 - 2. The Masque - Extremely fast.flac
Size: 21180773 Hash: 319493E1AD5FD89DC56C4FC74E30B5D5 Accuracy: -m0
Conclusion: CDDA 100%
Signature: D9951D7679D1D5EF3E76D898440704A033349060
FILE: 17 Bernstein- Symphony No. 2 -The Age of Anxiety- - Part 2 - 1. The Dirge - Largo.flac
Size: 33623342 Hash: 502DB0FF3107F06440E1F5E2E029491D Accuracy: -m0
Conclusion: CDDA 100%
Signature: 116598BBF20D561B311B65AE8709FD22285F15C7
FILE: 16 Bernstein- Symphony No. 2 -The Age of Anxiety- - Part 1 - 3. The Seven Stages - Variation 14- Poco più vivace.flac
Size: 3010576 Hash: D01A4D240A9549902D36A57A17854237 Accuracy: -m0
Conclusion: CDDA 100%
Signature: 085BA5FFAE179CFB25DB953E49333B93EC38EBD5
FILE: 15 Bernstein- Symphony No. 2 -The Age of Anxiety- - Part 1 - 3. The Seven Stages - Variation 13- L'istesso tempo.flac
Size: 4280966 Hash: 739E25D9A680D1BC11783022E08336E3 Accuracy: -m0
Conclusion: CDDA 100%
Signature: FF63B65BABCC1358B3E9F30AF45E67099C38F27A
FILE: 14 Bernstein- Symphony No. 2 -The Age of Anxiety- - Part 1 - 3. The Seven Stages - Variation 12. Poco più vivace.flac
Size: 1152210 Hash: 5DB67717B08C97C11C46253B70B7D718 Accuracy: -m0
Conclusion: CDDA 100%
Signature: 9B899F38BDA1FC3DBDE8759A98102BECAD1B46AF
FILE: 13 Bernstein- Symphony No. 2 -The Age of Anxiety- - Part 1 - 3. The Seven Stages - Variation 11. L'istesso tempo.flac
Size: 4657758 Hash: 69FD77658F32C4F363FC1855ED41F9D6 Accuracy: -m0
Conclusion: CDDA 100%
Signature: DA957B25301933CED42D0625A301F6BBF05BB1B3
FILE: 12 Bernstein- Symphony No. 2 -The Age of Anxiety- - Part 1 - 3. The Seven Stages - Variation 10. Più mosso.flac
Size: 2642486 Hash: 4CC2E98BF13A528EDE7E3A15A95F25A1 Accuracy: -m0
Conclusion: CDDA 100%
Signature: E905DFB9E92FA784B9364B50B190C9E63CB4DFF0
FILE: 11 Bernstein- Symphony No. 2 -The Age of Anxiety- - Part 1 - 3. The Seven Stages - Variation 9. Più mosso. Tempo di Valse.flac
Size: 6996360 Hash: 7DC97816370C0ED796329F9D7983A00E Accuracy: -m0
Conclusion: CDDA 100%
Signature: C4B0105CB5BA8C0F0CE97711EF180625F297EC8A
FILE: 10 Bernstein- Symphony No. 2 -The Age of Anxiety- - Part 1 - 3. The Seven Stages - Variation 8. Molto moderato, ma movendo.flac
Size: 8275359 Hash: FFA242BFD9F3D947C94091693DA80B3D Accuracy: -m0
Conclusion: CDDA 100%
Signature: C24142C3EF7DDFC79E90EEBA10DC128220353BD8
FILE: 1 Leonard Bernstein on "The Age of Anxiety" - Interview by Humphrey Burton.flac
Size: 6439554 Hash: ECCBF91BA65926760245E666568851F6 Accuracy: -m0
Conclusion: CDDA 100%
Signature: 5393BD7A663B73DE8A420CA897A038A55F044C1E