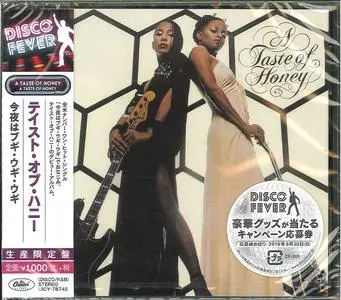 A Taste Of Honey - A Taste Of Honey (1978) [2018, Japan]
R&B, Soul/Funk, Disco | EAC Rip | FLAC, Tracks+CUE+LOG+Scans (JPEG) | 37:50 Min | 242,56 Mb
Label: Capitol Records/Universal Music (Japan) | Cat.# UICY-78745 | Released: 2018-05-16 (1978)

"A Taste of Honey" is the debut album by the American rhythm and blues group A Taste of Honey. It was produced by Fonce Mizell & Larry Mizell for Sky High Productions and included the number one pop, soul and disco classic "Boogie Oogie Oogie". Limited edition colored vinyl releases were issued in some nations. In Mexico, the record was red, and in France it was honey colored.
~Wikipedia
Because A Taste of Honey's first major hit, "Boogie Oogie Oogie," was a lighthearted, escapist piece of ear candy, rock critics of the late '70s didn't take the group seriously and tended to dismiss Janice Marie Johnson and Hazel Payne as producers' puppets. But they were far from that: In addition to being expressive singers, Johnson and Payne were talented, versatile musicians and songwriters. Anyone who gives this self-titled debut album a serious listen will quickly realize you can't lump Honey in with the type of disco acts that were, in fact, invented by producers or A&R teams. To the more knowledgeable listener, it's also apparent that A Taste of Honey has as much to do with soul and funk as it does with disco. Although "Boogie Oogie Oogie," which became one of the disco era's major anthems, is the gem that made this album sell over one million units in the U.S., it isn't the record's only highlight. Equally impressive are tracks that range from the gritty, funky "You" to the dreamy "Sky High" and the haunting "World Spin." Meanwhile, "You're in Good Hands" is a '60s-flavored soul ballad that should have been a hit (Honey didn't have a hit ballad until "Sukiyaki" in 1980). Produced by Fonce and Larry Mizell, A Taste of Honey is excellent from start to finish.
~Review by Alex Henderson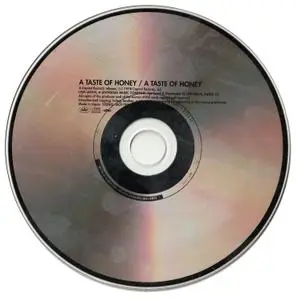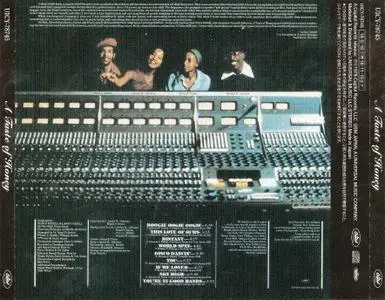 Release of this album:
1978, July [LP Capitol Records, Cat.# ST-11754, USA]
Release of this CD:
2018, May, 16 [CD Capitol Records/Universal Music (Japan), Cat.# UICY-78745, EAN: 4988031275559]
A Capitol Records Release
℗ © 2018 Capitol Records LLC
USM Japan, a Universal Music Company
Marketed & Distributed by Universal Music LLC, Japan
Note:
Remastered Reissue, a part of 'Disco Fever 40' Series.
Credits:
Arranged By [Strings], Conductor [Strings] – Wade Marcus
Art Direction – Roy Kohara
Backing Vocals, Bass, Lead Vocals – Janice M. Johnson
Backing Vocals, Drums – Donald R. Johnson
Backing Vocals, Guitar, Lead Vocals – Hazel P. Payne
Backing Vocals, Keyboards, Producer [Assistant Producer] – Perry L. Kibble
Design – Ken Anderson
Executive-Producer – Larkin Arnold
Mastered By – Ken Perry
Mixed By – Butch Lynch, Jim Nipar, Sergio Reyes
Photography [Liner] – Levy, Rosenberg
Photography By [Cover] – Dick Zimmerman
Producer – Fonce Mizell & Larry Mizell
Recorded By – Gil Jones, Steve Maslow
Recorded By [Additional] – Tom Oliver
Tracklist:
01. Boogie Oogie Oogie (05:37)
02. This Love Of Ours (03:33)
03. Distant (04:20)
04. World Spin (04:02)
05. Disco Dancin' (03:30)
06. You (03:23)
07. If We Loved (04:25)
08. Sky High (05:06)
09. You're In Good Hands (03:53)
Exact Audio Copy V1.0 beta 2 from 29. April 2011

Отчёт EAC об извлечении, выполненном 15. ноября 2018, 10:24

A Taste Of Honey / A Taste Of Honey

Дисковод: ASUS DRW-24D5MT Adapter: 0 ID: 1

Режим чтения : Достоверность
Использование точного потока : Да
Отключение кэша аудио : Да
Использование указателей C2 : Нет

Коррекция смещения при чтении : 6
Способность читать области Lead-in и Lead-out : Нет
Заполнение пропущенных сэмплов тишиной : Да
Удаление блоков с тишиной в начале и конце : Нет
При вычислениях CRC использовались нулевые сэмплы : Да
Интерфейс : Встроенный Win32-интерфейс для Win NT/2000
Обработка зазоров : Добавлено к предыдущему треку

Выходной формат : Пользовательский кодировщик
Выбранный битрейт : 128 kBit/s
Качество : Высокий
Добавление ID3-тега : Нет
Утилита сжатия : C:\Program Files\Exact Audio Copy\FLAC\FLAC.EXE
Дополнительные параметры : -8 -V -T "ARTIST=%artist%" -T "TITLE=%title%" -T "ALBUM=%albumtitle%" -T "DATE=%year%" -T "TRACKNUMBER=%tracknr%" -T "GENRE=%genre%" -T "COMMENT=%comment%" -T "BAND=%albuminterpret%" -T "COMPOSER=%composer%" %haslyrics%–tag-from-


TOC извлечённого CD

Трек | Старт | Длительность | Начальный сектор | Конечный сектор
––––––––––––––––––––––––––––––––––-
1 | 0:00.00 | 5:37.27 | 0 | 25301
2 | 5:37.27 | 3:33.03 | 25302 | 41279
3 | 9:10.30 | 4:19.47 | 41280 | 60751
4 | 13:30.02 | 4:01.65 | 60752 | 78891
5 | 17:31.67 | 3:30.00 | 78892 | 94641
6 | 21:01.67 | 3:23.08 | 94642 | 109874
7 | 24:25.00 | 4:25.37 | 109875 | 129786
8 | 28:50.37 | 5:05.58 | 129787 | 152719
9 | 33:56.20 | 3:53.25 | 152720 | 170219


Трек 1

Имя файла D:\FLAC\01 Boogie Oogie Oogie.wav

Длина предзазора 0:00:02.00

Пиковый уровень 96.9 %
Скорость извлечения 4.4 X
Качество трека 100.0 %
CRC теста 5C8475B5
CRC копии 5C8475B5
Точное извлечение (достоверность 3) [F03A03F0] (AR v2)
Копирование… OK

Трек 2

Имя файла D:\FLAC\02 This Love Of Ours.wav

Длина предзазора 0:00:01.42

Пиковый уровень 88.1 %
Скорость извлечения 4.7 X
Качество трека 100.0 %
CRC теста 23D3FDAF
CRC копии 23D3FDAF
Точное извлечение (достоверность 3) [F79C3851] (AR v2)
Копирование… OK

Трек 3

Имя файла D:\FLAC\03 Distant.wav

Пиковый уровень 83.4 %
Скорость извлечения 4.7 X
Качество трека 99.9 %
CRC теста ED3E18AA
CRC копии ED3E18AA
Точное извлечение (достоверность 3) [D4F40A06] (AR v2)
Копирование… OK

Трек 4

Имя файла D:\FLAC\04 World Spin.wav

Пиковый уровень 95.7 %
Скорость извлечения 5.5 X
Качество трека 100.0 %
CRC теста 2BA5CA4D
CRC копии 2BA5CA4D
Точное извлечение (достоверность 3) [4B8792A4] (AR v2)
Копирование… OK

Трек 5

Имя файла D:\FLAC\05 Disco Dancin'.wav

Длина предзазора 0:00:00.62

Пиковый уровень 99.9 %
Скорость извлечения 5.7 X
Качество трека 100.0 %
CRC теста 806BD9E3
CRC копии 806BD9E3
Точное извлечение (достоверность 3) [BE51E1EC] (AR v2)
Копирование… OK

Трек 6

Имя файла D:\FLAC\06 You.wav

Пиковый уровень 94.2 %
Скорость извлечения 5.9 X
Качество трека 100.0 %
CRC теста FAF75005
CRC копии FAF75005
Точное извлечение (достоверность 3) [ABDE7C3A] (AR v2)
Копирование… OK

Трек 7

Имя файла D:\FLAC\07 If We Loved.wav

Пиковый уровень 77.5 %
Скорость извлечения 6.6 X
Качество трека 100.0 %
CRC теста 2DFB6CC9
CRC копии 2DFB6CC9
Точное извлечение (достоверность 3) [EDE68602] (AR v2)
Копирование… OK

Трек 8

Имя файла D:\FLAC\08 Sky High.wav

Длина предзазора 0:00:01.42

Пиковый уровень 88.5 %
Скорость извлечения 6.3 X
Качество трека 99.9 %
CRC теста E9E7E70A
CRC копии E9E7E70A
Точное извлечение (достоверность 3) [EE211B48] (AR v2)
Копирование… OK

Трек 9

Имя файла D:\FLAC\09 You're In Good Hands.wav

Пиковый уровень 69.6 %
Скорость извлечения 7.0 X
Качество трека 100.0 %
CRC теста 21F1D940
CRC копии 21F1D940
Точное извлечение (достоверность 3) [4B6FA58C] (AR v2)
Копирование… OK


Все треки извлечены точно

Ошибок не произошло

Конец отчёта

–– CUETools DB Plugin V2.1.4

[CTDB TOCID: T1xLHJQfgVGbVuRBYkeutIZ3WCc-] found
Submit result: already submitted
Track | CTDB Status
1 | (12/14) Accurately ripped
2 | (12/14) Accurately ripped
3 | (12/14) Accurately ripped
4 | (12/14) Accurately ripped
5 | (12/14) Accurately ripped
6 | (12/14) Accurately ripped
7 | (12/14) Accurately ripped
8 | (12/14) Accurately ripped
9 | (11/14) Accurately ripped


==== Контрольная сумма отчёта 6107FC664C85250922774DB2DF0862550D7C5812AAF6C9F3EC8239023FA34F77 ====
––––––––––––––––––––––––––––––––––––––––
Analyzed: A Taste Of Honey / A Taste Of Honey
––––––––––––––––––––––––––––––––––––––––

DR Peak RMS Duration Track
––––––––––––––––––––––––––––––––––––––––
DR13 -0.27 dB -16.48 dB 5:37 01-Boogie Oogie Oogie
DR12 -1.09 dB -15.83 dB 3:33 02-This Love Of Ours
DR13 -1.57 dB -17.68 dB 4:20 03-Distant
DR13 -0.37 dB -17.01 dB 4:02 04-World Spin
DR15 0.00 dB -16.51 dB 3:30 05-Disco Dancin'
DR13 -0.52 dB -16.74 dB 3:23 06-You
DR13 -2.21 dB -17.54 dB 4:25 07-If We Loved
DR13 -1.06 dB -17.87 dB 5:06 08-Sky High
DR12 -3.14 dB -18.47 dB 3:53 09-You're In Good Hands
––––––––––––––––––––––––––––––––––––––––

Number of tracks: 9
Official DR value: DR13

Samplerate: 44100 Hz
Channels: 2
Bits per sample: 16
Bitrate: 804 kbps
Codec: FLAC
================================================================================
Thanks to index123458
See also:
A Taste Of Honey - A Taste Of ...t (1980) [2CD] [2000, Reissue]