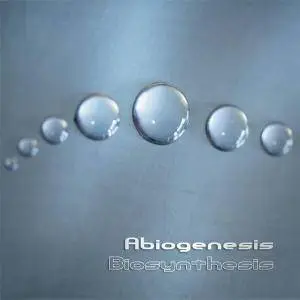 Abiogenesis - Biosynthesis (2017)
WEB FLAC (tracks) - 479 MB | MP3 CBR 320 kbps (LAME 3.93) - 178 MB | Front cover
Genre: Psychill, Downtempo, Ambient | RAR 3% Rec. | Label: Altar Records
Calling all lovers of deep, cosmic, tripped out ambient and downtempoю Altar Records is proud to present "Biosynthesis" - the highly anticipated and latest album by CJ Catalizer (aka Dmitriy Neschadim). Hailing from Moscow, Dmitriy is known for his transcendental musical vision and devoted fan base… and with good reason: he's been on the receiving end of glowing reviews in the international Psy Ambient scene since he first set out to create his unique brand of sonic psychedelia several years ago. This time out, he's changing things up with a new artist name: Abiogenesis - a process which describes the origin of life on this planet some 4 billion years ago. And what a sound we're treated to on his latest studio adventure, as Abiogenesis makes good use of his trademark soaring, hypnotic arpeggios that feature silky smooth glassy sounds contrasted with more acidic lines that interweave in perfect harmonic bliss. These are long, dreamy, yet engaging ambient and downtempo tracks where the melody and mood are the deciding factors and drive things along nicely, finely tuned to the visionary worlds of the "third eye".
Tracklist:
01. Trigonometry Conception
02. Organic Structure, Pt. 2
03. Animation
04. Emergence
05. Fluctuations
06. Vital Matter
07. Biosynthesis
08. Nucleus
Total time:
1:15:34

PERFORMER: auCDtect Task Manager, ver. 1.6.0 RC1 build 1.6.0.1
Copyright © 2008-2010 y-soft. All rights reserved

ANALYZER: auCDtect: CD records authenticity detector, version 0.8.2
Copyright © 2004 Oleg Berngardt. All rights reserved.
Copyright © 2004 Alexander Djourik. All rights reserved.


FILE: 08 - Nucleus.flac
Size: 66654709 Hash: 8F2C5663946D1967CBB7A31ACA38F703 Accuracy: -m0
Conclusion: CDDA 100%
Signature: AB0107CCE1FDCA59116595B82BE5EC3A48D0EDF7
FILE: 07 - Biosynthesis.flac
Size: 73903854 Hash: 8F0C11C6DFD50B1BACE10D350C43E8A2 Accuracy: -m0
Conclusion: CDDA 99%
Signature: 79808DBF57DAE45926E200F310A2AE20B55EB3DB
FILE: 06 - Vital Matter.flac
Size: 61987069 Hash: 3FD831C1213B8FCB8E3C4858836F95D5 Accuracy: -m0
Conclusion: CDDA 94%
Signature: 31F587BF0AA8BDD0B47964882B5191AE16BC4262
FILE: 05 - Fluctuations.flac
Size: 49822420 Hash: 7C58674B96F9D37E2B7E536C4934D20F Accuracy: -m0
Conclusion: CDDA 62%
Signature: 2F06D8CFF0360D1CE7FD77C223DCE36EAAAABD26
FILE: 04 - Emergence.flac
Size: 56661690 Hash: 926E796C2995BF14A0C93ADB3DF67BD5 Accuracy: -m0
Conclusion: CDDA 100%
Signature: 57253B1D907B3C28B4FD2D6CD4E63A9A49044F21
FILE: 03 - Animation.flac
Size: 53385609 Hash: DA52C2A823DC7C107064DB51002C4C81 Accuracy: -m0
Conclusion: CDDA 100%
Signature: 8C569C86D435BC4AADEB0F781536AD00D72AF763
FILE: 02 - Organic Structure, Pt. 2.flac
Size: 74304796 Hash: 96E45CD7898CA43A33550AE2B56F222A Accuracy: -m0
Conclusion: CDDA 100%
Signature: D0377500505B6AC7EF7A8E0D563C49BCA3255A71
FILE: 01 - Trigonometry Conception.flac
Size: 51641843 Hash: 9976CAC82727A3A8610F2923DC42644C Accuracy: -m0
Conclusion: CDDA 43%
Signature: F1526FFF770AF87526D2B5B14740111332D9869E
See also:
C.J. Catalizer - I'll Be There (2011)
Chronos & C.J.Catalizer - Quid Est Veritas? (2009)