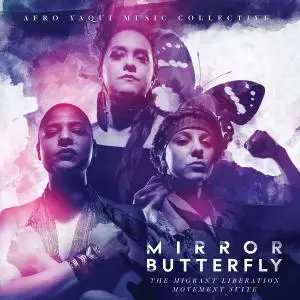 Afro Yaqui Music Collective - Mirror Butterfly (Live) (2019)
WEB FLAC (tracks+booklet) - 295 MB | Tracks: 17 | 50:50 min
Style: Jazz, World | Label: Innova
Around the turn of the millenium, the humanitarian crisis through which we are passing tipped a threshold: climate refugees began to outpace war refugees. Some 25 million were displaced in 1999 due to famine, drought, and torrential storms. So enters Afro Yaqui Music Collective's debut album, Mirror Butterfly: the Migrant Liberation Movement Suite, which dramatizes and musicalizes years of interviews and movement building with environmental and ecosocialist activists in Mexico, Syria, Kurdistan, and Tanzania. A 25-piece postcolonial big band delivers three portrait arias, woven in what poetic playwright Ruth Margraff calls "vocal art," all accompanied by martial arts Afro-Asian choreography (Peggy Myo-Young Choy). The result been hailed as a "praise-song to the wretched of the Earth." (Marcus Rediker, author, The Slave Ship) The staged work has travelled both activist and performing arts spaces: it has been presented at the Kennedy Center in DC, at the Mesopotamian Water Forum in Iraq, at the New Hazlett Theater in Pittsburgh (where it was incubated) and now, is available in this album form–a global siren call for a new world where many worlds fit.
Dozens of artists contributed to this production whose influences span four continents. Jin Yang (of Silk Road) is featured on pipa in an East-West string quartet; Hugo Cruz (formerly of Síntesis) is featured on congas, bata drums and timbales in a pan-African rhythm section; a saxophone quartet, featuring Ben Opie and Patrick Breiner (Battle Trance) and a six piece choir (led by soprano and co-bandleader Gizelxanath Rodriguez) trade rounds. The music, written by baritone saxophonist Ben Barson, defies expectation, reimagining the past four decades of jazz innovation from Julius Hemphill to Fred Ho. Barson, in fact, is the heir of Fred's beloved instrument. Barson's polyphonic, polyrhythmic approach is meant to communicate the vibrant diversity of the migrant experience. Chromatic and seductively jagged choral harmonies, Afro-Asian orchestration, lush voicings by the saxes, all thwart destructive primitivist cliches. Infectious grooves with 4½, 5, and 15 beats per measure formidably defy the oppressive geometry of western modernity.
Tracklist:
01. Enter the Mirrors (Live)
02. Interlude No. 1 (Live)
03. Overture of the Mushroom (Live)
04. Overture of the Sword (Live)
05. Interlude No. 2 (Live)
06. Mulberry Tree (Live)
07. Orchid Mantis (Live)
08. Mulberry Tree (Reprise) [Live]
09. Interlude No. 3 (Live)
10. Attack of the Drone (Live)
11. The Workers' March (Live)
12. Stoneflower Requiem (Live)
13. The Four Mirrored Butterfly (Live)
14. The Sisters Unite (Live)
15. The Sword Dissolves (Live)
16. The Rising Sun (Live)
17. A Stone Against Time (Live)

FILE: 01. Enter the Mirrors (Live).flac
Size: 17868477 Hash: A28EB1BBE5ABE3AA291489D69FD98B17 Accuracy: -m0
Conclusion: CDDA 100%
Signature: EDC8562B716839AEDC381DA414F2267C76E11F3C
FILE: 02. Interlude No. 1 (Live).flac
Size: 4204069 Hash: 2C34ECE986947CF6A7FF7AE6CE58753C Accuracy: -m0
Conclusion: CDDA 100%
Signature: F597779F81E5BFA5E0BD31D92D841C547B9BD954
FILE: 03. Overture of the Mushroom (Live).flac
Size: 15883125 Hash: 7A3E69F9E62B2984E72E3E8490FE4A21 Accuracy: -m0
Conclusion: CDDA 100%
Signature: E02CB1E1D89DDB5CB07E6015D7E32D15F577D8E3
FILE: 04. Overture of the Sword (Live).flac
Size: 39125125 Hash: 623A16BDCA501D78A719275E50635095 Accuracy: -m0
Conclusion: CDDA 100%
Signature: 9E6716B8BDBE1C00AB0E9EEF700F6BAA577EAFBE
FILE: 05. Interlude No. 2 (Live).flac
Size: 5939123 Hash: E95DC17E2AD02AAC55346FF1B00D6F02 Accuracy: -m0
Conclusion: CDDA 100%
Signature: B8EAC33BBEC9BDEA1B39D2CF8F8A6EF11819727D
FILE: 06. Mulberry Tree (Live).flac
Size: 17007137 Hash: D35EBD75DF7E030A3F616AEBB79F5BA0 Accuracy: -m0
Conclusion: CDDA 100%
Signature: EB55B359092DE8B334EC2FCBAD49F9F565FD319D
FILE: 07. Orchid Mantis (Live).flac
Size: 31525925 Hash: 759411B496C4D6C59021EBDBEC7DFDF8 Accuracy: -m0
Conclusion: CDDA 100%
Signature: C359A9AE1BCB1B05AC719E6AB7F44C28442889A5
FILE: 08. Mulberry Tree (Reprise) [Live].flac
Size: 10465923 Hash: 85E627429C2F41173E3743A8B7A153E5 Accuracy: -m0
Conclusion: CDDA 100%
Signature: D9168194EE415343AC12A3172719A800B1573A31
FILE: 09. Interlude No. 3 (Live).flac
Size: 4985386 Hash: 5BA65D455FEBA19EF63F191C1F26806B Accuracy: -m0
Conclusion: CDDA 100%
Signature: A6FA2687D37ADBE9787FF5DAC8BA6D47A718DF40
FILE: 10. Attack of the Drone (Live).flac
Size: 12968434 Hash: 89C16069562E6A967D74974B058003D6 Accuracy: -m0
Conclusion: CDDA 100%
Signature: C2A72D99D6C96BE948C0283DB049DFD2D319B910
FILE: 11. The Workers' March (Live).flac
Size: 19547339 Hash: 25E0A5FE6A51A811CBDF397807FDE971 Accuracy: -m0
Conclusion: CDDA 100%
Signature: 63AB08A2EC3B50737E723422C7E20564B5EA3AA2
FILE: 12. Stoneflower Requiem (Live).flac
Size: 29559443 Hash: 7E46CA7549665A4B2B77B90C4F7961C0 Accuracy: -m0
Conclusion: CDDA 100%
Signature: ACBEF5CBC1C142CF735FDA27530712A1229942B2
FILE: 13. The Four Mirrored Butterfly (Live).flac
Size: 46440243 Hash: 397189596B01A4448B91E5B858FC51C2 Accuracy: -m0
Conclusion: CDDA 100%
Signature: E69A71D78AB3E6B9615A7CD4AC6D15D7CA0E6166
FILE: 14. The Sisters Unite (Live).flac
Size: 38573153 Hash: EC0257E075738E79E9899977B7456753 Accuracy: -m0
Conclusion: CDDA 100%
Signature: B22CEAFCD5ABC2A9ECA23D0A943593097253D25C
FILE: 15. The Sword Dissolves (Live).flac
Size: 5222086 Hash: 11CB87C48554C5F1A87BE1A8B0A730AA Accuracy: -m0
Conclusion: CDDA 100%
Signature: 5CF9D6E6076DC8CD9D615D013027D19C6845FAC4
FILE: 16. The Rising Sun (Live).flac
Size: 4978075 Hash: 7FAF8EB0433540F83C5A9874D361FBC4 Accuracy: -m0
Conclusion: CDDA 100%
Signature: 96D476E812C16E1A30177227C3AC04AC35A04BA4
FILE: 17. A Stone Against Time (Live).flac
Size: 3375468 Hash: BB98D4DEA54A6E7DE698E1382EE2EA1B Accuracy: -m0
Conclusion: CDDA 100%
Signature: 9ABB9A53F295807E119DD91B7AC875F01885100E