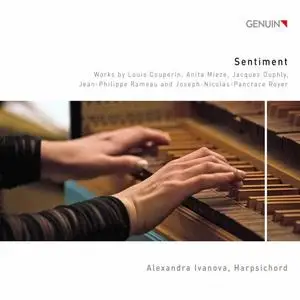 Alexandra Ivanova - Sentiment (2021)
FLAC tracks | 01:22:07 | 464 Mb
Genre: Classical / Label: Genuin
Mit einer gelungenen Verbindung der Gegensätze von Gefühl und Verstand beschäftigten sich im 17. und 18. Jahrhundert nicht nur französischen Philosophen und Kunsttheoretiker, sondern auch Komponisten dieser Zeit. Um jene Pole barocker Musik und ihre Spiegelungen in der zeitgenössischen Moderne kreist diese Produktion der russischen Pianistin und Cembalistin Alexandra Ivanova, die damit ihr Genuin-Debüt bestreitet. Ihre Die mutige Gegenüberstellung von zeitgenössischer und Alter Musik kombiniert aufschlussreich französische Cembalomusik des Barock mit Werken der lettischen Komponistin Anita Mieze (*1980). Und siehe da: Plötzlich erscheint Neues vertraut und Altes aufregend neu.Listening to Alexandra Ivanova's debut CD with GENUIN, we are able to experience the very essence of the harpsichord! The Russian pianist and harpsichordist presents herself in a juxtaposition of contemporary and early music that creates exciting reflections: the new seems familiar, while old seems excitingly new. Ivanova combines Couperin, Rameau, Duphly, and Royer with works by the Latvian composer Anita Mieze, born in 1980. In the 17th and 18th centuries, the associations between feeling and reason not only occupied the minds of French philosophers but also of great musicians: This extraordinarily sonorous CD revolves around these poles of baroque music and how they are reflected in modernity.
Track List:
01. Prélude non mesuré in F Major, G. 13
02. Sentiment No. 1
03. Pièces pour clavecin, Book 3 (Excerpts): No. 4, La Forquere
04. Pièces pour clavecin, Book 3 (Excerpts): No. 6, Médée
05. Pièces pour clavecin, Book 3 (Excerpts): No. 5, Chaconne
06. Suite in D Major, RCT 3: VI. L'entretien des muses
07. Pièces pour clavecin, Book 3 (Excerpts): No. 7, Les grâces
08. Pièces pour clavecin, Book 3 (Excerpts): No. 8, La de Belombre
09. Suite in A Minor, RCT 5: VII. Gavotte et 6 doubles
10. Sentiment No. 2
11. Chaconne in F Major, G. 78
12. Pièces pour clavecin, Book 2: No. 3, La Félix
13. Pièces pour clavecin, Book 1: No. 13, Rondeau
14. Premier livre de pièces de clavecin (Excerpts): No. 4, Premier et deuxième tambourins, suite des Matelots
15. Premier livre de pièces de clavecin (Excerpts): No. 6, L'aimable
16. Premier livre de pièces de clavecin (Excerpts): No. 11, Le vertigo
17. Ansichtskarte
18. Tombeau de Monsieur Blancrocher, G. 81
ANALYZER: auCDtect: CD records authenticity detector, version 0.8.2
Copyright © 2004 Oleg Berngardt. All rights reserved.
Copyright © 2004 Alexander Djourik. All rights reserved.


FILE: 01. Couperin Prélude non mesuré in F Major, G. 13.flac
Size: 14977237 Hash: 52BFE9F94F599AA52753CCD54D9BA4D5 Accuracy: -m40
Conclusion: CDDA 100%
Signature: 2F9C9A5AAA14071BE58B27D667F2C27A6FF9F552
FILE: 02. Mieze Sentiment No. 1.flac
Size: 14806190 Hash: 40323E9CF1C7FB926766D52DBC8F5333 Accuracy: -m40
Conclusion: CDDA 100%
Signature: A5DE20D36483F7995E97B9C5A74B92BB6F4A1B76
FILE: 03. Duphly Pièces pour clavecin, Book 3 (Excerpts) No. 4, La Forquere.flac
Size: 38492524 Hash: BBAACAC2CAF6AD3D1AF4D29A364A4DFB Accuracy: -m40
Conclusion: CDDA 100%
Signature: 4AEC194C2AC1FB1AEE7BB211DA60ECFC91BD36CB
FILE: 04. Duphly Pièces pour clavecin, Book 3 (Excerpts) No. 6, Médée.flac
Size: 29784333 Hash: 85945254B362D8783E38C5163CE03E7E Accuracy: -m40
Conclusion: CDDA 100%
Signature: 6994502815DC00C77920CFCBF65148E6C372F2C0
FILE: 05. Duphly Pièces pour clavecin, Book 3 (Excerpts) No. 5, Chaconne.flac
Size: 48704621 Hash: C1EE36872EC74CDE5B43805C9E19D2C4 Accuracy: -m40
Conclusion: CDDA 100%
Signature: 49E167DDF3423B6F4B0AE770D5BC5EC748B8D9BE
FILE: 06. Rameau Suite in D Major, RCT 3 VI. L'entretien des muses.flac
Size: 34926165 Hash: 7BF1ED3A583D6A5280F3BBCE555BB66C Accuracy: -m40
Conclusion: CDDA 100%
Signature: DB96AF195FBBB06415024483A64E83B5C6F8DA3A
FILE: 07. Duphly Pièces pour clavecin, Book 3 (Excerpts) No. 7, Les grâces.flac
Size: 39528494 Hash: 55BB045D1A17A144A0DDA5184DF933D9 Accuracy: -m40
Conclusion: CDDA 100%
Signature: 438CF8719C74D937A9B3336817ED01CB12E3D04E
FILE: 08. Duphly Pièces pour clavecin, Book 3 (Excerpts) No. 8, La de Belombre.flac
Size: 26316095 Hash: DC93732125549FDC32439D0C0C3495D0 Accuracy: -m40
Conclusion: CDDA 100%
Signature: 0742ECF3A9F3CC5CEB6B13050325357EAE9B056B
FILE: 09. Rameau Suite in A Minor, RCT 5 VII. Gavotte et 6 doubles.flac
Size: 55848422 Hash: CCC0D407DDE36F8E61C069672D3E1F32 Accuracy: -m40
Conclusion: CDDA 100%
Signature: BD136466BFBDBBFF6A6E48303466B720EF94DCE5
FILE: 10. Mieze Sentiment No. 2.flac
Size: 6045628 Hash: 5A37E7A3F4E8D587E217B8C6354B056D Accuracy: -m40
Conclusion: CDDA 100%
Signature: 46F0806F858D15AE0357D096BE148BBF64B4B87A
FILE: 11. Couperin Chaconne in F Major, G. 78.flac
Size: 15958822 Hash: 6C2283FDC152036C73C958906A018928 Accuracy: -m40
Conclusion: CDDA 100%
Signature: AEF5316B4A6705590590B05F4EDB330D1DCCD995
FILE: 12. Duphly Pièces pour clavecin, Book 2 No. 3, La Félix.flac
Size: 19326585 Hash: 081E42AAE3A6C104D7C39C04653C2FCB Accuracy: -m40
Conclusion: CDDA 100%
Signature: 9B38FA8EB8F52E2DBC2370621CBE13532D165D92
FILE: 13. Duphly Pièces pour clavecin, Book 1 No. 13, Rondeau.flac
Size: 14528905 Hash: 6F40140E05F188C3818A671405B64DE2 Accuracy: -m40
Conclusion: CDDA 100%
Signature: 0A83377FA08B4ADC3B9E3C992689CE16E8CF2F15
FILE: 14. Royer Premier livre de pièces de clavecin (Excerpts) No. 4, Premier et deuxième tambourins, suite des Matelots.flac
Size: 11051252 Hash: 4BE8353282B7DF87F1D5C532832986E8 Accuracy: -m40
Conclusion: CDDA 100%
Signature: 3CDC96F8AB2078CAC1115F358F1B5B6E7F73F3F4
FILE: 15. Royer Premier livre de pièces de clavecin (Excerpts) No. 6, L'aimable.flac
Size: 25946991 Hash: 109F1BCA3FBA091EDB98880F61A20F5F Accuracy: -m40
Conclusion: CDDA 100%
Signature: 9CA4B16133634BC4922BCA3D4514E28DF4C5A9B5
FILE: 16. Royer Premier livre de pièces de clavecin (Excerpts) No. 11, Le vertigo.flac
Size: 36568267 Hash: 1A04B81BEE1FF0BFDB0DB31CC06D3924 Accuracy: -m40
Conclusion: CDDA 99%
Signature: B727D77E3E48B570D01EC16CF16B8B78F6E24906
FILE: 17. Mieze Ansichtskarte.flac
Size: 27156632 Hash: F47F4758C2D31E131362B818D3B3CDBE Accuracy: -m40
Conclusion: CDDA 100%
Signature: 1CB0B7E3663263CFB4F70BB64BFDD7D53159DB23
FILE: 18. Couperin Tombeau de Monsieur Blancrocher, G. 81.flac
Size: 26791641 Hash: 53AE395057AC5E7EC5C7333970F21CF1 Accuracy: -m40
Conclusion: CDDA 100%
Signature: 9F5D4BFAE272CB68D237DFD934CBE760E5916048