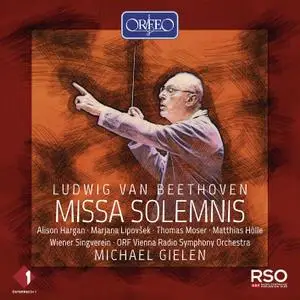 Alison Hargan, Marjana Lipovšek, Thomas Moser, Matthias Hölle, Wiener Singverein, ORF Vienna Radio Symphony Orchestra & Michael Gielen - Beethoven: Missa solemnis, Op. 123 (2020)
WEB FLAC (tracks) - 364 MB | Tracks: 5 | 74:24 min
Style: Classical | Label: Orfeo
Missa solemnis was Beethoven's response to the appointment of his student Archduke Rudolph (youngest brother of Emperor Franz I of Austria) as Archbishop of Olmütz in 1819. He set to work spontaneously, without a direct commission. He planned for the piece to be completed on the occasion of Rudolph's enthronement, on 19 March 1820, but the work proved to be much more of a challenge for the composer than he had anticipated. Accordingly, the premiere did not take place for another four years, on 7 April 1824, at a charity concert given by the Philharmonic Society of St Petersburg. Missa solemnis still faces challenges today. This extraordinary work does not appear in the concert repertoire as often as it used to some years ago. "The world of shareholder values doesn't care for Christ", as Michael Gielen said. He believed that this is one reason for the difficulties the work seems to cause audiences today. Michael Gielen, who passed away in March 2019, can be heard in this historic recording from 1985 with the ORF Vienna Radio Symphony Orchestra.
Alison Hargan, soprano
Marjana Lipovšek, mezzo-soprano
Thomas Moser, tenor
Matthias Hölle, bass
Wiener Singverein
ORF Vienna Radio Symphony Orchestra
Michael Gielen, conductor
Tracklist:
01. Missa solemnis, Op. 123: I. Kyrie
02. Missa solemnis, Op. 123: II. Gloria
03. Missa solemnis, Op. 123: III. Credo
04. Missa solemnis, Op. 123: IV. Sanctus
05. Missa solemnis, Op. 123: V. Agnus Dei


FILE: 01. Missa solemnis, Op. 123 I. Kyrie.flac
Size: 49722926 Hash: EDBDABA98C63E72D53216A0B863CD0B6 Accuracy: -m0
Conclusion: CDDA 100%
Signature: F91141FE0CEB9C48042263D7CA192D606F3DB0F9
FILE: 02. Missa solemnis, Op. 123 II. Gloria.flac
Size: 86195436 Hash: F6A517D2838D6066EC9C0C02E38FA9A2 Accuracy: -m0
Conclusion: CDDA 100%
Signature: 81B738965875D25C62DF984709CB94AD784C9BEB
FILE: 03. Missa solemnis, Op. 123 III. Credo.flac
Size: 96785087 Hash: 5A5D1B0F6F2187F07BEBCEF2A891E234 Accuracy: -m0
Conclusion: CDDA 100%
Signature: E2F344B8A33F84AB048140879A571E66EBE03109
FILE: 04. Missa solemnis, Op. 123 IV. Sanctus.flac
Size: 76650273 Hash: 0B49EF368160CB5F0DD69914237D01EE Accuracy: -m0
Conclusion: CDDA 100%
Signature: 012F45BD11A65D34905FA708312D7E05EEC6863D
FILE: 05. Missa solemnis, Op. 123 V. Agnus Dei.flac
Size: 71634741 Hash: 9E0F95214A3402168EAC682F3AE6BFD5 Accuracy: -m0
Conclusion: CDDA 100%
Signature: FFA2DF2E48E966B694754CEA261290C035ED3632