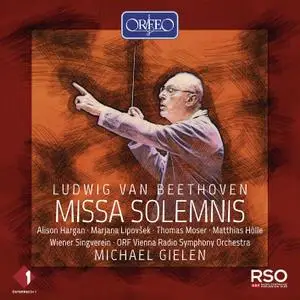 Alison Hargan, Marjana Lipovšek, Thomas Moser, Matthias Hölle, Wiener Singverein, ORF Vienna Radio Symphony Orchestra & Michael Gielen - Beethoven: Missa solemnis, Op. 123 (2020)
WEB FLAC (tracks) - 364 MB | Tracks: 5 | 74:24 min
Style: Classical | Label: Orfeo
Missa solemnis was Beethoven's response to the appointment of his student Archduke Rudolph (youngest brother of Emperor Franz I of Austria) as Archbishop of Olmütz in 1819. He set to work spontaneously, without a direct commission. He planned for the piece to be completed on the occasion of Rudolph's enthronement, on 19 March 1820, but the work proved to be much more of a challenge for the composer than he had anticipated. Accordingly, the premiere did not take place for another four years, on 7 April 1824, at a charity concert given by the Philharmonic Society of St Petersburg. Missa solemnis still faces challenges today.