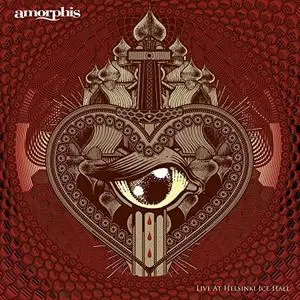 Amorphis - Live at Helsinki Ice Hall (2021)
WEB FLAC (Tracks) | 01:28:00 | 629 MB
Hardrock, Metal | Label: Nuclear Blast
While concerts and cheering crowds seem to be a long-lost echo of the past these days, melancholic progressive metallers AMORPHIS bring back some of the life and incomparable energy that many of us have missed so much.
Recording on December 7, 2019 at their special hometown show, little did the Finns know that this would be one of their last concerts before the pandemic outbreak in early 2020.
With a total of 15 tracks and a running time of over an hour and a half, AMORPHIS take us on a journey through their past, showcasing their best songs from the last 30 years, during which the band developed into one of Finland's finest metal exports.
TRACKLIST
1. Amorphis - Intro & the Bee (Live)
2. Amorphis - Heart of the Giant (Live)
3. Amorphis - Bad Blood (Live)
4. Amorphis - The Four Wise Ones (Live)
5. Amorphis - Into Hiding (Live)
6. Amorphis - Sampo (Live)
7. Amorphis - Wrong Direction (Live)
8. Amorphis - Daughter of Hate (Live)
9. Amorphis - Against Widows (Live)
10. Amorphis - My Kantele (Live)
11. Amorphis - The Golden Elk (Live)
12. Amorphis - Pyres on the Coast (Live)
13. Amorphis - Skyforger Intro & Silver Bride (Live)
14. Amorphis - Black Winter Day (Live)
15. Amorphis - House of Sleep (Live)
–––––––––––-
DON'T MODIFY THIS FILE
–––––––––––-
PERFORMER: auCDtect Task Manager, ver. 1.6.0 RC1 build 1.6.0.1
Copyright © 2008-2010 y-soft. All rights reserved
http://y-soft.org
ANALYZER: auCDtect: CD records authenticity detector, version 0.8.2
Copyright © 2004 Oleg Berngardt. All rights reserved.
Copyright © 2004 Alexander Djourik. All rights reserved.
FILE: 15 - House of Sleep (Live).flac
Size: 42778390 Hash: A2B47EABDBEE21F25ECD123A3D737BE5 Accuracy: -m0
Conclusion: CDDA 100%
Signature: FEED24B09010B0587C08652FF741AA8D56435CD7
FILE: 14 - Black Winter Day (Live).flac
Size: 33721727 Hash: CFA3E6FCA1B77800813063189F52A07D Accuracy: -m0
Conclusion: CDDA 100%
Signature: 4E843A02F2CA6AC9C05462881261520D3215A059
FILE: 13 - Skyforger Intro & Silver Bride (Live).flac
Size: 38067566 Hash: 4FF508B28565FA6A49A7BB25B1EE94A1 Accuracy: -m0
Conclusion: CDDA 100%
Signature: F83D563EDD2121DCDBEC90378EE68617C30D0F28
FILE: 12 - Pyres on the Coast (Live).flac
Size: 47376319 Hash: B78B692ADA38F5B363795F61A74E11CD Accuracy: -m0
Conclusion: CDDA 100%
Signature: 3F824DD7FC8F989CA761C24BBF42E151CE5EA8A1
FILE: 11 - The Golden Elk (Live).flac
Size: 48890744 Hash: 0EBF9B78EF28F60B54A881CBFEC2A337 Accuracy: -m0
Conclusion: CDDA 100%
Signature: BD4F51C09B4521D88C97A5D5C144B05380CBB3EE
FILE: 10 - My Kantele (Live).flac
Size: 52207026 Hash: 23E601F58EE27F2B366234AA2A52BA96 Accuracy: -m0
Conclusion: CDDA 100%
Signature: C944539E0B86085F9B8031B7CFDB33A3E06B24C5
FILE: 09 - Against Widows (Live).flac
Size: 35884865 Hash: 2A801233F005114E6C46815EA53A8147 Accuracy: -m0
Conclusion: CDDA 100%
Signature: A655FE0D11F44D5DFCA4759AEA036572786FA209
FILE: 08 - Daughter of Hate (Live).flac
Size: 49267269 Hash: 407A1C2D8A4AC8F68C3254674A6ACE48 Accuracy: -m0
Conclusion: CDDA 100%
Signature: 978D8564A31D0B69BD990FD9816C7373EE65FED8
FILE: 07 - Wrong Direction (Live).flac
Size: 38309615 Hash: E0930043A1D43C150B744AC6659D0A53 Accuracy: -m0
Conclusion: CDDA 100%
Signature: 2BEC431E743440E00054D7ABAB3F155A651157BC
FILE: 06 - Sampo (Live).flac
Size: 55477419 Hash: 324119238D15927411709BCE419D4CEA Accuracy: -m0
Conclusion: CDDA 100%
Signature: E67FA8FE31B452F619B6B866DC015B1E904995DD
FILE: 05 - Into Hiding (Live).flac
Size: 32528440 Hash: 0142A8A945225E5892F948DB2AB0E277 Accuracy: -m0
Conclusion: CDDA 99%
Signature: E947A1EB1D851891DB6A9356B63F71F7638A8524
FILE: 04 - The Four Wise Ones (Live).flac
Size: 41317759 Hash: BE686921D4333C6116C5A7A8F31B0558 Accuracy: -m0
Conclusion: CDDA 100%
Signature: 4D95D777CADCAA5950E9123406EB651C5CEBADE3
FILE: 03 - Bad Blood (Live).flac
Size: 41130707 Hash: F8802D4183F5BDCC256360E794389C8D Accuracy: -m0
Conclusion: CDDA 100%
Signature: 3DBF454E13C2A69B1ABDC137F501E47D838709DA
FILE: 02 - Heart of the Giant (Live).flac
Size: 48472628 Hash: F6A822ABBD7FA0B6BFC7F3616DEDC4C2 Accuracy: -m0
Conclusion: CDDA 100%
Signature: 3D3117DF0B6809D1D1DC4130826881BA713DB26B
FILE: 01 - Intro & the Bee (Live).flac
Size: 54355113 Hash: A3CD6E93E71678E95B724D225A3BB04C Accuracy: -m0
Conclusion: CDDA 100%
Signature: 437D9B37B2A4158EE86A914A967CA38D067180EB