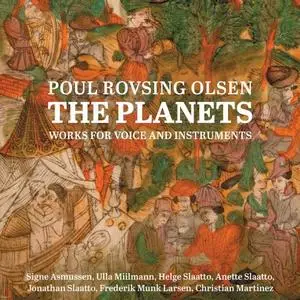 Anette Slaatto & Signe Asmussen - Poul Rovsing Olsen: The Planets – Works for Voice & Instruments (2018)
FLAC (tracks +booklet) | 01:05:21 | 274 Mb
Genre: Classical / Label: Dacapo
This album features Rovsing Olsen's last composition, a string trio named a Dream in Violet, as well as four world premiere recordings: two other instrumental works and two pieces for voice and instruments, including The Planets, based on an illustrated block book from the 15th century. The composer Poul Rovsing Olsen (1922-1982) was educated at the Royal Danish Academy of Music and subsequently in Paris, where he studied under the highly regarded teacher Nadia Boulanger and the renowned composer Olivier Messiaen. Alongside his studies of classical music, Rovsing Olsen cultivated his passion for Oriental music, and at the Parisian Musée de l'Homme, with its extensive collection of tapes and records with the music of peoples from far-off countries, he was able to steep himself in the musical languages. This interest was to have great importance for his later life and work.
Track List:
01. A Dream in Violet, Op. 85
02. The Planets, Op. 80: No. 1, Aether
03. The Planets, Op. 80: No. 2, Saturnus
04. The Planets, Op. 80: No. 3, Iupiter
05. The Planets, Op. 80: No. 4, Mars
06. The Planets, Op. 80: No. 5, Sol
07. The Planets, Op. 80: No. 6, Venus
08. The Planets, Op. 80: No. 7, Mercurius
09. The Planets, Op. 80: No. 8, Luna
10. Rencontres, Op. 67
11. Pour une viole d'amour, Op. 66
12. Alapa-Tarana, Op. 41
ANALYZER: auCDtect: CD records authenticity detector, version 0.8.2
Copyright © 2004 Oleg Berngardt. All rights reserved.
Copyright © 2004 Alexander Djourik. All rights reserved.


FILE: 04. The Planets, Op. 80 No. 3, Iupiter.flac
Size: 12615580 Hash: A46F1358EDE92DAD8BF13725A53511B7 Accuracy: -m40
Conclusion: CDDA 100%
Signature: AD15434BF33942CFA43B28AC0127AA0925F8D99A
FILE: 05. The Planets, Op. 80 No. 4, Mars.flac
Size: 5950654 Hash: B4D5BA79250B60C0DB2282EC24D2F08B Accuracy: -m40
Conclusion: CDDA 100%
Signature: BA78B0AF4B9EED02D2DD6272031C992C5503E1EB
FILE: 07. The Planets, Op. 80 No. 6, Venus.flac
Size: 14687486 Hash: 014D1F5D847E571605F73230E35BB511 Accuracy: -m40
Conclusion: CDDA 42%
Signature: EA916B6134E8D7C7369BE6EA15BD0E94814FDA8B
FILE: 08. The Planets, Op. 80 No. 7, Mercurius.flac
Size: 7943206 Hash: 5FC7E89D625CD1707577650CD0C5A50C Accuracy: -m40
Conclusion: CDDA 100%
Signature: 0C942D2C1E7759A6E77C120D834EDDF3A564E773
FILE: 10. Rencontres, Op. 67.flac
Size: 38760636 Hash: 7F5FE2D383F0D79CE07D366E01BC61C9 Accuracy: -m40
Conclusion: CDDA 100%
Signature: 82ADCB9F1233E9F54745E6838FFE9D0EFAFE00C8
FILE: 11. Pour une viole d'amour, Op. 66.flac
Size: 42112661 Hash: 13BB08A7DC2F873F00BB93B1B006D70E Accuracy: -m40
Conclusion: CDDA 100%
Signature: B0BD8024C15ADB3D1B43EBF7AFFD66FA62E54A2C
FILE: 12. Alapa-Tarana, Op. 41.flac
Size: 41382267 Hash: 4C46B8520C37BCB53D050DBE3C2F2285 Accuracy: -m40
Conclusion: CDDA 43%
Signature: EEDE8EA7A9BB754F7D80A33D7684298099E26829
FILE: 01. A Dream in Violet, Op. 85.flac
Size: 71434481 Hash: 087AAA667FCD5CA3F56B1916E5B3E926 Accuracy: -m40
Conclusion: CDDA 100%
Signature: 5211A97BE1D51CBC1B15AB1F15DB1A7F3D93F9F0
FILE: 02. The Planets, Op. 80 No. 1, Aether.flac
Size: 11594464 Hash: 8F6C584C25426667F8BA159A69924C32 Accuracy: -m40
Conclusion: CDDA 94%
Signature: 5554C2745C24279E3C1BBC1C146CD79E2F6BB812
FILE: 03. The Planets, Op. 80 No. 2, Saturnus.flac
Size: 9868365 Hash: 3B3E7133F0B91BAC47906F63F8203453 Accuracy: -m40
Conclusion: CDDA 100%
Signature: A0FB11AD908CC194770F50D6F6E62BCDA126F28F
FILE: 09. The Planets, Op. 80 No. 8, Luna.flac
Size: 17192772 Hash: B2064B119DE3EDF0B4DB5DF0765761E1 Accuracy: -m0
Conclusion: CDDA 49%
Signature: 27C22A40FF4832F97BAE22746BFA3C7A232B6E6C
FILE: 06. The Planets, Op. 80 No. 5, Sol.flac
Size: 7054854 Hash: D8003F167083029C81F01CBA9CE9D3FE Accuracy: -m0
Conclusion: CDDA 87%
Signature: 53A87C3D1F420CED848FD677FC8CBEF0DD970386