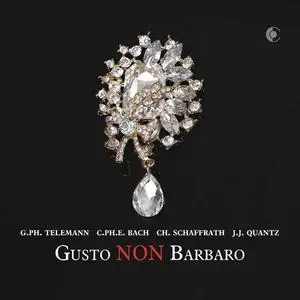 Anna Huszczo, Joanna Solecka, Paweł Solecki, Wieslaw Suruło - Gusto non barbaro (2021)
FLAC tracks / MP3 320 kbps | 54:57 | 311 / 125 Mb
Genre: Classical / Label: RecArt
The album Gusto NON barbaro is devoted to German chamber music of the 18th century. It features works by four composers, of whom Carl Philipp Emanuel Bach is the central figure. The album's title refers to a quotation taken from Quantz's treatise, eloquently characterising the transformations that took place in the style of German music against the background and under the influence of the work of two leading centres: France and Italy. The modern mode of composition, open to the assimilation of respectable aesthetic achievements in the art of other nations, became so dominant in Germany in the 18th century that this very stylistic synthesis was considered a distinctively German feature. In the first half of the 18th century the phenomenon of the unification of national styles became a fact in the works of, among others, Georg Philipp Telemann, the godfather of Carl Philipp Emanuel Bach, and in the middle of the century this trend was particularly dominant in the famous Potsdam circle, where, apart from Bach's son, the other composers presented on the album were active: Johann Joachim Quantz and Christoph Schaffrath. The oldest piece on the record Gusto NON barbaro dates from 1716 (Telemann - Partita IV TWV 41: g 2) and the latest from 1786 (C.Ph.E. Bach - Solo Wq 133). The differences in style and compositional techniques between these works are all too evident, yet despite the considerable time interval separating them, their common gene is palpable: technical excellence, combined with a worship of beauty and an eager, though not uncritical readiness to follow the rapidly changing tastes of listeners.
Track List:
01. Partita No. 4 in G Minor, TWV 41:g2: I. Grave
02. Partita No. 4 in G Minor, TWV 41:g2: II. Allegro
03. Partita No. 4 in G Minor, TWV 41:g2: III. Allegro
04. Partita No. 4 in G Minor, TWV 41:g2: IV. Tempo di minuetto
05. Partita No. 4 in G Minor, TWV 41:g2: V. Allegro
06. Partita No. 4 in G Minor, TWV 41:g2: VI. Tempo giusto
07. Partita No. 4 in G Minor, TWV 41:g2: VII. Allegro assai
08. Trio Sonata in B-Flat Major, TWV 42:B4: I. Dolce
09. Trio Sonata in B-Flat Major, TWV 42:B4: II. Vivace
10. Trio Sonata in B-Flat Major, TWV 42:B4: III. Siciliana
11. Trio Sonata in B-Flat Major, TWV 42:B4: IV. Vivace
12. Recorder Sonata in D Minor, TWV 41:d4: I. Affettuoso
13. Recorder Sonata in D Minor, TWV 41:d4: II. Allegro
14. Recorder Sonata in D Minor, TWV 41:d4: III. Grave
15. Recorder Sonata in D Minor, TWV 41:d4: IV. Presto
16. Flute Sonata in G Major, Wq. 133, H. 564: I. Allegretto
17. Flute Sonata in G Major, Wq. 133, H. 564: II. Presto
18. Trio Sonata in D Major, CSWV E:3: I. Allegro
19. Trio Sonata in D Major, CSWV E:3: II. Adagio
20. Trio Sonata in D Major, CSWV E:3: III. Allegro
21. Sonata a 3 in G Major, QV 2:30: I. Adagio
22. Sonata a 3 in G Major, QV 2:30: II. Allegro
23. Sonata a 3 in G Major, QV 2:30: III. Adagio
24. Sonata a 3 in G Major, QV 2:30: IV. Allegro
ANALYZER: auCDtect: CD records authenticity detector, version 0.8.2
Copyright © 2004 Oleg Berngardt. All rights reserved.
Copyright © 2004 Alexander Djourik. All rights reserved.


FILE: 01 - Partita No. 4 in G Minor, TWV 41_g2_ I. Grave.flac
Size: 10641148 Hash: B44C28369DB63AA7D9CD6B417DF39307 Accuracy: -m40
Conclusion: CDDA 100%
Signature: 83859F3F230F92A086AB154CA087937FF8151D08
FILE: 02 - Partita No. 4 in G Minor, TWV 41_g2_ II. Allegro.flac
Size: 5850346 Hash: F1228E2ACCBD4B2DBA2845B7209C93B3 Accuracy: -m40
Conclusion: CDDA 100%
Signature: F6CBCF946882C5932DFC76D8C788AA35D47D85E9
FILE: 03 - Partita No. 4 in G Minor, TWV 41_g2_ III. Allegro.flac
Size: 14484275 Hash: 8B7BE6B7CAE9F9C0EF5548B501F8A691 Accuracy: -m40
Conclusion: CDDA 100%
Signature: 0E20A8145DEE85263124EEB0AEE0387EEC07F6EC
FILE: 04 - Partita No. 4 in G Minor, TWV 41_g2_ IV. Tempo di minuetto.flac
Size: 5124315 Hash: 5841CB764204434B8A9847784692FEA2 Accuracy: -m40
Conclusion: CDDA 100%
Signature: 1DFF0521CB18F92A16C2D0B293F65FE9E9BCE451
FILE: 05 - Partita No. 4 in G Minor, TWV 41_g2_ V. Allegro.flac
Size: 11062922 Hash: FFB24C61704FDDD575F5BCF98CCDC855 Accuracy: -m40
Conclusion: CDDA 100%
Signature: 1D0D4F16F1FB33372F7C426B133167ED30F1CBF3
FILE: 06 - Partita No. 4 in G Minor, TWV 41_g2_ VI. Tempo giusto.flac
Size: 6427554 Hash: 89C67C93ABDF71407A8C941807357A9A Accuracy: -m40
Conclusion: CDDA 100%
Signature: 7250B90B42909E6ED37E102DAB1D31556283B6B9
FILE: 07 - Partita No. 4 in G Minor, TWV 41_g2_ VII. Allegro assai.flac
Size: 10977077 Hash: 5D2B6ADB1CC17370D4A5469B7D56B7C8 Accuracy: -m40
Conclusion: CDDA 100%
Signature: 2F4E90969E44D0884D6503093D2EEB9E1EEAA838
FILE: 08 - Trio Sonata in B-Flat Major, TWV 42_B4_ I. Dolce.flac
Size: 13033607 Hash: D4DAE35A22AF55CF727BD95E57FF9CEB Accuracy: -m40
Conclusion: CDDA 100%
Signature: 790D6C9B4B4F28169DA26D0B15A0A37E7C2AE7F2
FILE: 09 - Trio Sonata in B-Flat Major, TWV 42_B4_ II. Vivace.flac
Size: 11104154 Hash: 04A9CD3DD0B07608B1F17E57C740B240 Accuracy: -m40
Conclusion: CDDA 100%
Signature: 4F28ED38B4EC5235CEF39432E9C2A94942FA4EC4
FILE: 10 - Trio Sonata in B-Flat Major, TWV 42_B4_ III. Siciliana.flac
Size: 15047437 Hash: 189952C7F8701DC019DFEC31E6170753 Accuracy: -m40
Conclusion: CDDA 100%
Signature: 1C792F0A7C8C58059F74BE4DB215D553127DC3D1
FILE: 11 - Trio Sonata in B-Flat Major, TWV 42_B4_ IV. Vivace.flac
Size: 10674818 Hash: EF6F6B9933CC87C115574DE7E986E1C1 Accuracy: -m40
Conclusion: CDDA 100%
Signature: 165D12E321D27FCDC01FDE04FA513706F6F7E8A0
FILE: 12 - Recorder Sonata in D Minor, TWV 41_d4_ I. Affettuoso.flac
Size: 10771228 Hash: E344E7FD172088B8B2E854CC14A66538 Accuracy: -m40
Conclusion: CDDA 100%
Signature: E0DA6537DE10FE951BCAC2C6C00F0554A163CD01
FILE: 13 - Recorder Sonata in D Minor, TWV 41_d4_ II. Allegro.flac
Size: 21023157 Hash: D70DA6D4D2C5E444B5D75612259EFEF6 Accuracy: -m40
Conclusion: CDDA 99%
Signature: D19F78888B28F9C0F5FD26263D1BD36C0AA1B1EE
FILE: 14 - Recorder Sonata in D Minor, TWV 41_d4_ III. Grave.flac
Size: 4808428 Hash: 2A26D8BB5FAD0283A6878D6E7A80BE95 Accuracy: -m40
Conclusion: CDDA 100%
Signature: AD5FEBAC4154AC56997C37CB9E0890757269EE32
FILE: 15 - Recorder Sonata in D Minor, TWV 41_d4_ IV. Presto.flac
Size: 19464459 Hash: 41D558C077081C0E88F26AD1656215F2 Accuracy: -m40
Conclusion: CDDA 100%
Signature: 0D0FA007DC71EF0E489053E5009197C65378B492
FILE: 16 - Flute Sonata in G Major, Wq. 133, H. 564_ I. Allegretto.flac
Size: 40828635 Hash: 76D92310637F8EF9DAAEE82792CF9DB1 Accuracy: -m40
Conclusion: CDDA 100%
Signature: C690182D24741B8FDE1BC42647ADFAC133536AF6
FILE: 17 - Flute Sonata in G Major, Wq. 133, H. 564_ II. Presto.flac
Size: 16284014 Hash: 422F911AEA3EE673BB40009349E78744 Accuracy: -m40
Conclusion: CDDA 100%
Signature: A9D9AD51F1F9ADCE060F2595F4B8246800CAB9B8
FILE: 18 - Trio Sonata in D Major, CSWV E_3_ I. Allegro.flac
Size: 21387704 Hash: 342A3D0CE6AEEA421DA6264DF0C152AE Accuracy: -m40
Conclusion: CDDA 99%
Signature: 094C351C619CBA53EC48351C5E84737F5414BAB0
FILE: 19 - Trio Sonata in D Major, CSWV E_3_ II. Adagio.flac
Size: 22863366 Hash: 7968D42B4CC5A5C830AD03CBF97573AA Accuracy: -m40
Conclusion: CDDA 100%
Signature: CD7E10460C61016F152FEE864940D9B5C8B96D20
FILE: 20 - Trio Sonata in D Major, CSWV E_3_ III. Allegro.flac
Size: 17687726 Hash: 2BF4A5B9093EDB1B7B348E938C2D7798 Accuracy: -m40
Conclusion: CDDA 100%
Signature: BB7AFD39B5CD8CB7D4673720BD7AF07E1A422279
FILE: 21 - Sonata a 3 in G Major, QV 2_30_ I. Adagio.flac
Size: 11787393 Hash: 67436E852A48B16F3D2A721F819C44F2 Accuracy: -m40
Conclusion: CDDA 100%
Signature: 76BBB86176302A013D30D794E40FE3BA60270BF8
FILE: 22 - Sonata a 3 in G Major, QV 2_30_ II. Allegro.flac
Size: 9519633 Hash: 3D0CA1B1C113F17FC5B87AF0CCE153D1 Accuracy: -m40
Conclusion: CDDA 100%
Signature: 957D3BFF72398C6004680551734B69DD05505C2C
FILE: 23 - Sonata a 3 in G Major, QV 2_30_ III. Adagio.flac
Size: 7574061 Hash: 7D1D1BA9DF8FD93516B7CA5A2052EDDF Accuracy: -m40
Conclusion: CDDA 100%
Signature: BEB7F10FA1C3E19A68B6ACEE0C6092DA4B7E1285
FILE: 24 - Sonata a 3 in G Major, QV 2_30_ IV. Allegro.flac
Size: 8231364 Hash: FD3EB47BF3E0BAE56A3D60BF97A2EBA6 Accuracy: -m40
Conclusion: CDDA 100%
Signature: A4FF069C13DF607F754B9A8134577F64CECDD2AE