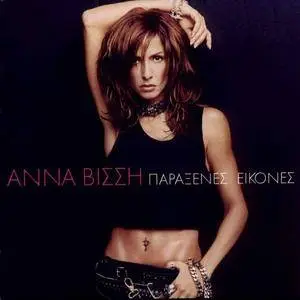 Anna Vissi - Paraxenes Ikones (2003)
MP3 (CBR 320 kbps) | Covers Included | 01:39:46 | 255 MB
Genre: Pop, Laika, Entehno | Label: Sony Music
Paraksenes Eikones (Greek: Παράξενες Εικόνες; English: Strange Images) is the name of a Greek album by singer Anna Vissi released in Greece and Cyprus on December 5, 2003. The album featured the song "Eisai" that later became Call Me in English and which topped the Billboard Hot Dance Club Play in 2005. The album was later officially released in Turkey and Bulgaria.
The song Treno was awarded song of the year by Arion Awards, IFPI's Greek recorded music awards. The album reached 3x Platinum in Greece and 3x Platinum in Cyprus. Treno also won the Arion Award for Best video clip, and also Song of the Year in both 2003 and 2004 in Cyprus.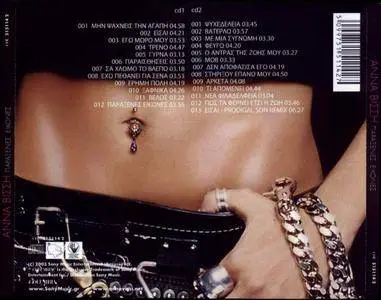 Track List:CD 1:
01. Min Psahnis Tin Agapi - (05:01)
02. Ise - (04:24)
03. Ego Moro Mou - (03:56)
04. Treno - (04:52)
05. Girna - (03:16)
06. Paresthisis - (03:52)
07. Sa Hlomo To Vlepo - (03:20)
08. Eho Pethani Gia Sena - (03:56)
09. Erimi Poli - (04:22)
10. Xafnika - (04:29)
11. Velos - (03:24)
12. Paraxenes Ikones - (00:30)
CD 2:
01. Psihedelia - (03:48)
02. Waterloo - (04:00)
03. Me Mia Signomi - (03:33)
04. Fevgo - (04:23)
05. O Andras Tis Zois Mou - (03:29)
06. Mov - (03:36)
07. Den Apofasisa Ego - (04:22)
08. Stirixou Epano Mou - (04:51)
09. Arketa - (04:11)
10. Ti Apomeni - (04:47)
11. Nea Filadelfia - (03:07)
12. Pos Ta Ferni Etsi I Zoi - (03:49)
13. Ise (Prodigal Son Remix) - (06:28)
Download: