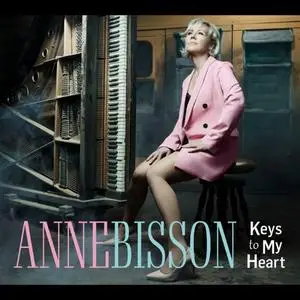 Anne Bisson - Keys to My Heart (2020)
FLAC tracks / MP3 320 kbps | 00:51:24 | 121 / 254 Mb
Genre: Jazz, Vocal Jazz / Label: Camilio Records
After a successful and diverse career of more than 20 years in almost every corner of the entertainment world, Anne Bisson returned to her first love, jazz, by releasing in 2009, Blue Mind, an album which brilliantly showcased her talents and musical creativity. Critics were unanimous, praising Anne Bisson as a natural jazz artist. With 35,000 albums in sales, she now releases a new album on which she is joined in the studio with two Los Angeles 'Jazz Giants', Joe LaBarbera on drums and Darek Oleskiewicz on acoustic bass.
Track List:
01. Killing Me Softly
02. Icarus
03. In a Whisper
04. No Problem
05. Where Am I Now?
06. Hour of the Wolf
07. Hunger in Your Heart
08. Slip into My Limousine
09. Climbing in the Clouds
10. I'm Sorry (J'ai D'la Peine)
11. For me, formidable
12. For me, formidable (Radio Edit)
13. Awakening
14. Struggling
15. Inner Peace
ANALYZER: auCDtect: CD records authenticity detector, version 0.8.2
Copyright © 2004 Oleg Berngardt. All rights reserved.
Copyright © 2004 Alexander Djourik. All rights reserved.


FILE: 01 - Killing Me Softly.flac
Size: 15875281 Hash: 3011BAA5052CA14F0250B63761904B4B Accuracy: -m40
Conclusion: CDDA 100%
Signature: D42F274A6A5123E76D9DFFBB76D8F8BD91B054D5
FILE: 02 - Icarus.flac
Size: 21334872 Hash: 82031B16F153EBAD841031865F68EA2E Accuracy: -m40
Conclusion: CDDA 100%
Signature: AE853B57D267CA61FB4BAC3441B9962563F3750E
FILE: 03 - In a Whisper.flac
Size: 12470306 Hash: 77DB055C4E5B4EBBCD2FC7CB13C50961 Accuracy: -m40
Conclusion: CDDA 99%
Signature: 648AF50FE690AD2C75A0A655C08DC78FCDD2D5B5
FILE: 04 - No Problem.flac
Size: 17358758 Hash: A00DAFA93343AEEC6E22073920285EB5 Accuracy: -m40
Conclusion: CDDA 99%
Signature: 0485FD2B31177D694F5B69C9061F3F622B833070
FILE: 05 - Where Am I Now.flac
Size: 20901702 Hash: 703C5123B8B4F1C9F199BDCAF38A2D2C Accuracy: -m40
Conclusion: CDDA 100%
Signature: CD4E3A96DD0EF7200C7D185CEB7EB4BD11690E6F
FILE: 06 - Hour of the Wolf.flac
Size: 15802671 Hash: E51196BC42B3FBECD9732DFF09EDE524 Accuracy: -m40
Conclusion: CDDA 100%
Signature: 77381477694822C1BBC3174DF02910219CC3205E
FILE: 07 - Hunger in Your Heart.flac
Size: 17917645 Hash: B2E40EB3A026BD3B5C40AEEDFD87714D Accuracy: -m40
Conclusion: CDDA 100%
Signature: E99D89BF593E59085E6AA09D67DDC21910F2C0A6
FILE: 08 - Slip into My Limousine.flac
Size: 21444966 Hash: 48E6D020CE2E5F42ED3D4269B6D976DC Accuracy: -m40
Conclusion: CDDA 100%
Signature: 05927DA24DFDCB5B0E93609B9726AAA53EE5267A
FILE: 09 - Climbing in the Clouds.flac
Size: 16544539 Hash: 423C9E128A76E4A10733A2AE4001F793 Accuracy: -m40
Conclusion: CDDA 100%
Signature: 02A802CE0896DE047D14CB55DD5426361DFF9793
FILE: 10 - I'm Sorry (J'ai D'la Peine).flac
Size: 14271356 Hash: F87FD2A1A5053D24D8FE9602DF04DEF7 Accuracy: -m40
Conclusion: CDDA 100%
Signature: B74259CE700E2488F5C47E84CACC405670ADD34B
FILE: 11 - For me, formidable.flac
Size: 31434428 Hash: 6B3297068FFBA8D642EB421EAFA4E6DB Accuracy: -m40
Conclusion: CDDA 100%
Signature: 3D30492AFA64E836B20D1C67568F0F67127E9C63
FILE: 12 - For me, formidable (Radio Edit).flac
Size: 22671850 Hash: 023849943D4B5A3F4AAFD94615D14089 Accuracy: -m40
Conclusion: CDDA 100%
Signature: 86A9CB3479638EBE60A51FF1E4E35AB8FFD41AF6
FILE: 13 - Awakening.flac
Size: 18494062 Hash: F4B7466C72A726276B332ADC19304BB7 Accuracy: -m40
Conclusion: CDDA 100%
Signature: D94DA42C5904BEA8ACF6461CCECE35F5F3FFF317
FILE: 14 - Struggling.flac
Size: 8192284 Hash: B09A077EC0B90816DDCAB613190CD99B Accuracy: -m40
Conclusion: CDDA 100%
Signature: D649EA3061A38B27739507FFAD316A5D81B326FF
FILE: 15 - Inner Peace.flac
Size: 12571484 Hash: B7680B117B458747150B031A89102A10 Accuracy: -m40
Conclusion: CDDA 100%
Signature: 013E9159354FB19DBFEF2C72EC23B66E72636924