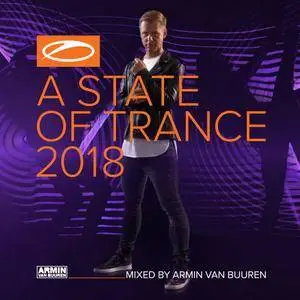 Armin van Buuren - A State Of Trance 2018 (2018)
MP3 CBR 320 kbps | 02:24:44 | 330 Mb
Genre: Trance, Dance, Club / Label: Armada Music
Offering bite-sized slices of todays best in Trance, A State Of Trance 2018 sees Armin van Buuren select and mix a grand total of forty-two top-drawer Trance cuts, ranging from progressive-flavored records to uplifting monster tunes. Comprising phenomenal offerings from the likes of Armin van Buuren presents Rising Star, Fatum, KhoMha, Maor Levi, Protoculture, Super8 & Tab and more, this brand-new installment of the highly-acclaimed mix series once again provides fans and fans-to-be with music of such quality itd be shameful to pass up on. In all of its aspects and colors, A State Of Trance 2018 is to be in the moment and let yourself go.
Track List:
CD1 On The Beach
01 Armin van Buuren vs Shapov - The Last Dancer
02 Whiteout & Wilderness - Yalung
03 Tom Fall - Cyclone
04 Estiva - Bloom
05 Maor Levi - Nova
06 Three Drives - Sunset On Ibiza (BLR Remix)
07 Seven Lions feat. Rico & Miella - Without You My Love (Myon Definitive Mix)
08 Alex Sonata - Only One
09 Denis Kenzo, Fahjah & Kate Miles - Who I Am
10 Wrechiski - Fervour
11 The Blizzard - Tind
12 Alex Sonata feat. Dean Chalmers - Bridges
13 Purple Haze - Bergen
14 The Thrillseekers presents Hydra - Affinity 2018
15 Fatum - Violet
16 Super8 & Tab feat. Hero Baldwin - Burn
17 GNX - Empire
18 Joel Hirsch & HALIENE - Run To You
19 Protoculture - Sanctuary
20 Alex Kunnari - Sundown
21 Airbase - Vermillion
CD2 In The Club
01 Fatum - Mowgli
02 Kyau & Albert - The Night Sky
03 Simon Patterson feat. Lucy Pullin - Fall For You
04 David Gravell - The Future
05 DRYM x Omnia - Ethereal
06 Protoculture - Thirty Three South
07 Davey Asprey - Kaiju
08 KhoMha - Tierra
09 Armin van Buuren presents Rising Star feat. Fiora - Just As You Are
10 Allen Watts - Midnight
11 Assaf - Chapter Ten
12 Craig Connelly feat. Roxanne Emery - This Life
13 Roman Messer feat. Christina Novelli - Fireflies (Jorn van Deynhoven Remix)
14 Armin van Buuren vs Alexander Popov - Popcorn
15 Giuseppe Ottaviani - Till The Sunrise
16 DRYM - Spider
17 Beatsole & TH3 ONE - Maia
18 Sunset & Kiran M Sajeev - Just A Dream
19 Armin van Buuren feat. Conrad Sewell - Sex, Love & Water (DRYM Remix)
20 Dogzilla - Dogzilla (Alex Di Stefano Remix)
21 Armin van Buuren - Be In The Moment (ASOT 850 Anthem) (Ben Nicky Remix)