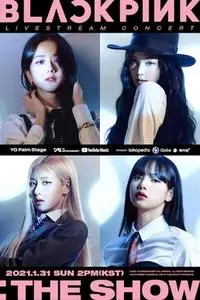 BLACKPINK - BLACKPINK 2021 'THE SHOW' LIVE
MP3 263 kbps avg. | 53:34 | 110 MB
The Show, officially titled YG Palm Stage ― 2021 Blackpink: The Show, was the first online concert, second one-day and the fourth overall by South Korean girl group Blackpink.
Blackpink 2021 'The Show' Live (stylized in all caps) is the fourth live album by Blackpink, released on June 1, 2021, featuring performances from The Show.
On May 11, 2021, YG Entertainment revealed the live CD for "The Show" on its official shop YG Select. Set to release on June 11, the physical album contained a digipack, 2 CD discs, a photobook, 2 random photocards, and a random sticker. YG also announced that Jisoo and Lisa's solo songs on "The Show" were not included on the album due to copyright issues.
The live album was surprise released for digital download and streaming platforms on June 1, 2021. The same day, YG Entertainment opened pre-ordered for KiT VIDEO and DVD versions of "The Show", set to release on June 18. The KiT VIDEO version included one of four different KiT VIDEOS, one of four different key-ring charms, a photocard sleeve set, and a tracklist card, while the DVD version included 2 DVDs, a photobook, a frame photo set, a random magnet set, a tracklist card, random photo cards, a sticker set, an accordion book, a post card set, and a folded poster.
01. BLACKPINK - Kill This Love (Live)
02. BLACKPINK - Crazy Over You (Live)
03. BLACKPINK - How You Like That (Live)
04. BLACKPINK - Don't Know What To Do (Live)
05. BLACKPINK - PLAYING WITH FIRE (Live)
06. BLACKPINK - Lovesick Girls (Live)
07. BLACKPINK - Love To Hate Me + You Never Know (Live)
08. JENNIE - SOLO (Live)
09. ROSE - Gone (Live)
10. BLACKPINK - Pretty Savage (Live)
11. BLACKPINK - DDU-DU DDU-DU (Live)
12. BLACKPINK - WHISTLE (Live)
13. BLACKPINK - As If It's Your Last (Live)
14. BLACKPINK - BOOMBAYAH (Live)
15. BLACKPINK - Forever Young (Live)