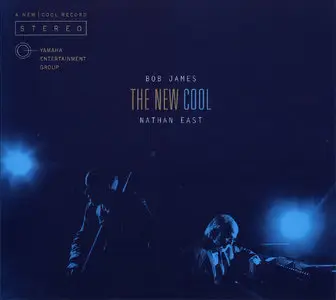 Bob James & Nathan East - The New Cool (2015)
EAC | FLAC | Tracks (Cue&Log) ~ 258 Mb | Mp3 (CBR320) ~ 130 Mb | Scans ~ 161 Mb
Smooth Jazz, Contemporary Jazz | Label: Yamaha | # YCCW-10264 | Time: 00:56:41
After 25 years of collaboration, Bob James and Nathan East are set to release their debut duo album The New Cool in September on Yamaha Entertainment Group. The New Cool marks new territory for legendary jazz pianist Bob James and bassist Nathan East, who've spent decades playing together in contemporary jazz quartet Fourplay but never before as an official duo. "The more I played with Nathan over the course of many live performances and spanning more than 20 years, the more in sync we were whether or not we had the anchor of the drums," says James. "Something special happens when we only have each other's notes to play off of, when the music is totally exposed." Recorded entirely in Nashville, Tennessee, the album is a collection of original material contributed by both James and East, along with a small selection of standards. The duo's musicianship is laid bare in a soulful reimagining of Irving Berlin's "How Deep is the Ocean," while the pair is joined by strings and woodwinds for a surprising take on Willie Nelson's classic country hit "Crazy." A two-time Grammy Award-winning jazz pianist, arranger, and producer, Bob James is recognized as one of the original founders of smooth jazz. Long revered in the hip-hop community, James' compositions are among the most sampled songs in history. Nathan East was 16 years old when he went on the road with Barry White and has spent the last four decades playing with a who's who of performers, including Quincy Jones, Eric Clapton, George Harrison, Michael Jackson, Phil Collins, Whitney Houston, Beyoncé, Barbra Streisand, and Stevie Wonder. East performed on the 2014 Grammy Record of The Year, Daft Punk's "Get Lucky." The New Cool is produced by Chris Gero, Bob James, and Nathan East. It comes on the heels of East's Grammy-nominated solo debut, Nathan East, also released on Yamaha Entertainment Group.
Recorded in five studios in Nashville and nearby Franklin, Tennessee, The New Cool is something of a follow-up to Nathan East's self-titled 2014 album, though it's billed to the bassist and his fellow Fourplay member, Bob James. Like Nathan East, The New Cool is a Yamaha release. The label wing of the manufacturer also supplied the duo with instruments and enabled them to make this predominantly acoustic set of eight originals and three interpretations. Drummer Scott Williamson, percussionist Rafael Padilla, and an orchestra – with David Davidson as concertmaster – are all involved, yet they're employed sparingly and leave the spotlight to East and James. The album sounds like it was easy and fun to make – one can sense joy and deep focus in the interplay – as the material is predominantly amiable and laid-back. It's almost entirely instrumental, with East adding some occasional soft scatting, while Vince Gill drops by for the lone "proper" vocal inclusion on an elegant recasting of Willie Nelson's "Crazy." Just when it seems as if The New Cool will end as it began, in sunny and mellow form, the closing "Turbulence" develops into what's easily the album's most active cut. Composer James lets loose with some athletic electric piano, East's bass is at its taut and melodic best, and Williamson, known most for his work on contemporary country and Christian sessions, shows that he can also hang with two crucial jazz rhythm-section dignitaries. This is a pleasant, if inessential, addition to the catalogs of the two musicians.



Review by Andy Kellman, Allmusic.com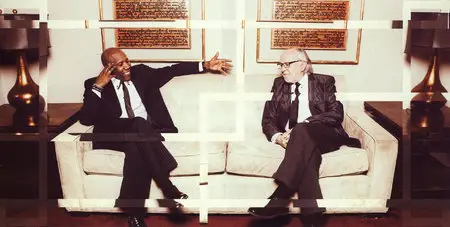 Tracklist:
01. The New Cool (07:08)
02. Oliver's Bag (05:07)
03. All Will Be Revealed (04:32)
04. Midnight Magic / Love Me As Though There Were No Tomorrow (05:14)
05. Crazy (Feat. Vince Gill) (05:04)
06. How Deep Is The Ocean (04:35)
07. Canto Y La Danza (05:06)
08. Waltz For Judy (03:27)
09. Seattle Sunrise (04:10)
10. Ghost Of A Chance (05:24)
11. Turbulence (03:53)
12. Memories Of You (Japan Bonus Track) (02:55)
Exact Audio Copy V1.1 from 23. June 2015

Отчёт EAC об извлечении, выполненном 13. октября 2015, 14:02

Bob James & Nathan East / The New Cool

Дисковод: SlimtypeeSAU208 2 Adapter: 1 ID: 1

Режим чтения : Достоверность
Использование точного потока : Да
Отключение кэша аудио : Да
Использование указателей C2 : Нет

Коррекция смещения при чтении : 6
Способность читать области Lead-in и Lead-out : Нет
Заполнение пропущенных сэмплов тишиной : Да
Удаление блоков с тишиной в начале и конце : Нет
При вычислениях CRC использовались нулевые сэмплы : Да
Интерфейс : Встроенный Win32-интерфейс для Win NT/2000
Обработка зазоров : Не обнаружено, добавлено к предыдущему треку

Выходной формат : Пользовательский кодировщик
Выбранный битрейт : 896 kBit/s
Качество : Высокий
Добавление ID3-тега : Нет
Утилита сжатия : C:\Program Files\Exact Audio Copy\Flac\flac.exe
Дополнительные параметры : -V -8 -T "Date=%year%" -T "Genre=%genre%" %source%


TOC извлечённого CD

Трек | Старт | Длительность | Начальный сектор | Конечный сектор
––––––––––––––––––––––––––––––––––-
1 | 0:00.00 | 7:08.69 | 0 | 32168
2 | 7:08.69 | 5:07.54 | 32169 | 55247
3 | 12:16.48 | 4:32.54 | 55248 | 75701
4 | 16:49.27 | 5:14.72 | 75702 | 99323
5 | 22:04.24 | 5:04.18 | 99324 | 122141
6 | 27:08.42 | 4:35.34 | 122142 | 142800
7 | 31:44.01 | 5:06.19 | 142801 | 165769
8 | 36:50.20 | 3:27.12 | 165770 | 181306
9 | 40:17.32 | 4:10.54 | 181307 | 200110
10 | 44:28.11 | 5:24.15 | 200111 | 224425
11 | 49:52.26 | 3:53.28 | 224426 | 241928
12 | 53:45.54 | 2:55.15 | 241929 | 255068


Трек 1

Имя файла C:\Users\ALEXEY\Desktop\Bob_2\01 Трек01.wav

Пиковый уровень 90.6 %
Скорость извлечения 2.7 X
Качество трека 99.9 %
CRC теста C71FAEB9
CRC копии C71FAEB9
Трек не обнаружен в базе AccurateRip
Копирование… OK

Трек 2

Имя файла C:\Users\ALEXEY\Desktop\Bob_2\02 Трек02.wav

Пиковый уровень 99.5 %
Скорость извлечения 2.9 X
Качество трека 99.9 %
CRC теста 75A1C24A
CRC копии 75A1C24A
Трек не обнаружен в базе AccurateRip
Копирование… OK

Трек 3

Имя файла C:\Users\ALEXEY\Desktop\Bob_2\03 Трек03.wav

Пиковый уровень 96.8 %
Скорость извлечения 3.4 X
Качество трека 100.0 %
CRC теста 24E1D355
CRC копии 24E1D355
Трек не обнаружен в базе AccurateRip
Копирование… OK

Трек 4

Имя файла C:\Users\ALEXEY\Desktop\Bob_2\04 Трек04.wav

Пиковый уровень 88.9 %
Скорость извлечения 3.7 X
Качество трека 100.0 %
CRC теста 5BA39D4E
CRC копии 5BA39D4E
Трек не обнаружен в базе AccurateRip
Копирование… OK

Трек 5

Имя файла C:\Users\ALEXEY\Desktop\Bob_2\05 Трек05.wav

Пиковый уровень 98.9 %
Скорость извлечения 4.0 X
Качество трека 100.0 %
CRC теста DF6030D3
CRC копии DF6030D3
Трек не обнаружен в базе AccurateRip
Копирование… OK

Трек 6

Имя файла C:\Users\ALEXEY\Desktop\Bob_2\06 Трек06.wav

Пиковый уровень 90.5 %
Скорость извлечения 4.1 X
Качество трека 100.0 %
CRC теста B0AB58E1
CRC копии B0AB58E1
Трек не обнаружен в базе AccurateRip
Копирование… OK

Трек 7

Имя файла C:\Users\ALEXEY\Desktop\Bob_2\07 Трек07.wav

Пиковый уровень 100.0 %
Скорость извлечения 4.4 X
Качество трека 100.0 %
CRC теста 8F776467
CRC копии 8F776467
Трек не обнаружен в базе AccurateRip
Копирование… OK

Трек 8

Имя файла C:\Users\ALEXEY\Desktop\Bob_2\08 Трек08.wav

Пиковый уровень 91.9 %
Скорость извлечения 3.7 X
Качество трека 99.9 %
CRC теста 6D3FFE1A
CRC копии 6D3FFE1A
Трек не обнаружен в базе AccurateRip
Копирование… OK

Трек 9

Имя файла C:\Users\ALEXEY\Desktop\Bob_2\09 Трек09.wav

Пиковый уровень 81.5 %
Скорость извлечения 4.6 X
Качество трека 100.0 %
CRC теста 26B73DFD
CRC копии 26B73DFD
Трек не обнаружен в базе AccurateRip
Копирование… OK

Трек 10

Имя файла C:\Users\ALEXEY\Desktop\Bob_2\10 Трек10.wav

Пиковый уровень 91.6 %
Скорость извлечения 4.9 X
Качество трека 100.0 %
CRC теста F48096DD
CRC копии F48096DD
Трек не обнаружен в базе AccurateRip
Копирование… OK

Трек 11

Имя файла C:\Users\ALEXEY\Desktop\Bob_2\11 Трек11.wav

Пиковый уровень 100.0 %
Скорость извлечения 4.3 X
Качество трека 99.9 %
CRC теста 38725AA9
CRC копии 38725AA9
Трек не обнаружен в базе AccurateRip
Копирование… OK

Трек 12

Имя файла C:\Users\ALEXEY\Desktop\Bob_2\12 Трек12.wav

Пиковый уровень 80.4 %
Скорость извлечения 4.7 X
Качество трека 100.0 %
CRC теста 6FB920DE
CRC копии 6FB920DE
Трек не обнаружен в базе AccurateRip
Копирование… OK


Ни одного трека нет в базе AccurateRip

Ошибок не произошло

Конец отчёта

==== Контрольная сумма отчёта 52698E58963D456C23763D594A615652553541D598E9CC0CE1A4A709DAC1EA75 ====
foobar2000 1.2 / Dynamic Range Meter 1.1.1
log date: 2015-10-16 23:42:23

––––––––––––––––––––––––––––––––––––––––
Analyzed: Bob James & Nathan East / The New Cool
––––––––––––––––––––––––––––––––––––––––

DR Peak RMS Duration Track
––––––––––––––––––––––––––––––––––––––––
DR12 -0.86 dB -16.44 dB 7:09 01-The New Cool
DR13 -0.04 dB -15.40 dB 5:08 02-Oliver's Bag
DR10 -0.28 dB -14.25 dB 4:33 03-All Will Be Revealed
DR11 -1.02 dB -14.89 dB 5:15 04-Midnight Magic / Love Me As Though There Were No Tomorrow
DR12 -0.09 dB -15.97 dB 5:04 05-Crazy (Feat. Vince Gill)
DR12 -0.87 dB -17.57 dB 4:35 06-How Deep Is The Ocean
DR15 0.00 dB -17.06 dB 5:06 07-Canto Y La Danza
DR10 -0.73 dB -15.08 dB 3:27 08-Waltz For Judy
DR13 -1.77 dB -19.02 dB 4:11 09-Seattle Sunrise
DR12 -0.76 dB -17.16 dB 5:24 10-Ghost Of A Chance
DR12 0.00 dB -14.71 dB 3:53 11-Turbulence
DR12 -1.89 dB -18.92 dB 2:55 12-Memories Of You (Japan Bonus Track)
––––––––––––––––––––––––––––––––––––––––

Number of tracks: 12
Official DR value: DR12

Samplerate: 44100 Hz
Channels: 2
Bits per sample: 16
Bitrate: 568 kbps
Codec: FLAC
================================================================================