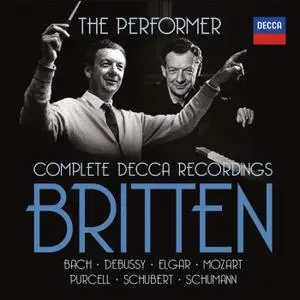 Benjamin Britten - The Performer: The Complete Decca Recordings (27CD Box Set, 2013)
EAC Rip | APE (*image+.cue+.log,scans) | Run Time: 31:17:35 | 7,67 Gb
Genre: Classical | Label: Decca (UMO)
This set brings together for the first time Britten's complete Decca recordings as pianist and conductor in which he performs music by other composers - an astonishing variety of music that ranges from large-scale choral works by Bach and Purcell to Schumann and Elgar, as well as orchestral works by Mozart, Haydn and Schubert. Solo vocal repertory is generously represented with important works by Schubert and Schumann and early twentieth-century English song. Chamber music features Britten the pianist in partnership with two of Britten's closest collaborators: Mstislav Rostropovich and Sviatoslav Richter.
During the research and preparation for this set a major discovery was made. The existence of a few unpublished Schubert songs was already known and a few works which had never appeared on CD already ensured their inclusion at the planning stage. However the discovery of an unpublished tape containing almost 50 minutes of Mozart (including Symphony No. 40) with the London Symphony Orchestra recorded in Kingsway Hall in December 1963 was a genuine once in a lifetime discovery!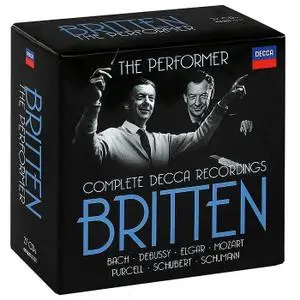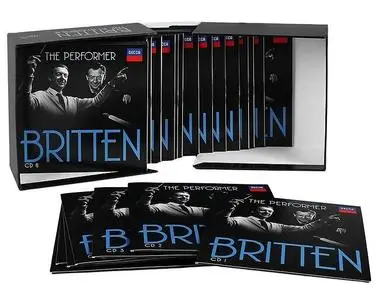 Contents:
CDs1-2
Bach: St John Passion
CD3
Bach: Süßer Trost, mein Jesus kommt
Bach: Herr, deine Augen sehen nach dem Glauben
Bach: Brandenburg Concerto No.1 in F
Bach: Brandenburg Concerto No.2 in F
CD4
Bach: Brandenburg Concerto No.3 in G
Bach: Brandenburg Concerto No.4 in G
Bach: Brandenburg Concerto No.5 in G
Bach: Brandenburg Concerto No.6 in Bb
CDs5-6
Purcell: The Fairy Queen
Purcell: Celebrate This Festival - Birthday Ode for Queen Mary
CD7
Haydn: Symphony No.45 in F# minor
Haydn: Symphony No.55 in Eb, Hob.
Haydn: Cello Concerto in C
CD8
Mozart: Symphony No.25 in G minor
Mozart: Serenata notturna in D
Mozart: Symphony No.29 in A
CD9
Mozart: Symphony No.40 in G minor
Mozart: Symphony No.38 in D
CD10
Mozart: Symphony No.41 in C
Mozart: Symphony No.39 in E flat
Mozart: Si mostra la sorte
Mozart: Per pietà, non ricercate
CDs11-12
Mozart: Piano Concerto No.12 in A
Mozart: Sonata for Piano Duet in C
Mozart: Sonata for Piano Duet in D
Mozart: Piano Concerto No.20 in D minor
Mozart: Piano Concerto No.27 in Bb
CD13
Schubert: Symphony No.8 in B minor
Schubert: Sonata for Arpeggione & Piano in A minor
Schubert: Divertissement in E minor
Debussy: En Blanc et Noir
CD14
Schubert: Fantasy in F minor Op.103
Schubert: Variations on an original Theme in A flat
Schubert: Grand Duo Sonata in C major
CDs15-17
Schubert: Winterreise
Schubert: Die Schöne Müllerin
Schumann: Dichterliebe
Schubert: Selected Lieder
CDs18-19
Schumann: Szenen aus Goethes
Schumann: 5 Stücke im Volkston
CDs20-21
Delius: Summer Night on the River
Delius: Two Aquarelles
Bridge: Christmas Dance
Elgar: Introduction & Allegro for Strings
Elgar: The Dream of Gerontius
CD22
Shostakovich: Sonata for Cello & Piano
Shostakovich: Seven Poems of Alexander Blok
Janá ek: Pohádka for Cello & Piano
CD23
Vaughan Williams: On Wenlock Edge
Bridge: Phantasie in F# minor for Piano Quartet
Bridge: Sonata for Cello & Piano
Debussy: Sonata for Cello & Piano in D minor
CDs24-25
Songs by: Grainger, Purcell, Haydn, Holst, Bridge, Butterworth, Moeran, Warlock, Ireland, Berkeley, Oldham & Tippett
CD26
Schubert: Selected Lieder
Byrd: Variations on Sellingers Round
Britten: Fanfare from Gloriana
Anon.: God Save The Queen
CD27
Handel: Ode for Saint Cecilia's Day
Mozart: Si mostra la sorte
Mozart: Per pietà, non ricercate
Mozart: Maurerische Trauermusik in C minor
Mozart: Symphony No.40 in G minor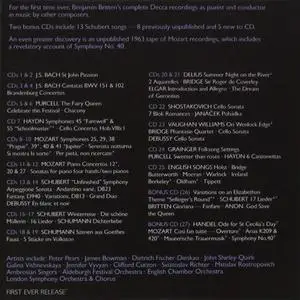 Johann Sebastian Bach

CD 1:

Part I:
(1) 01. Sire, Lord And Master (Chorus)
(2) 02. Jesus Went With His Disciples (Recitative: Evangelist, Jesus)
03. Jesus Of Nazareth! (Chorus)
04. JesusSaith Unto Them (Recitative: Evangelist, Jesus)
05. Jesus Of Nazareth! (Chorus)
06. Jesus Of Nazareth! (Chorus)
(3) 07. O Generous Love! (Chorale)
(4) 08. So That The Word Might Be Fulfilled (Recitative: Evangelist, Jesus)
(5) 09. Thy Will Be Done, O God Of Love (Chorale)
(6) 10. The Band Then, Together With The Captain (Recitative: Evangelist)
(7) 11. To Release Me From The Prison (Aria: Contralto)
(8) 12. Simon Peter Also Followed (Recitative: Evangelist)
(9) 13. I'll Follow Thee Also (Aria: Soprano)
(10) 14. Now That Same Disciple (Recitative: Evangelist, Maid, Peter, Jesus, Officer)
(11) 15. Ah, Who Would Dare To Smite Thee? (Chorale)
(12) 16. Now Annas Sent Him Bound (Recitative: Evangelist)
17. Art Thou Not One Of His Disciples? (Chorus)
18. He Denied It And Said (Recitative: Evangelist, Peter,Servant)
(13) 19. Ah! Take Flight Away From Human Sight (Aria: Tenor)
(14) 20. Peter, Who Denied His Lord (Chorale)

Part II
(15) 21. Christ, Who Gave Us Life And Light (Chorale)
(16) 22. Then Led They Jesus (Recitative: Evangelist, Pilate)
23. If This Man Were Not A Malefactor (Chorus)
24. Then Pilate Said Unto Them (Recitative: Evangelist, Pilate)
25. By Law We Cannot Kill Him (Chorus)
26. That The Saying Of Jesus Might Be Fulfilled (Recitative: Evangelist, Pilate, Jesus)
(17) 27. Ah, King Of Heaven (Chorale)
(18) 28. And Pilate Said Unto Him (Recitative: Evangelist, Pilate, Jesus)
29. Not This Man Here, But Barrabas! (Chorus)
30. Now Barabbas Was A Robber (Recitative: Evangelist)
(19) 31. Look Yonder, O My Soul (Arioso: Bass)
(20) 32. Consider, How His Body (Aria: Tenor)

CD 2:

(1) 33. And When The Soldiers (Recitative: Evangelist)
34. See, We Greet Thee (Chorus)
35. And They Smote Him (Recitative: Evangelist, Pilate, Jesus)
36. Crucify Him! (Chorus)
37. And Pilate Said To Them (Recitative: Evangelist, Pilate)
38. We Have An Ancient Law (Chorus)
39. And When Pilate Heard That Saying (Recitative: Evangelist, Pilate, Jesus)
(2) 40. Thy Bonds, O Christ, Have Set Us Free (Chorale)
(3) 41. But The Jews Cried Out And Said (Recitative: Evangelist)
42. If Thou Lettest This Man Go (Chorus)
43. And When Pilate Heard That Saying (Recitative: Evangelist, Pilate)
44. 'Way! 'Way With Him! (Chorus)
45. Pilate Saith Unto Them (Recitative: Evangelist, Pilate)
46. We Have No King But Caesar (Chorus)
47. Then Delivered He Him (Recitative: Evangelist)
(4) 48. Haste, Ye Souls Forlorn And Weary (Aria: Bass With Chorus)
(5) 49. And There Crucified They Him (Recitative: Evangelist)
50. Write Thou Not 'The King Of Jewry' (Chorus)
51. But Pilate Made Answer (Recitative: Evangelist, Pilate)
(6) 52. Within My Heart, O Saviour (Chorale)
(7) 53. And Then Did The Soldiers (Recitative: Evangelist)
54. Let Us Therefore Not Divide It (Chorus)
55. So That The Scripture Might Be Fulfilled (Recitative: Evangelist, Jesus)
(8) 56. When His Life Had Reached Its End (Chorale)
(9) 57. And From That Hour He Took Her Unto His Own Home (Recitative: Evangelist, Jesus)
(10) 58. The End Is Nigh (Aria: Contralto)
59. And He Bowed His Head (Recitative: Evangelist)
(11) 60. My Dearest Saviour (Aria: Bass With Chorale)
(12) 61. And Then Behold (Recitative: Evangelist)
(13) 62. My Heart, Behold How All The World (Arioso: Tenor)
(14) 63. With Torrents Of Weeping (Aria: Soprano)
(15) 64. The Jews Therefore (Recitative: Evangelist)
(16) 65. Help Us, Son Of God Most High (Chorale)
(17) 66. And After This, Joseph Of Arimethea (Recitative: Evangelist)
(18) 67. Farewell, O Weary, Broken Body (Chorus)
(19) 68. Lord Jesus, When We Come To Die (Chorale)

CD 3:

Suber Trost, Mein Jesus Kommt, BWV 151

(1) 01. Aria (Soprano): Subertrost, Mein Jesus Kommt
(2) 02. Recitativo (Bass): Erfreue Dich, Mein Herz
(3) 03. Aria (Alto): In Jesu Demut Kann Ichtrost
(4) 04. Recitativo (Tenor): Du Teuerer Gottessohn
(5) 05. Choral: Heut Schleubt Er Wieder Auf Die Tur

Heather Harper - Soprano
Helen Watts - Contralto
Peter Pears - Tenor
John Shirley-Quirk - Bass-Baritone
Wandsworth School Boys' Choir

Herr, Deine Augen Sehen Nach Dem Glauben, BWV 102

Ersterteil

(6) 01. Chor: Herr, Deine Augen Sehen Nach Dem Glauben
(7) 02. Recitativo (Bass): Wo Ist Das Ebenbild
(8) 03. Aria (Alto): Weh Derseele
(9) 04. Arioso (Bass): Verachtest Du Den Reichtum Seiner Gnade

Zweiterteil

(10) 05. Aria (Tenor): Erschrecke Doch, Du Allzu Sichre Seele!
(11) 06. Recitativo (Alto): Beim Warten Ist Gefahr
(12) 07. Choral: Heut Lebst Du, Heut Bekehre Dich

Janet Baker - Mezzo-Soprano
Peter Pears - Tenor
Dietrich Fischer-Dieskau - Baritone
Aldeburgh Festival Singers

Brandenburg Concerto No.1 In F Major, BWV 1046

(13) I. Allegro
(14) II. Adagio
(15) III Allegro
(16) IV Menuetto: Trio I
(17) V Polacca: Trio II

Emanuel Hurwitz - Violin
Peter Graeme - Oboe I
Ifor James - Horn
Anthony Randall - Horn

Brandenburg Concerto No.2 In F Major, BWV 1047

(18) I. Allegro
(19) II. Andante
(20) III. Allegro Assai

Emanuel Hurwitz - Violin
Richard Adeney - Flute
Peter Graeme - Oboe
David Mason - Trumpet

CD: 4:

Brandenburg Concerto No.3 In G Major, BWV 1048

(1) I. Allegro
(2) III. Allegro

Brandenburg Concerto No.4 In G Major, BWV 1049

(3) I. Allegro
(4) II Andante
(5) III. Presto

Emanuel Hurwitz - Violin
Richard Adeney - Flute
Norman Knight - Flute
Philip Ledger - Harpsichord

Brandenburg Concerto No.5 In D Major, BWV 1050

(6) I. Allegro
(7) II. Affettuoso
(8) III. Allegro
Emanuel Hurwitz - Violin
Richard Adeney - Flute
Philip Ledger - Harpsichord

Brandenburg Concerto No 6 In В Flat Major, BWV 1051

(9) I Allegro
(10) II Adagio Ma Non Troppo
(11) III Allegro

English Chamber Orchestra
Benjamin Britten

Henry Purcell

CD 5:

Part I: Oberon's Birthday

(1) Symphony
(2) Now The Night Is Chas'd Away (An Attendant, Chorus)
(3) Let The Fifes And The Clarions (2 Attendants)
Dance
(4) When A Cruel Long Winter (Phoebus)
(5) Hail! Great Parent (Chorus)
(6) Thus The Ever Grateful (Spring Spring)
(7) Here's The Summer, Sprightly, Gay (Summer)
(8) See, My Many-Coloured Fields (Autumn)
(9) Next, Winter Comes Slowly (Winter)
(10) Hail! Great Parent (Chorus)

Jennifer Vyvyan, James Bowman, Charles Brett - Attendants
Peter Pears - Phoebus
Mary Wells - Spring
James Bowman - Summer
Ian Partridge - Autumn
John Shirley-Quirk - Winter

Part II: Night And Silence

(11) Prelude
Come All Ye Songsters Of The Sky A (Fairy-Spirit)
(12) The Songsters
May The God Of Wit Inspire (3 Fairy-Spirits And Chorus)
(13) Echo
Now Join Your Warbling (Voices All Chorus)
(14) Fill Up The Bowl, Then (Drunken Poet, First And Second Fairies And Chorus)
(15) See, Even Night Herself Is Here (Night)
(16) I Am Come To Lock All Fast (Mystery)
(17) One Charming Night (Secrecy)
(18) Hush, No More (Sleep And Chorus)
(19) Dance

Charles Brett, Ian Partridge, John Shirley-Quirk - Fairy-Spirits
Owen Brannigan - Drunken Poet
Jennifer Vyvyan - First Fairy
Mary Wells - Second Fairy
Norma Burrowes - Night
Jennifer Vyvyan - Mystery
James Bowman - Secrecy
John Shirley-Quirk - Sleep

CD 6:

Part III:The Sweet Passion

(1) Overture
(2) If Love's A Sweet Passion (Shepherd, Chorus)
(3) The Plaint: O Let Me Weep, For Ever Weep! (Nymph)
(4) Now The Maids And The Men (Condon, Mopsa)
(5) A Dance Of Haymakers
(6) A Thousand, Thousand Ways (Shepherd And Chorus)
(7) Hornpipe & Rondeau

Peter Pears - Shepherd / Coridon
Jennifer Vyvyan - Nymph
Alfreda Hodgson - Mopsa
James Bowman - Shepherd

Part IV: Epithalamium

(8) Symphony
(9) Hark! Hark! The Echoing Air (Attendant, Chorus)
(10) Sure The Dull God Of Marriage (Attendants)
(11) See, I Obey (Hymen)
(12) Turn Then Thine Eyes (2 Attendants And Chorus)
(13) My Torch Indeed… They Shall Be As Happy (Hymen, Attendants, Chorus)
(14) Chaconne
(15) They Shall Be As Happy (Chorus)

Jennifer Vyvyan, Mary Wells, Alfreda Hodgson, James Bowman, Peter Pears, John Shirley-Quirk - Attendants
Owen Brannigan - Hymen
Ambrosian Opera Chorus
Martin Gatt - Bassoon
Peter Graeme - Solo Oboe
Philip Ledger - Harpsichord Continuo
Kenneth Heath - Violoncello Continuo

Celebrate This Festival, Z321

(16) Symphony
Canzona
(17) Celebrate This Festival (Sopranos 1 & 2, Alto, Tenor, Bass, Chorus)
(18) Britain Now, Thy Cares Beguile (Sopranos 1 & 2)
(19) Celebrate This Festival (Chorus)
(20) 'Tis Sacred, Bid The Trumpet Cease (Tenor, Chorus)
(21) Let Sullen Discord Smile (Soprano 2, Chorus)
(22) Crown The Altar, Deck The Shrine (Soprano 2)
(23) Expected Spring At Last Is Come (Bass, Chorus)
(24) April Who Till Now Has Mourn'd (Alto)
(25) Departing Thus, You'll Hear Him Say (Alto) (26) Happy Realm Beyond Expressing (Alto, Tenor, Bass)
(27) While For A Righteous Cause He Arms (Bass)
(28) Return, Fond Muse, The Thoughts Of War (Alto, Chorus)
(29) Kindly Treat Maria's Day (Soprano 1, Chorus)

Heather Harper - Soprano
Josephine Veasey - Mezzo-Soprano
James Bowman - Countertenor
Peter Pears - Tenor
John Shirley-Quirk - Bass-Baritone
Ambrosian Singers

(30) Chacony In G Minor For Strings, Z730
Edited By Benjamin Britten

English Chamber Orchestra
Leader: Kenneth Sillito (Z629)
Benjamin Britten

Joseph Haydn

CD 7:

Symphony No.45 In F Sharp Minor "Farewell", Hob.45

(1) I. Allegro Assai
(2) II. Adagio
(3) III. Menuet: Allegretto -Trio
(4) IV. Finale: Presto - Adagio

Symphony No.55 In E Flat Major "Schoolmaster", Hob.55

(5) I. Allegro Di Molto
(6) II. Adagio, Ma Semplicemente
(7) III. Menuetto-Trio
(8) IV. Finale: Presto

Aldeburgh Festival Orchestra
Benjamin Britten

Cello Concerto In С Major. Hob. Vllb:1
Cadenzas: Benjamin Britten

(9) I Moderato
(10) II Adagio
(11) III Finale: Allegro Molto

Mstislav Rostropovich - Cello
English Chamber Orchestra
Benjamin Britten

Wolfgang Amadeus Mozart

CD 8:

Symphony No 25 In G Minor, K183

(1) I. Allegro Con Brio
(2) II. Andante
(3) III. Menuetto Etrio
(4) IV. Allegro

Serenata Notturna In D Major, K239

(5) I. Marcia: Maestoso
(6) II. Menuetto Etrio
(7) III. Rondo: Allegretto

Emanuel Hurwitz - 1st Solo Violin
Raymond Keenlyside - 2nd Solo Violin
Cecil Aronowitz - Viola
Adrian Beers - Double Bass

Symphony No 29 In A Major, K201

(8) I. Allegro Moderate
(9) II. Andante
(10) III. Menuetto Etrio
(11) IV. Allegro Con Spirito

CD 9:

Symphony No.40 In G Minor, K550

(1) I. Molto Allegro
(2) II. Andante
(3) III. Menuetto: Allegretto
(4) IV. Allegro Assai

Symphony No.38 In D Major, K504 "Parague"

(5) I. Adagio - Allegro
(6) II. Andante
(7) III. Finale - Presto

English Chamber Orchestra
Benjamin Britten

CD 10:

Symphony No.41 In C Major, K551 "Jupiter"

(1) I. Allegro Vivace
(2) II. Andante Cantabile
(3) III. Menuetto: Allegretto - Trio
(4) IV. Molto Allegro

Symphony No.39 In E Flat Major, K543

(5) I. Adagio - Allegro
(6) II. Andante Con Moto
(7) III. Menuetto: Allegretto - Trio
(8) IV. Finale: Allegro
(9) Si Mostra La Sorte, K209
(10) Per Pieta, Non Ricercate", K420

Peter Pears - Tenor
English Chamber Orchestra
Benjamin Britten

CD 11:

Piano Concerro No.12 In A Major, K414

(1) I. Allegro
(2) II. Andante
(3) III. Rondeau: Allegretto

Benjamin Britten
Aldeburgh Festival Orchestra

Sonata For Piano Four Hands In C Major, K521

(4) I. Allegro
(5) II. Andante
(6) III. Allegretto

Sonata For Two Pianos In D Major, D448

(7) I. Allegro Con Spirito
(8) II. Andante
(9) III. Allegro Molto

Svitoslav Richter & Benjamin Britten - Piano Duet / Two Pionos

CD 12:

Piano Concerto No.20 In D Minor, K466

(1) I. Allegro
(2) II. Romance
(3) III. Rondo: Allegro Assai

Piano Concerto No.27 In В Flat Major, K595

(4) I. Allegro
(5) II. Larghetto
(6) III. Allegro

Clifford Curzon - Piano
English Chamber Orchestra
Benjamin Britten

Franz Schubert

CD 13:

Symphony No.8 In В Minor, D759 "Unfinished"

(1) I. Allegro Moderato
(2) II. Andante Con Moto

English Chamber Orchestra
Benjamin Britten

Sonata For Arpeggione And Piano In A Minor, D821

(3) I. Allegro Moderato
(4) II. Adagio
(5) III. Allegretto

Mstislav Rostropovich - Cello
Benjamin Britten - Piano

Andantino Varie, D823

(6) Andantino
(7) Variation I
(8) Variation II
(9) Variation III
(10) Variation IV: Un Poco Piu Lento - Tempo I

Claude Debusse

En Blanc Et Noir

(11) I. Avec Emportement
(12) II. Lent. Sombre
(13) III. Scherzando

Svitoslav Richter & Benjamin Britten - Piano Duet / Two Pionos

Franz Schubert

CD 14:

Fantasy In F Minor, D940

(1) I. Allegro Molto Moderato -
(2) II. Largo -
(3) III. Allegro Vivace -
(4) IV. Tempo I

Variations In A Flat Major, D813

(5) Tema: Allegretto
(6) Variation I
(7) Variation II
(8) Variation III: Un Poco Piu Lento
(9) Variation IV: Tempo I
(10) Variation V
(11) Variation VI: Maestoso
(12) Variation VII: Piu Lento
(13) Variation VIII: Allegro Moderato

Grand Duo In C Major, D812

(14) I. Allegro Moderato
(15) II. Andante
(16) III. Scherzo & Trio - Allegro Vivace
(17) IV. Allegro Vivace

Svitoslav Richter & Benjamin Britten - Piano Duet

CD 15:

Winterreise, D911
Text: Wilhelm Muller

(1) Gute Nacht
(2) Die Wetterfahne
(3) Gefrorne Tranen
(4) Erstarrung
(5) Der Lindenbaum
(6) Wasserflut
(7) Auf Dem Flusse
(8) Ruckblick
(9) Irrlicht
(10) Rast
(11) Fruhlingstraum
(12) Einsamkeit
(13) Die Post
(14) Der Greise Kopf
(15) Die Krahe
(16) Letzte Hoffnung
(17) Im Dorfe
(18) Der Sturmische Morgen
(19) Tauschung
(20) Der Wegweiser
(21) Das Wirtshaus
(22) Mut
(23) Die Nebensonnen
(24) Der Leiermann

Peter Pears - Tenor
Benjamin Britten - Piano

CD 16:

Die Schone Mullerin, D795
Text: Wilhelm Muller

(1) Das Wandern
(2) Wohin?
(3) Halt!
(4) Danksagung An Den Bach
(5) Am Feierabend
(6) Der Neugierige
(7) Ungeduld
(8) Morgengrub
(9) Der Mullers Blumen
(10) Tranenregen
(11) Mein!
(12) Pause
(13) Mit Dem Grunen Lautenbande
(14) Der Jager
(15) Eifersucht Und Stolz
(16) Die Liebe Farbe
(17) Die Bose Farbe
(18) Trockne Blumen
(190 Der Muller Und Der Bach
(20) Des Baches Wiegenlied
(21) Die Taubenpost, D965 No.14 / 965a (Johann Gabriel Seidl)
(22) Der Einsame, D800 (Karl Gottlieb Lappe)
(23) An Die Laute, D905 (Johann Fredrich Rochlitz)

Peter Pears - Tenor
Benjamin Britten - Piano

Robert Schumann

CD: 17

Dichterliede, Op.48
Text: Heinrich Heine

(1) Im Wunderschonen Monat Mai
(2) Aus Meinen Tranen Sprieben
(3) Die Rose, Die Lilie, Die Taube, Die Sonne
(4) Wenn Ich In Deine Augen Seh'
(5) Ich Will Meine Seele Tauchen
(6) Im Rhein, Im Heiligen Strome
(7) Ich Grolle Nicht
(8) Und Wubten's Die Blumen, Die Kleinen
(9) Das Ist Ein Floten Und Geigen
(10) Hor' Ich Das Liedchen Klingen
(11) Ein Jungling Liebt Ein Madchen
(12) Am Leuchtenden Sommermorgen
(13) Ich Hab' Im Traum Geweinet
(14) Allnachtlich Im Traume Seh' Ich Dich
(15) Aus Alten Marchen Winkt Es
(16) Die Alten, Bosen Lieder

Franz Schubert

(17) Im Fruhling, D882 (Ernst Schuize)
(18) Auf Dem Wasser Zu Singen, D774 (Fredrich Leopold Graf Zu Stolderg)
(19) Nachtstuck, D672 (Johann Mayrhofer)
(20) An Die Entfernte, D765 (Johann Wolfgang Von Goethe)
(21) Lachen Und Weinen, D777 (Friedrich Ruckert)
(22) Abendstern, D806 (Johann Mayrhofer)
(23) Das Fischermadchen (Heinrich Heine) (No. 10 From Schwanengesang)
(24) Sprache Der Liebe, D410 (August Wilhelm Schlegel)
(25) Der Einsame, D800 (Karl Gottlieb Lappe)
(26) Der Geistertanz, D116 (Friedrich Matthisson)
(27) Atys, D585 (Johann Mayrhofer)
(28) Auflosung, D807 (Johann Mayrhofer)
(29) Nacht Und Traume, D827 (Matthaus Von Collin)

Peter Pears - Tenor
Benjamin Britten Piano

Robert Schumann

CD 18:

Szenen Aus Goethes Faust
Text: Johann Wolfgang Von Goethe

(1) Ouverture

Part One

No.1 Garden Scene

(2) Du Kanntest Mich, O Kleiner Engel Wieder (Faust, Gretchen, Mephistopheles, Marthe)

No.2 Gretchen Before The Image Of The Mater Dolorosa
(3) Ach Neige, Du Schmerzenreiche (Gretchen)

No.3 Scene In The Cathedral
(4) Wie Anders, Gretchen, War Dir's (Boser Geist, Gretchen, Chorus)

Part Two

No.4 Ariel. Sunrise
(5) Die Ihr Dies Haupt Umschwebt Im Luft'gem Kreise (Ariel, Solo Voices, Chorus)
(6) Des Lebens Pulse Schlagen Frisch-Lebendig (Faust)

No.5 Midnight
(7) Ich Heibe Der Mangel (Mangel, Schuld, Sorge, Not)
(8) Vier Sah Ich Kommen (Faust, Sorge)
(9) Die Nacht Scheint Tiefer Tief Hereinzudringen (Faust)

No.6 Faust's Death
(10) Herbei! Herbei! Herein! Herein! (Mephistopheles, Faust, Lemuren)
(11) Ein Sumpf Zieht Am Gebirge Hin (Faust)
(12) Ihn Sattigt Keine Lust (Mephistopheles, Chorus)

CD 19:

Part Three

No.7 Faust's Transfiguration

(1) I. Waldung, Sie Schwankt Heran (Chorus And Echo)
(2) II. Ewiger Wonnebrand (Pater Ecstaticus)
(3) III. Wie Felsenabgrund Mir Zu Fuben (Pater Profundus, Pater Seraphicus, Chorus Of Blessed Boys)
(4) IV. Gerettet Ist Das Edle Glied (Engel, Soloists, Chorus)
(5) V. Hier Ist Die Aussicht Frei (Doctor Marianus)
(6) VI. Dir, Der Unberuhrbaren (Doctor Marianus, Magna Peccatrix, Mulier Samaritana, Maria Aegyptiaca, Una Poenitentium, Mater Gloriosa, Chorus, Chorus Of Blessed Boys)
(7) VII. Alles Vergangliche Ist Nur Ein Gleichnis (Chorus Mysticus)

Dietrich Fischer-Dieskau - Baritone (Faust / Doctor Marianus)
Elizabeth Harwood - Soprano (Gretchen / Una Poenitentium)
John Shirley-Quirk - Bass-Baritone (Mephistopheles / Boser Geist [Evil Spirit] / Pater Seraphicus)
Peter Pears -Tenor (Ariel / Pater Ecstaticus)
Jennifer Vyvyan - Soprano (Sorge (Care] / Engel [Angel])
Felicity Palmer - Soprano (Not (Need] / Magna Peccatrix)
Meriel Dickinson - Alto (Marthe / Mangel [Want] / Mulier Samaritana)
Pauline Stevens - Soprano (Schuld Idebt] / Maria Aegyptiaca)
Robert Lloyd - Bass (Pater Profundus)
Alfreda Hodgson - Mezzo-Soprano (Mater Gloriosa)

Jennv Hill - Soprano, Margaret Cable - Alto, John Elwes, Neil Jenkins - Tenors, John Noble -Bantone (Solostimmen [Solo Voices])

Wandsworth School Choir
Aldeburgh Festival Singers
Chorus Master: Russell Burgess

English Chamber Orchestra
Benjamin Britten

Funf Stucko Im Volkston, Op.102

(8) I. Vanitas Vanitatum (Mit Humor)
(9) II. Langsam
(10) III. Nicht Schnell, Mit Viel Ton Zu Spielen
(11) IV. Nicht Zu Rasch
(12) V. Stark Und Markiert

Mstislav Rostropovich - Cello
Benjamin Britten - Piano

Frederick Delius

CD 20:

(1) Summer Night On The River
First Ever Release

Two Aquarellea (Orch. Fenby) "To Be Of A Summer's Night On The Water"

(2) Lento, Ma Non Troppo
(3) Gaily, But Not Too Quick

Frank Bridge

(4) Sir Roger De Coverley For String Orchestra

Edward Elgar

(5) Introduction And Allegro For Strings, Op.47

Quartet: Emanuel Hurwitz - 1st Violin
Jose Luis Garcia - 2nd Violin
Cecil Aronowitz - Viola
Bernard Richards - Cello
English Chamber Orchestra
Benjamin Britten

The Dream Of Gerontius, Op.38
Text: John Henry Newman

Part One

(6) Prelude
(7) Jesu, Maria - I Am Near To Death…Kyrie Eleison (Gerontius, Assistants)
(8) Rouse Thee, My Fainting Soul… Be Merciful, Be Gracious (Gerontius, Assistants)
(9) Sanctus Fortis, Sanctus Deus… Rescue Him, О Lord, In This Evil Hour (Gerontius, Assistants)
(10) Proficiscere, Anima Christiana De Hoc Mundo (The Priest And Assistants)

CD 21:

Part Two

(1) I Went To Sleep …My Work Is Done, My Task Is O'er (Soul Of Gerontius, Angel)
(2) It Is A Member Of That Family Of Wondrous Beings (Soul Of Gerontius, Angel)
(3) But Hark! Upon My Senses Comes A Fierce Hubbub… (Low-Born Clods Of Brute Earth Soul Of Gerontius, Angel, Demons)
(4) I See Not Those False Spirits… Praise To The Holiest In The Height (Soul Of Gerontius, Angel, Choir Of Angelicals)
(5) But Hark! A Grand Mysterious Harmony… Praise To The Holiest (Soul Of Gerontius, Angel, Choir Of Angelicals)
(6) Thy Judgement Now Is Near… Jesu! By That Shuddering Dread (Angel, Soul Of Gerontius, Angel Of The Agony)
(7) I Go Before My Judge… Be Merciful, Be Gracious, Spare Him, Lord… Take Me Away… Lord, Thou Hast Been Our Refuge (Soul Of Gerontius, Voices On Earth, Angel, Souls In Purgatory)
(8) Softly And Gently, Dearly-Ransomed Soul (Angel Of The Agony)

Peter Pears - Tenor (Gerontius)
Yvonne Minton - Mezzo-Soprano (The Angel)
John Shirley-Quirk - Bass-Baritone (The Priest / The Angel Of The Agony)
London Symphony Chorus
Chorus Master: Arthur Oldham
The Choir Of King's College, Cambridge
Director: David Willcocks

London Symphony Orchestra
Benjamin Britten

Dmitri Shostakovich

CD 22:

Cello Sonata, Op.40

(1) I. Allegro Non Troppo
(2) II. Allegro
(3) III. Largo
(4) IV. Allegro

7 Blok Romances, Op. 127
Texts: Alexander Blok

(5) I. Pesnya Ofelii (Ophelia's Song)
(6) II. Gamayun, Ptitsa Veshchaya (Hamayun, The Bird Of Prophetic)
(7) III. My Byli Vmeste (We Were Together)
(8) IV. Gorod Spit (The City Asleep)
(9) V. Burya (The Storm)
(10) VI. Tayniye Znaki (Secret Signs)
(11) VII. Muzyka (Music)

Leos Janacek

Pohadka

(12) I. Con Moto
(13) II. Con Moto
(14) III. Allegro

Galinavishnevskaya - Soprano
Emanuel Hurwitz - Violin
Mstislav Rostropovich - Cello
Benjamin Britten - Piano

Ralph Vaughan Williams

CD 23:

On Wenlock Edge
Texts: A.E Housman, from A Shropshire Lad

(1) I. On Wenlock Edge The World's In Trouble
(2) II. From Far, From Eve And Morning
(3) III. Is My Team Ploughing
(4) IV. Oh, When I Was In Love With You
(5) V. Bredon Hill ("In Summertime On Bredon")
(6) VI. Clun ("In Valleys Of Springs And Rivers")

Peter Pears - Tenor
Zorian String Quartet
Benjamin Britten - Piano

Frank Bridge

(7) Phantasie Quartet

Norbert Brainin - Violin
Peter Schidlof - Viola
Martin Lovett - Cello
Benjamin Britten - Piano

Sonata For Cello And Piano

(8) I. Allegro Ben Moderato
(9) II. Allegro Ma Non Troppo - Molto Allegro E Agitato

Claude Debussy

Sonata For Cello And Piano

(10) I. Prologue: Lent
(11) II. Serenade: Moderement Anime
(12) III. Finale: Anime

Mstislav Rostropovich - Cello
Benjamin Britten - Piano

Percy Grainger

CD 24:

Folksong Settings

(1) Shepherd's Hey
(2) Willow Willow ("The Poor Soul Sat Sighing By A Sycamore Tree")
(3) I'm Seventeen Come Sunday ("As 1 Rose Up One May Morning")
(4) Bold William Taylor ("I'll Sing You A Song About Two Lovers")
(5) There Was A Pig Went Out To Dig
(6) My Robin Is To The Greenwood Gone
(7) Lord Maxwell's Goodnight ("Adieu, Madame, My Mother Dear")
(8) The Duke Of Marlborough Fanfare
(9) Let's Dance Gay In Green Meadow
(10) Scotch Strathspey And Reel ("What Shall We Do With A Drunken Sailor")
(11) The Pretty Maid Milkin' Her Cow ("It Was Early One Fine Summer's Mornin'") / The Sprig o'Thyme ("Wunst 1 Had A Sprig Of Thyme")
(12) Lisbon ("Twas On A Monday Morning, All In The Month Of May") Lincolnshire Posy No.1
(13) The Lost Lady Found ("'Twas Down In Yon Valley A Fair Maid Did Dwell") Lincolnshire Posy No.6
(14) Shallow Brown ("Shaller Brown, You're Goin' Ter Leave Me")

Henry Purcell

(15) Sweeter Than Roses

Peter Pears - Tenor
John Shirley-Quirk - Bass-Baritone
James Bowman - Countertenor
Ambrosian Singers
Viola Tunnard - Piano
Benjamin Britten - Piano

English Chamber Orchestra (Except 5, 9,11, 15)
Benjamin Britten

Joseph Haydn

6 Canzonettas'

(16) I. Sailor's Song, Hob.XXVIa:31 (1794/95) ("High On The Giddy Bending Mast") (Anne Hunter)
(17) II. The Wanderer, Hob.XXVIa:32 ("To Wander Alone When The Moon") (Anne Hunter)
(18) III. Sympathy, Hob. XXVIa:33 ("In Thee I Bear So Dear A Part") (After Metastasio)
(19) IV. She Never Told Her Love, Hob.XXVIa:34 (1794/95) (William Shakespeare)
(20) V. Piercing Eyes, Hob.XXVIa:35 ("Why Asks My Fair One If I Love?") (Anon.)
(21) VI. Content, Hob. XXVIa:36 ("Ah Me, How Scanty Is My Store!") (Anon.)

Peter Pears - Tenor
Benjamin Briten - Piano

Gustav Holst

CD 25:

Twelve Songs, Op.48 (H174)
Texts: Humbert Wolfe

(1) I. Persephone ("Come Back Persephone!")
(2) II. Things Lovelier ("You Cannot Dream Things Lovelier")
(3) III. Now In These Fairylands
(4) IV. A Little Music ("Since It Is Evening, Let Us Invent")
(5) V. The Thought ("I Will Not Write A Poem For You")
(6) VI. The Floral Bandit ("Beyond The Town - Oh Far! Beyond It") (7) VII. Envoi ("When The Spark That Glittered Flakes Into Ash")
(8) VIII. The Dream City ("On A Dream-Hill We'll Build Our City")
(9) IX. Journey End ("What Will They Give Me, When Journey's Done?")
(10) X. In The Street Of Lost Time
(11) Rhyme
(12) Betelgeuse ("On Betelgeuse The Gold Leaves Hang In Golden Aisles")

Frank Bridge

(13) 'Tis But A Week (Gerald Gould)
(14) Goldenhair ("Lean Out Of The Window, Goldenhair") (James Joyce)
(15) When You Are Old (William Butler Yeats)
(16) So Perverse ("All Women Born Are So Perverse") (Robert Bridges)
(17) Journey's End ("What Will They Give Me, When Journey's Done") (Humbert Wolfe)
(18) Go Not, Happy Day (Alfred Lord Tennyson)
(19) Love Went A-Riding (Mary Coleridge)

George Butterworth

(20) Is My Team Ploughing? 6 Songs From A Shropshire Lad (A.E. Housman)

Ernest Moeran

(21) In Youth Is Pleasure ("In An Harbour Grene Aslepe Whereas I Lay") (R. Wever)

Peter Warlock

(22) Yarmouth Fair ("As I Rode Down To Yarmouth Fair") (Hal Collins)

John Ireland

The Land Of Lost Content
Texts: A.E. Housman

(23) I. The Lent Lily ('"Tis Spring; Come Out To Ramble The Hilly Brakes Around")
(24) II. Ladslove ("Look Not In My Eyes")
(25) III. Goal & Wicket ("Twice A Week The Winter Thorough")
(26) IV. The Vain Desire ("If Truth In Hearts That Perish Could Move The Powers")
(27) V. The Encounter ("The Street Sounds To The Soldiers' Tread")
(28) VI. Epilogue ("You Smile Upon Your Friend Today")
(29) The Trellis ("Thick-Flowered Is The Trellis That Hides Our Joys") (Aldous Huxley)

Three Songs

(30) Love And Friendship ("Love Is Like The Wild Rose Briar") (Emily Bronte)
(31) Friendship In Misfortune ("Give Me The Depth Of Love That Springs") (Anon.)
(32) The One Hope ("When Vain Desire At Last") (Dante Gabriel Flossetti)
(33) I Have Twelve Oxen (Anon.)

Lennox Berkeley

(34) How Love Came In (Robert Herrick)

Arthur Oldham

Three Chinese Lyrics
Texts: Evangeline Dora Edwards, Based On Anonymous Chinese Texts

(35) Herd Boy's Song ("Splashing Water")
(36) Fishing ("A Light Spring Breeze")
(37) Pedlar Of Spells ("An Old Man Selling Charms")

Michael Tippett

Songs For Ariel
Texts: William Shakespeare

(38) I. Come Unto These Yellow Sands
(39) II. Full Fathom Five
(40) III. Where The Bee Sucks

Peter Pears - Tenor
Benjamin Britten - Piano

Franz Schubert

CD 26: (Bonus CD)

(1) Ganymed, D544 (Johann Wolfgang Von Goethe)
(2) Du Liebst Mich Nicht, D756 (August Graf Von Platen-Hallermunde)
(3) Lachen Und Weinen, D777 (Friedrich Ruckert)
(4) Der Einsame, D800 (Karl Gottlieb Lappe)
(5) Du Bist Die Ruh, D776 (Friedrich Ruckert)
(6) Der Musensohn, D764 (Johann Wolfgang Von Goethe)
(7) Der Zurnenden Diana, D707 (Johann Mayrhofer)
(8) Sprache Der Liebe, D410 (August Wilhelm Schlegel)
(9) Harfenspieler I ("Wer Sich Der Einsamkeit Ergibt"), D478 (Johann Wolfgang Von Goethe)
(10) Der Musensohn, D764 (Johann Wolfgang Von Goethe)
(11) Du Bist Die Ruh, D776 (Friedrich Ruckert)
(12) Geheimes, D719 (Johann Wolfgang Von Goethe)
(13) Die Stadt, D957 (Heinrich Heine) (No. 11 From Schwanengesang)
(14) Harfenspieler III ("Wer Nie Sein Brot Mit Tranen Ab"), D480 (Johann Wolfgang Von Goethe)
(15) Dass Sie Hier Gewesen, D775 (Friedrich Ruckert)
(16) Der Zurnenden Diana, D707 (Johann Mayrhofer)
(17) Ganymed, D.544 (Johann Wolfgang Von Goethe)

Kathleen Ferrier - Contralto
Peter Pears - Tenor
Benjamin Britten - Piano

Variations On An Elizabethan Theme "Sellinger's Round"

(18) I. Theme (William Byrd)
(19) I. Allegro Non Troppo (Arthur Oldham)
(20) II. A Lament (Michael Tippett)
(21) III. Andante (Lennox Berkeley)
(22) IV. Quick And Gay (Benjamin Britten)
(23) V. Nocturne (Humphrey Searle)
(24) VI. Finale - Presto Giocoso (William Walton)

Aldeburgh Festival Orchestra
Benjamin Britten

Benjamin Britten

(25) Fanfare From Gloriana, op.53' (Live In Snape, 1967)

Anonymous

(26) God Save The Queen (Live In Snape, 1967)

Chorus Of East Anglian Choirs
English Chamber Orchestra
Benjamin Britten

George Frideric Handel

CD: 27 (Bonus CD)

Ode For St Cecilia's Day, HWV76 (Live In Snape, 1967)

(1) Overture
(2) From Harmony, From Heav'nly Harmony (Tenor)
(3) From Harmony, From Heav'nly Harmony (Chorus)
(4) What Passion Cannot Music Raise And Quell) (Soprano)
(5) The Trumpet's Loud Clangour (Tenor)
(6) March
(7) But Bright Cecilia (Tenor)
(8) As From Pow'r Of Sacred Lays (Soprano)

Heather Harper - Soprano
Peter Pears - Tenor
Chorus Of East Anglian Choirs
English Chamber Orchestra
Benjamin Britten

Wolfgang Amadeus Mozart

(9) Cosi Fan Tuttle, K588 - Overture
(10) Si Mostra La Sorte Propizia, K209
(11) Per Pieta, Non Ricercate", K420
(12) Maurerische Trauermusik, K477

Symphony No.40 In G Minor, K550

(13) I. Molto Allegro
(14) II. Andante
(15) III. Menuetto: Allegretto
(16) IV. Allegro Assai

Peter Pears - Tenor
London Symphony Orchestra
Benjamin Britten
Exact Audio Copy V1.0 beta 3 from 29. August 2011

EAC extraction logfile from 12. April 2014, 15:25

Benjamin Britten / St. John Passion (Disc 1)

Used drive : BENQ DVD DD EW164B Adapter: 2 ID: 0

Read mode : Secure
Utilize accurate stream : Yes
Defeat audio cache : Yes
Make use of C2 pointers : No

Read offset correction : 618
Overread into Lead-In and Lead-Out : No
Fill up missing offset samples with silence : Yes
Delete leading and trailing silent blocks : No
Null samples used in CRC calculations : Yes
Used interface : Installed external ASPI interface

Used output format : Monkey's Audio Lossless Encoder v3.99 DLL
Sample format : Fast Lossless Compression


TOC of the extracted CD

Track | Start | Length | Start sector | End sector
––––––––––––––––––––––––––––-
1 | 0:00.32 | 9:57.70 | 32 | 44876
2 | 9:58.27 | 2:58.30 | 44877 | 58256
3 | 12:56.57 | 1:08.50 | 58257 | 63406
4 | 14:05.32 | 1:16.58 | 63407 | 69164
5 | 15:22.15 | 0:55.70 | 69165 | 73359
6 | 16:18.10 | 0:49.37 | 73360 | 77071
7 | 17:07.47 | 5:33.05 | 77072 | 102051
8 | 22:40.52 | 0:18.63 | 102052 | 103464
9 | 22:59.40 | 3:59.72 | 103465 | 121461
10 | 26:59.37 | 3:37.08 | 121462 | 137744
11 | 30:36.45 | 1:29.67 | 137745 | 144486
12 | 32:06.37 | 2:37.20 | 144487 | 156281
13 | 34:43.57 | 3:39.35 | 156282 | 172741
14 | 38:23.17 | 1:35.08 | 172742 | 179874
15 | 39:58.25 | 1:01.10 | 179875 | 184459
16 | 40:59.35 | 4:53.05 | 184460 | 206439
17 | 45:52.40 | 1:59.00 | 206440 | 215364
18 | 47:51.40 | 2:23.47 | 215365 | 226136
19 | 50:15.12 | 3:06.25 | 226137 | 240111
20 | 53:21.37 | 9:26.40 | 240112 | 282601


Range status and errors

Selected range

Filename E:\APE\music\Britten The performer DECCA\CD01\Benjamin Britten - St. John Passion (Disc 1).ape

Peak level 70.7 %
Extraction speed 7.7 X
Range quality 100.0 %
Copy CRC 988D89B0
Copy OK

No errors occurred


AccurateRip summary

Track 1 accurately ripped (confidence 4) [1E1202F2] (AR v2)
Track 2 accurately ripped (confidence 4) [A3D1C51C] (AR v2)
Track 3 accurately ripped (confidence 4) [131A31BE] (AR v2)
Track 4 accurately ripped (confidence 4) [C126481A] (AR v2)
Track 5 accurately ripped (confidence 4) [5357F63E] (AR v2)
Track 6 accurately ripped (confidence 4) [73AA282F] (AR v2)
Track 7 accurately ripped (confidence 4) [8962D037] (AR v2)
Track 8 accurately ripped (confidence 4) [EACD8096] (AR v2)
Track 9 accurately ripped (confidence 4) [08F041DE] (AR v2)
Track 10 accurately ripped (confidence 4) [24F9B2F4] (AR v2)
Track 11 accurately ripped (confidence 4) [08C67DB1] (AR v2)
Track 12 accurately ripped (confidence 4) [FC99CD5A] (AR v2)
Track 13 accurately ripped (confidence 4) [56AA280E] (AR v2)
Track 14 accurately ripped (confidence 4) [188DB7E5] (AR v2)
Track 15 accurately ripped (confidence 4) [D48A17E9] (AR v2)
Track 16 accurately ripped (confidence 4) [B263F39D] (AR v2)
Track 17 accurately ripped (confidence 4) [8E9572F3] (AR v2)
Track 18 accurately ripped (confidence 4) [C666DF40] (AR v2)
Track 19 accurately ripped (confidence 4) [2EA9FECD] (AR v2)
Track 20 accurately ripped (confidence 4) [FCCABC04] (AR v2)

All tracks accurately ripped

End of status report

========================================

Exact Audio Copy V1.0 beta 3 from 29. August 2011

EAC extraction logfile from 12. April 2014, 15:57

Benjamin Britten / St. John Passion (Disc 2)

Used drive : BENQ DVD DD EW164B Adapter: 2 ID: 0

Read mode : Secure
Utilize accurate stream : Yes
Defeat audio cache : Yes
Make use of C2 pointers : No

Read offset correction : 618
Overread into Lead-In and Lead-Out : No
Fill up missing offset samples with silence : Yes
Delete leading and trailing silent blocks : No
Null samples used in CRC calculations : Yes
Used interface : Installed external ASPI interface

Used output format : Monkey's Audio Lossless Encoder v3.99 DLL
Sample format : Fast Lossless Compression


TOC of the extracted CD

Track | Start | Length | Start sector | End sector
––––––––––––––––––––––––––––-
1 | 0:00.32 | 6:59.38 | 32 | 31494
2 | 6:59.70 | 1:14.07 | 31495 | 37051
3 | 8:14.02 | 4:40.13 | 37052 | 58064
4 | 12:54.15 | 5:05.02 | 58065 | 80941
5 | 17:59.17 | 2:33.55 | 80942 | 92471
6 | 20:32.72 | 1:03.53 | 92472 | 97249
7 | 21:36.50 | 4:27.30 | 97250 | 117304
8 | 26:04.05 | 1:25.17 | 117305 | 123696
9 | 27:29.22 | 1:49.18 | 123697 | 131889
10 | 29:18.40 | 6:49.27 | 131890 | 162591
11 | 36:07.67 | 5:51.65 | 162592 | 188981
12 | 41:59.57 | 0:29.73 | 188982 | 191229
13 | 42:29.55 | 1:03.05 | 191230 | 195959
14 | 43:32.60 | 7:06.22 | 195960 | 227931
15 | 50:39.07 | 2:23.48 | 227932 | 238704
16 | 53:02.55 | 1:09.67 | 238705 | 243946
17 | 54:12.47 | 3:10.60 | 243947 | 258256
18 | 57:23.32 | 7:49.15 | 258257 | 293446
19 | 65:12.47 | 2:27.30 | 293447 | 304501


Range status and errors

Selected range

Filename E:\APE\music\Britten The performer DECCA\CD02\Benjamin Britten - St. John Passion (Disc 2).ape

Peak level 70.9 %
Extraction speed 8.2 X
Range quality 99.9 %
Copy CRC 8276D63D
Copy OK

No errors occurred


AccurateRip summary

Track 1 accurately ripped (confidence 5) [EA7149FE] (AR v2)
Track 2 accurately ripped (confidence 5) [EF53EEE5] (AR v2)
Track 3 accurately ripped (confidence 5) [5CBC06E5] (AR v2)
Track 4 accurately ripped (confidence 5) [36714405] (AR v2)
Track 5 accurately ripped (confidence 5) [369B996F] (AR v2)
Track 6 accurately ripped (confidence 5) [D1A9DC16] (AR v2)
Track 7 accurately ripped (confidence 5) [7B13FCA0] (AR v2)
Track 8 accurately ripped (confidence 5) [DB0504C7] (AR v2)
Track 9 accurately ripped (confidence 5) [4DAEE6CA] (AR v2)
Track 10 accurately ripped (confidence 5) [CEBF9225] (AR v2)
Track 11 accurately ripped (confidence 5) [35BEC61C] (AR v2)
Track 12 accurately ripped (confidence 5) [8DF8356D] (AR v2)
Track 13 accurately ripped (confidence 5) [AA76BF38] (AR v2)
Track 14 accurately ripped (confidence 5) [8C988D11] (AR v2)
Track 15 accurately ripped (confidence 5) [DDCAC918] (AR v2)
Track 16 accurately ripped (confidence 5) [5432449E] (AR v2)
Track 17 accurately ripped (confidence 5) [1396C1B6] (AR v2)
Track 18 accurately ripped (confidence 5) [36E25482] (AR v2)
Track 19 accurately ripped (confidence 5) [D00B6AA7] (AR v2)

All tracks accurately ripped

End of status report

=======================================

Exact Audio Copy V1.0 beta 3 from 29. August 2011

EAC extraction logfile from 12. April 2014, 16:33

Unknown Artist / Unknown Title

Used drive : BENQ DVD DD EW164B Adapter: 2 ID: 0

Read mode : Secure
Utilize accurate stream : Yes
Defeat audio cache : Yes
Make use of C2 pointers : No

Read offset correction : 618
Overread into Lead-In and Lead-Out : No
Fill up missing offset samples with silence : Yes
Delete leading and trailing silent blocks : No
Null samples used in CRC calculations : Yes
Used interface : Installed external ASPI interface

Used output format : Monkey's Audio Lossless Encoder v3.99 DLL
Sample format : Fast Lossless Compression


TOC of the extracted CD

Track | Start | Length | Start sector | End sector
––––––––––––––––––––––––––––-
1 | 0:00.00 | 8:34.58 | 0 | 38607
2 | 8:34.58 | 1:28.56 | 38608 | 45263
3 | 10:03.39 | 6:41.00 | 45264 | 75338
4 | 16:44.39 | 1:19.16 | 75339 | 81279
5 | 18:03.55 | 1:06.10 | 81280 | 86239
6 | 19:09.65 | 6:27.24 | 86240 | 115288
7 | 25:37.14 | 1:22.63 | 115289 | 121501
8 | 27:00.02 | 5:45.10 | 121502 | 147386
9 | 32:45.12 | 3:23.68 | 147387 | 162679
10 | 36:09.05 | 4:55.18 | 162680 | 184822
11 | 41:04.23 | 1:31.33 | 184823 | 191680
12 | 42:35.56 | 2:48.58 | 191681 | 204338
13 | 45:24.39 | 4:21.20 | 204339 | 223933
14 | 49:45.59 | 4:05.62 | 223934 | 242370
15 | 53:51.46 | 4:42.40 | 242371 | 263560
16 | 58:34.11 | 3:52.60 | 263561 | 281020
17 | 62:26.71 | 4:36.21 | 281021 | 301741
18 | 67:03.17 | 5:27.00 | 301742 | 326266
19 | 72:30.17 | 3:52.20 | 326267 | 343686
20 | 76:22.37 | 3:01.38 | 343687 | 357299


Range status and errors

Selected range

Filename E:\APE\music\Britten The performer DECCA\CD03\Unknown Artist - Unknown Title.ape

Peak level 91.2 %
Extraction speed 2.6 X
Range quality 100.0 %
Copy CRC 1461791E
Copy OK

No errors occurred


AccurateRip summary

Track 1 accurately ripped (confidence 1) [0037FD64] (AR v2)
Track 2 accurately ripped (confidence 2) [EFF9B387] (AR v2)
Track 3 accurately ripped (confidence 2) [D043376A] (AR v2)
Track 4 accurately ripped (confidence 2) [830B4889] (AR v2)
Track 5 accurately ripped (confidence 2) [ADA045C9] (AR v2)
Track 6 accurately ripped (confidence 2) [69835ED0] (AR v2)
Track 7 accurately ripped (confidence 2) [088F37F9] (AR v2)
Track 8 accurately ripped (confidence 2) [BF728CFE] (AR v2)
Track 9 accurately ripped (confidence 2) [D7DFDCF6] (AR v2)
Track 10 accurately ripped (confidence 2) [70C566DD] (AR v2)
Track 11 accurately ripped (confidence 2) [E53C02BD] (AR v2)
Track 12 accurately ripped (confidence 2) [BD50CFCA] (AR v2)
Track 13 accurately ripped (confidence 2) [EC58C30C] (AR v2)
Track 14 accurately ripped (confidence 2) [A383C5F1] (AR v2)
Track 15 accurately ripped (confidence 2) [6C129B15] (AR v2)
Track 16 accurately ripped (confidence 2) [B2E4BE31] (AR v2)
Track 17 accurately ripped (confidence 2) [89639E24] (AR v2)
Track 18 accurately ripped (confidence 2) [F22833A5] (AR v2)
Track 19 accurately ripped (confidence 2) [F5D87E1F] (AR v2)
Track 20 accurately ripped (confidence 2) [D775373C] (AR v2)

All tracks accurately ripped

End of status report

=================================
All 27 log files included…