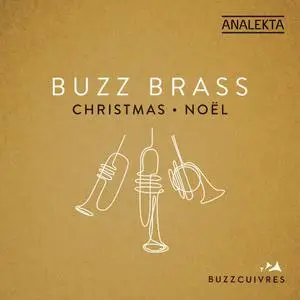 Buzz Brass - Christmas (2021)
FLAC tracks | 53:26 | 203 Mb
Genre: Classical / Label: Groupe Analekta, Inc
Buzz Brass inspired dreams with this new opus, "Christmas". The quintet takes the listener out of the familiar with this majestic, elegant and refined arrangements to highlight the holiday season. The male vocal quartet Quartom joins as guest artists in Noël canadien and The 12 days of Christmas. The ensemble's latest volume, "Inspirations", has been hailed as proof of their "testament to the ensemble's sensational embouchure" by the prestigious "Gramophone" magazine. Since 2002, Buzz Brass quintet has been travelling all over the globe to captivate classical music lovers. Whether its concerts consist of brass quintet alone or together with guest musicians, the original artistic propositions it presents leave nobody cold. With over 1,600 appearances to its credit, the ensemble has reached more than 350,000 music lovers throughout North America, Europe and China. The numerous awards and distinctions that Buzz Brass has earned over the years (Opus, ADISQ, and Trille Or) attest to both the quality and the relevance of its musical performances.
Track List:
01. A Christmas Festival Medley (After Leroy Andersson, Arr. for Brass Quintet by Hugo Bégin)
02. Sleigh Ride (Arr. for Brass Quintet David Kayser)
03. Stille Nacht (Arr. for Brass Quintet by Robert Prévost)
04. Les anges dans nos campagnes (Arr. for Bass Quintet by Hugo Bégin)
05. Noël canadien Medley (Arr. for Brass Quintet by Howard Cable & Enrico Dastous)
06. Patapan (Arr. for Brass Quintet by Craig Levesque)
07. Greensleeves (After Anonymous, Arr. for Brass Quintet by Bill Reichenbach & Bob Chilcott)
08. The Christmas Song - Have Yourself A Merry Little Christmas (Arr. for Brass Quintet by Arr. Frank Comstock & Jason De Carufel)
09. Let it Snow (Arr. for Brass Quintet by Hugo Bégin)
10. Christmas Time Is Here (Arr. for Brass Quintet by Brandon Ridenour)
11. The 12 Days of Christmas (Arr. for Brass Quintet by Howard Cable, Sylvain Lapointe & Enrico Dastous)
12. We wish You a Merry Christmas (Arr. for Brass Quintet by John Iveson)
ANALYZER: auCDtect: CD records authenticity detector, version 0.8.2
Copyright © 2004 Oleg Berngardt. All rights reserved.
Copyright © 2004 Alexander Djourik. All rights reserved.


FILE: 01. Buzz Brass - A Christmas Festival Medley (After Leroy Andersson, Arr. for Brass quintet by Hugo Bégin).flac
Size: 19603800 Hash: 6C2C456FC0A2D6B83F7C052E83CF660A Accuracy: -m40
Conclusion: CDDA 100%
Signature: 1F1A615CA971614655AA480D0192A8E629242A8F
FILE: 02. Buzz Brass - Sleigh Ride (Arr. for Brass quintet David Kayser).flac
Size: 11572232 Hash: 510DF222A18D9A58F4041C3DF2DA1F2D Accuracy: -m40
Conclusion: CDDA 99%
Signature: BF56DB958F749D6B5E5E6BBF62612341A36426AA
FILE: 03. Buzz Brass - Stille Nacht (Arr. for Brass quintet by Robert Prévost).flac
Size: 12016984 Hash: C3F8FCB519750B7ABC946EFC0B14F114 Accuracy: -m40
Conclusion: MPEG 90%
Signature: 6FA0D0AAF3920B4B0B14E8D8CBE7CB3FDB8DB5FA
FILE: 04. Buzz Brass - Les anges dans nos campagnes (Arr. for Bass quintet by Hugo Bégin).flac
Size: 14428275 Hash: A82770AEC134B8B08FECB371D2BF2541 Accuracy: -m40
Conclusion: CDDA 100%
Signature: 30C0DA2B74BADDBDC51424599E0FB91FABBDE75C
FILE: 05. Buzz Brass - Noel canadien Medley (Arr. for Brass quintet by Howard Cable & Enrico Dastous).flac
Size: 46495357 Hash: FA1BB0053BC34BC3B08971628D2C67FF Accuracy: -m40
Conclusion: CDDA 100%
Signature: A59C767525EA89DF3701315E4E7B71B3C58EFF60
FILE: 06. Buzz Brass - Patapan (Arr. for Brass quintet by Craig Levesque).flac
Size: 7306562 Hash: 4A6A4DB6D3F3EB025B497A9E24107B2D Accuracy: -m40
Conclusion: CDDA 100%
Signature: 1751AF15D9CF1E5C6385D4F6B55A1F965CDBE36A
FILE: 07. Buzz Brass - Greensleeves (After Anonymous, Arr. for Brass quintet by Bill Reichenbach & Bob Chilcott).flac
Size: 12510004 Hash: 903F5EB9D107290C078214102455F703 Accuracy: -m40
Conclusion: CDDA 87%
Signature: 865B8BF2411EDBC2B307E5329C34EA9A897BB863
FILE: 08. Buzz Brass - The Christmas Song - Have Yourself A Merry Little Christmas (Arr. for Brass quintet by Arr. Frank Comstock & Jason De Carufel).flac
Size: 21251193 Hash: 576A6D9248C83AF63F84F437CF6E7775 Accuracy: -m40
Conclusion: CDDA 100%
Signature: 88C9022F7C7F5B05FEA8FA9867474E781DEDB488
FILE: 09. Buzz Brass - Let it Snow (Arr. for Brass quintet by Hugo Bégin).flac
Size: 10786671 Hash: 984D2CEE6348DCDAE9A393FDC97FCC54 Accuracy: -m40
Conclusion: CDDA 100%
Signature: 11918E9D5A93B9A1B64017E9F291A2554C99D136
FILE: 10. Buzz Brass - Christmas Time Is Here (Arr. for bass quintet by Brandon Ridenour).flac
Size: 10863617 Hash: 80C90BA73224D4F9797089B58695328E Accuracy: -m40
Conclusion: CDDA 100%
Signature: A0ACA74484FEDF359C3317268DFD7854B409516F
FILE: 11. Buzz Brass - The 12 Days of Christmas (Arr. for Brass quintet by Howard Cable, Sylvain Lapointe & Enrico Dastous).flac
Size: 40079487 Hash: 2CE3C37EA4C37C867023F348D015A8FF Accuracy: -m40
Conclusion: CDDA 100%
Signature: A608BC4B168B7EF3B8C9022330788FA491EC6822
FILE: 12. Buzz Brass - We wish You a Merry Christmas (Arr. for Brass quintet by John Iveson).flac
Size: 3993523 Hash: EA0D140567FDD3FEC443E8DDDF126843 Accuracy: -m40
Conclusion: CDDA 76%
Signature: C04773D9A1B14960217D960E1FD07A297CEFD855