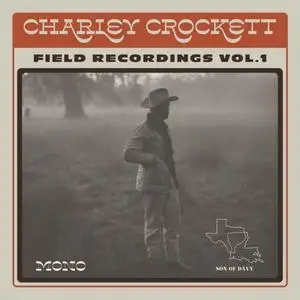 Charley Crockett - Field Recordings, Vol. 1 (2020)
FLAC tracks | 68:28 | 195 Mb
Genre: Blues, Country, Folk / Label: Son Of Davy
Charley Crockett (born 1984) is an American blues, country and Americana singer, guitarist, and songwriter. He has released five albums since 2015, with his most recent, Lil G.L.'s Blue Bonanza, peaking at number 10 in the US Billboard Blues Albums chart.
Track List:
01. Misery, Trouble & Heartache (Major Waltz)
02. Round This World
03. Diamond Joe
04. Little Birdie
05. All I Can See Is a Train
06. Short Life of Trouble
07. Single Girl
08. Things Have Gone to Pieces
09. One Kind Favor
10. Although There's a Crowd
11. Hesitatin' blues
12. Banjo Pickin' man
13. A Stolen Jewel
14. Darlin' six Months Ain't Long
15. Misery, Trouble & Heartache (Minor Waltz)
16. Brand New Tennessee Waltz
17. Goin' back to Texas
18. Short and Sweet Instrumental
19. Lonesome Homesick Blues
20. Hill Country Gals
21. Just One More
22. Ain't Nobody's Business
23. You're Gonna Miss Me When I'm Gone
24. Lost in the Lonesome Pines
25. Shoutin' on the Hills
26. Downbound Train
27. Sweet Heaven in My View
28. Dead or Alive
29. Heartbreak Mountain
30. Misery, Trouble & Heartache (4_4)
ANALYZER: auCDtect: CD records authenticity detector, version 0.8.2
Copyright © 2004 Oleg Berngardt. All rights reserved.
Copyright © 2004 Alexander Djourik. All rights reserved.


FILE: 01. Misery, Trouble & Heartache (Major Waltz).flac
Size: 7708319 Hash: B2E961CACF3BF860C8BA400026A39ED7 Accuracy: -m40
Conclusion: CDDA 100%
Signature: DD29F9ACBCE66194989197337D372CE8B97A5A27
FILE: 02. Round This World.flac
Size: 6692994 Hash: 3D65DC630E849E90B2B8DEE5254848F3 Accuracy: -m40
Conclusion: CDDA 100%
Signature: 9EFB9865E9ED6F5256AF02D962722C20D4A546E9
FILE: 03. Diamond Joe.flac
Size: 7746324 Hash: D451ACC5B1D20912462921E2A67D9886 Accuracy: -m40
Conclusion: CDDA 100%
Signature: 2669E0B9008802BC3741057FB80E09F747A7EB34
FILE: 04. Little Birdie.flac
Size: 8037994 Hash: 403C262E0186D67D52960EB4AA35E46D Accuracy: -m40
Conclusion: CDDA 100%
Signature: D876BFF5CA286ADA91341281C3A2D38481FF4143
FILE: 05. All I Can See Is a Train.flac
Size: 6725084 Hash: 639E5A09333309C10938E9EC178FAA12 Accuracy: -m40
Conclusion: CDDA 100%
Signature: D85A3B83620E91507FDE774A18273090CD8F0235
FILE: 06. Short Life of Trouble.flac
Size: 7712852 Hash: BEEDC17D3D42A5B2EF50ABA94DEA3267 Accuracy: -m40
Conclusion: CDDA 100%
Signature: EAB4DD089CC28D14DDA10F27D87ED8A3A3B334E8
FILE: 07. Single Girl.flac
Size: 5881496 Hash: 4C7B274CC597A68FCD0AD175023C3FA1 Accuracy: -m40
Conclusion: CDDA 100%
Signature: 1E9461521F6B43C1757B870DA953578ECAC6F317
FILE: 08. Things Have Gone to Pieces.flac
Size: 8731477 Hash: AE83042044D52F290A4AF09C74CB2A6A Accuracy: -m40
Conclusion: CDDA 100%
Signature: F9E4B7C9F9D06FE5AF571202EEA506C2D03D4AF1
FILE: 09. One Kind Favor.flac
Size: 7305953 Hash: CA91E9ADF0FD15A819E0EC513F5D7A9D Accuracy: -m40
Conclusion: CDDA 99%
Signature: 90038BD6F80AF3FFD126278D7A52BADC2F322366
FILE: 10. Although There's a Crowd.flac
Size: 5567560 Hash: 4C4D620DB7A52276CC18DF718B728EFF Accuracy: -m40
Conclusion: CDDA 100%
Signature: C8042DCA88B34D52346FF55EB45014D93408B5D8
FILE: 11. Hesitatin' blues.flac
Size: 3102663 Hash: 0C81FCCE2E367DB90828A7C5FA65DA55 Accuracy: -m40
Conclusion: CDDA 100%
Signature: F16EF223A00CFBBB9D8B7DCA7428DE8BC28A4804
FILE: 12. Banjo Pickin' man.flac
Size: 6988679 Hash: 425FCFA44293A596AEFBAAC0990609AE Accuracy: -m40
Conclusion: CDDA 100%
Signature: 685B856D848F1B47DA7BFD3CF4EA315DD0ACA35C
FILE: 13. A Stolen Jewel.flac
Size: 8196192 Hash: C99158DFD09E65A4887E51FB3CABB457 Accuracy: -m40
Conclusion: CDDA 100%
Signature: 6A1E6E68BB5FB0AFBC6B1A6C2EA1704899289147
FILE: 14. Darlin' six Months Ain't Long.flac
Size: 5234633 Hash: 602A761FB99FAD64EC7515B3492C1465 Accuracy: -m40
Conclusion: CDDA 100%
Signature: C983A307B83A643AFA24C5FF76F6C33CD1CC3B70
FILE: 15. Misery, Trouble & Heartache (Minor Waltz).flac
Size: 8379365 Hash: 1E781C14BF4042952580D7340847EB80 Accuracy: -m40
Conclusion: CDDA 100%
Signature: 85E7E8CA2289AEF66451E76792E083794A709B1F
FILE: 16. Brand New Tennessee Waltz.flac
Size: 7530813 Hash: FB9CC281BA9CC20C5E1F70088D43E799 Accuracy: -m40
Conclusion: CDDA 100%
Signature: 08847C7D4FE791F07BCCEA4397C9FCEC1DD7CBA9
FILE: 17. Goin' back to Texas.flac
Size: 6494395 Hash: E64ACB2F5EE9CD83773C31B36F74AF3A Accuracy: -m40
Conclusion: CDDA 100%
Signature: C9A17F394C55BBE1F54D2D16C20024E7309D3063
FILE: 18. Short and Sweet Instrumental.flac
Size: 2633971 Hash: 737D9F17CCF5B4626AB39586AF2DC1EC Accuracy: -m40
Conclusion: CDDA 100%
Signature: CA926603BB97D508C4D33099686A63FA62F6F0C8
FILE: 19. Lonesome Homesick Blues.flac
Size: 12006863 Hash: E116FFEB6DD63B8E8AA78D3DF3BEB2C2 Accuracy: -m40
Conclusion: CDDA 99%
Signature: E955271719EA678923FF72D13482421305CE67BD
FILE: 20. Hill Country Gals.flac
Size: 3101608 Hash: 75B2DB79EAD963F52A6E109CEE52B0D3 Accuracy: -m40
Conclusion: CDDA 100%
Signature: 8F9724E3CA87A88F6C724ACA7F59D21C5C7431B4
FILE: 21. Just One More.flac
Size: 7589393 Hash: 21CEDBD42272CEAFBA4A5A8897718004 Accuracy: -m40
Conclusion: CDDA 100%
Signature: 56D23496F7D0C604FF409AB38AF1185651795179
FILE: 22. Ain't Nobody's Business.flac
Size: 4376398 Hash: 83ADA811FB820121383974D7DAAAFC36 Accuracy: -m40
Conclusion: CDDA 99%
Signature: 3EAFA7B724BAA032EE979855114F3C428E7050C2
FILE: 23. You're Gonna Miss Me When I'm Gone.flac
Size: 4143025 Hash: 6BCDE2614747A834176619A32F5F1946 Accuracy: -m40
Conclusion: CDDA 100%
Signature: 847AE6D96C2026C8837FB40198578F77AF3EDE58
FILE: 24. Lost in the Lonesome Pines.flac
Size: 9618059 Hash: 96F68CCC740111FF75C398405EF6A77D Accuracy: -m40
Conclusion: CDDA 100%
Signature: 5DB4A356D219F27EBD767A2684E7E25499DBA7AA
FILE: 25. Shoutin' on the Hills.flac
Size: 7202730 Hash: D1FFAD2611FE94D2162A67F7664FF1A2 Accuracy: -m40
Conclusion: CDDA 99%
Signature: 672C79FF8881C709C97BDFA23BC5F81D9F42E453
FILE: 26. Downbound Train.flac
Size: 8656598 Hash: C3377956272DE4B301D3BCC6372794F4 Accuracy: -m40
Conclusion: CDDA 100%
Signature: 8DBDDFEFF9521BBA32ED741641716194D38CF615
FILE: 27. Sweet Heaven in My View.flac
Size: 6410442 Hash: BFF7BD6A2A080D13431B0087C686E014 Accuracy: -m40
Conclusion: CDDA 100%
Signature: 41D5FC09BC85225D5484068B759DE1D15C0B44B7
FILE: 28. Dead or Alive.flac
Size: 7986708 Hash: AD839592B4F2A4449F51F2AB27EC692B Accuracy: -m40
Conclusion: CDDA 100%
Signature: 203FD595115B0A79F3D9CE6C2B6BDEA52A48350E
FILE: 29. Heartbreak Mountain.flac
Size: 6314944 Hash: B9932E8C5A5818AF375DE79892610207 Accuracy: -m40
Conclusion: CDDA 100%
Signature: FD60B1E35E4C57742206B7DC521741A7668D841F
FILE: 30. Misery, Trouble & Heartache (4_4).flac
Size: 6632800 Hash: 584FEA11FF07FF9FC34B1143255B5F89 Accuracy: -m40
Conclusion: CDDA 100%
Signature: AB7FF22BF265D9FD4A0C3FC1D3B84694F62F47C4