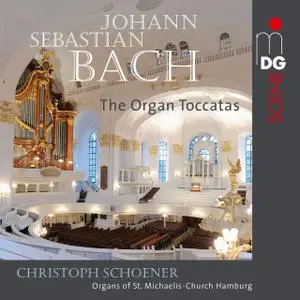 Christoph Schoener - J.S. Bach: The Organ Toccatas (2015)
WEB | FLAC (tracks) - 329 MB | 01:18:01
Genre: Classical | Label: MDG Scene
Amid the never ending list of available recordings of Bach's organ works, it's nice to see a new SACD being released that brings all of his brilliant Toccatas together on one disc. These works, which capture a snapshot of Bach letting his hair down, showcase the essence of the composer at his best. Highly spirited music, brimming with expressive freedom bordering on the ecstatic. Organist Christoph Schoener certainly perceives these elements within the music and delivers up-tempo, animated and exuberant readings of all the pieces that call for it. The highlight for me on this disc is the account of the Toccata in F, BWV 540. A brilliant work, even by Bach's standards, with outstanding harmonic development throughout, underpinned by solid and long-sustained pedal notes upon which Bach constructed cathedrals of sound. For this work in particular, Christoph Schoener plays on the Great Organ to full effect. Those long pedal notes, solid and true, combined with the flurry of notes rushing high above, generate a sound that can only be compared to the sound you might hear, or rather feel, sitting in the belly of a military Hercules Transport plane in full flight. And at the other end of the spectrum, this same instrument's flute stops produce a beautiful sound in the captivating Adagio in C, BWV 564.

Opulent room effect was also a motivating idea behind the recently completed restoration of the organs. The powerful "Grand Organ" in the west with eighty-six stops on five manuals of course forms the focus. The "Concert Organ" on the south loft contributes romantic color, and thanks to musical providence an unusually richly endowed "Echo Organ" that can be operated as an entirely independent organ from the central playing unit could be installed in the higher regions. The "Carl Philipp Emanuel Bach Organ" has a special appeal; with its unequal temperament it naturally is used only as a solitaire on the north loft. (MDG)

The only quibble I have with this recording has to do with the acoustics inside this large building and the spatial layout of these multiple organs. The reverberation is a bit on the long side, which sometimes creates a slight muddled effect within some of the faster and highly contrapuntal passages. Perhaps a different microphone setup may have helped mitigate this problem, but then you would lose the sense of scope usually associated with these large church buildings. A slight quibble on my part, which should not take away from the enjoyable aspects of this new MDG recording of Bach's masterworks.
Track List:
1. Toccata con Fuga in D Minor, BWV 565: I. Toccata 02:34
2. Toccata con Fuga in D Minor, BWV 565: II. Fuga 06:30
3. Toccata in E Major, BWV 566 10:51
4. Toccata, Adagio et Fuga in C Major, BWV 564: I. Toccata 06:08
5. Toccata, Adagio et Fuga in C Major, BWV 564: II. Adagio 04:23
6. Toccata, Adagio et Fuga in C Major, BWV 564: III. Fuga 05:28
7. Allein Gott in der Höh' sei Ehr for Organ Solo, BWV 662 08:00
8. Toccata et Fuga in F Major, BWV 540: I. Toccata 09:17
9. Toccata et Fuga in F Major, BWV 540: II. Fuga 06:26
10. Erbarm dich mein, o Herre Gott for Organ Solo, BWV 721 04:13
11. Toccata et Fuga in D Minor, BWV 538: I. Toccata 05:46
12. Toccata et Fuga in D Minor, BWV 538: II. Fuga 08:25
Performers:
Christoph Schoener (organ)
–––––––––––-
DON'T MODIFY THIS FILE
–––––––––––-
PERFORMER: auCDtect Task Manager, ver. 1.6.0 RC1 build 1.6.0.1
Copyright © 2008-2010 y-soft. All rights reserved
http://y-soft.org
ANALYZER: auCDtect: CD records authenticity detector, version 0.8.2
Copyright © 2004 Oleg Berngardt. All rights reserved.
Copyright © 2004 Alexander Djourik. All rights reserved.
FILE: 01 - Christoph Schoener - Toccata con Fuga in D Minor, BWV 565- I. Toccata.flac
Size: 11774514 Hash: 4AAFFA434CFF13A3825345C348101105 Accuracy: -m0
Conclusion: CDDA 99%
Signature: D2CA2CDAFC81900F50B1879840775B23A69BA429
FILE: 02 - Christoph Schoener - Toccata con Fuga in D Minor, BWV 565- II. Fuga.flac
Size: 27736017 Hash: F0AC44765916946ED0F66D49C287AA88 Accuracy: -m0
Conclusion: CDDA 99%
Signature: 395D49B3150E0171F72F1ECF18F0B70DD116E5AE
FILE: 03 - Christoph Schoener - Toccata in E Major, BWV 566.flac
Size: 34967692 Hash: B802AE22B37D4389DD3E08E5A2BEF39C Accuracy: -m0
Conclusion: CDDA 100%
Signature: 43AD7E3226F14A8CCADDF8567DC2AD3BDBA63FFD
FILE: 04 - Christoph Schoener - Toccata, Adagio et Fuga in C Major, BWV 564- I. To.flac
Size: 27261800 Hash: 6B0CAC2081F07DACAFE7EA757FF0FB09 Accuracy: -m0
Conclusion: CDDA 100%
Signature: 1453CB954A5FCF8A175BC73DA12F0F0986D56A58
FILE: 05 - Christoph Schoener - Toccata, Adagio et Fuga in C Major, BWV 564- II. A.flac
Size: 14213998 Hash: F3E4E69D11272A153930F9673F156E73 Accuracy: -m0
Conclusion: CDDA 100%
Signature: 36AC1FB456C27EFA7740919D6A222AEEC8078006
FILE: 06 - Christoph Schoener - Toccata, Adagio et Fuga in C Major, BWV 564- III..flac
Size: 24504139 Hash: 2629A133568D641B2696A698EA828171 Accuracy: -m0
Conclusion: CDDA 100%
Signature: EC8A10F3009351E46F7F91FEAA1A1B53244D0BC0
FILE: 07 - Christoph Schoener - Allein Gott in der Höh' sei Ehr for Organ Solo, BW.flac
Size: 19937312 Hash: 07738E6CD587EDBEC5BBFE3A002CD8C5 Accuracy: -m0
Conclusion: CDDA 100%
Signature: 3A9ABFD04645F06AA712E794296A1809BE05B958
FILE: 08 - Christoph Schoener - Toccata et Fuga in F Major, BWV 540- I. Toccata.flac
Size: 42197148 Hash: 3042606BC737A0953C05CDA3337EDF02 Accuracy: -m0
Conclusion: CDDA 100%
Signature: D2E62897F41D7D3F8CF81726EE383889F527D44E
FILE: 09 - Christoph Schoener - Toccata et Fuga in F Major, BWV 540- II. Fuga.flac
Size: 31625923 Hash: 5E18E444AD3145A3110EB05D30F1C3FD Accuracy: -m0
Conclusion: CDDA 100%
Signature: 0ACA96534A57172D8E3D38589EC2BB2323218F21
FILE: 10 - Christoph Schoener - Erbarm dich mein, o Herre Gott for Organ Solo, BWV.flac
Size: 7226750 Hash: 56D1BB974A4496260EB5F71D27C222A3 Accuracy: -m0
Conclusion: CDDA 100%
Signature: DC698A7F71DDD3420D7870E2760C35E83E0E3E18
FILE: 11 - Christoph Schoener - Toccata et Fuga in D Minor, BWV 538- I. Toccata.flac
Size: 27268652 Hash: FCB077BA4D6B3BC47C0E03B06D518F26 Accuracy: -m0
Conclusion: CDDA 100%
Signature: 397831A324234BA780AE35D16850C905436265A3
FILE: 12 - Christoph Schoener - Toccata et Fuga in D Minor, BWV 538- II. Fuga.flac
Size: 43937247 Hash: 892F82F3A55ED953CD2B70B0CDD3A704 Accuracy: -m0
Conclusion: CDDA 100%
Signature: 5D823FDE5CA4076ED7595CD1B659F63E60F4571D